Showtime might have Masters of Sex, but Off-Broadway has welcomed something far better to New York audiences: Dr. Ruth Westheimer, the tiny woman with the unmistakable accent who pulled the pin on the Puritanical hand grenade responsible for opening up the discussion of sex. Now, she's the subject of a new Off Broadway show, Becoming Dr. Ruth.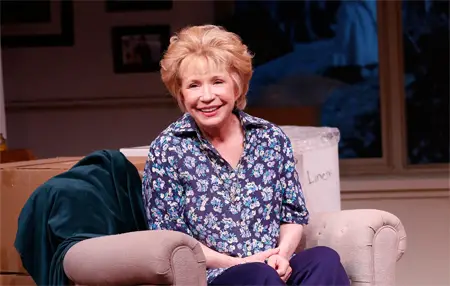 Photo: Carol Rosegg
In the event you weren't around in 1980s, Dr. Ruth ruled radio and TV as the go-to therapist for sexual advice. Insightful, humorous, and unafraid to cut to the chase, Dr. Ruth redefined sexual education. But this is only a part of Westheimer's intriguing story, which unfolds Tuesday through Sunday upstairs at the Westside Theatre (407 W. 43rd St. at Eighth Ave.).
Starring Debra Jo Rupp (known for playing Eric Forman's sitcom mom on That '70s Show), this entertaining solo show — subtitled "an unexpected journey" — traces the indefatigable title character from a childhood that included fleeing the Nazis in the "Kindertransport," becoming a scout and a sniper for the Haganah in Jerusalem, heading to America and, ultimately, carving out a singular success story.

Photo: Carol Rosegg
Ms. Rupp makes a more than convincing Dr. Ruth as she ushers theatregoers through Westheimer's life with humor, vibrancy and, of course, her character's trademark puckishness.
This eye-opening, engaging production, written by Mark St. Germain and directed by Julianne Boyd, gets a critical A+. And for the record, Dr. Ruth attended opening night and may well return unannounced at any time. After all, the website tells us she "…is currently single and about town every night." Visit becomingdoctorruth.com for tickets and more information.