Forty-six U.S. states are less populous than the 18.5 million people who've seen The Phantom of the Opera on Broadway. We're not even talking about other productions worldwide—that number totals almost half the population of the entire continental United States. As the show catapults into its 31st year on the Great White Way, there seems to be no end in sight to its popularity.
Originally a serialized novel by Gaston Leroux ("Le Fantôme de L'Opéra") beginning in 1909, and later a silent film with Lon Chaney, it was Andrew Lloyd Webber, Richard Stilgoe, and Charles Hart who adapted Phantom in 1986 to become the behemoth musical that we know today. Just how behemoth?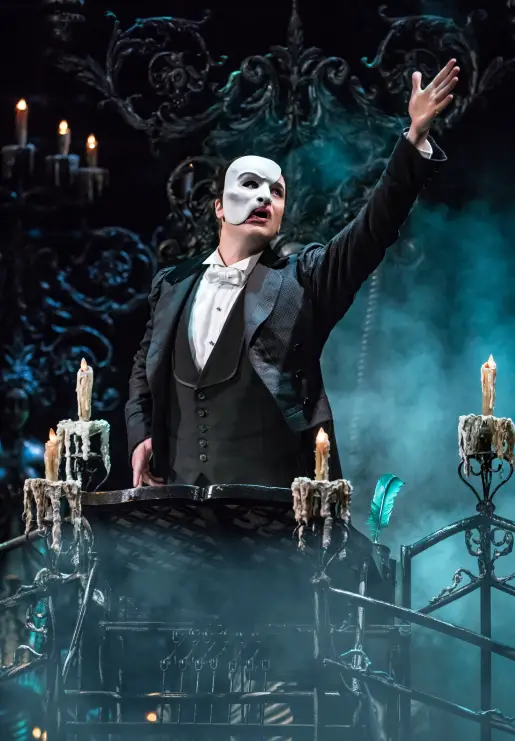 According to Ben Crawford, the 16th Phantom to step into the role: "They've created a masterpiece, one of those few musicals which has extended past the realm of Broadway because of its presence in pop culture. There's something within the show that connects to everyone. Everyone has their own insecurities. The Phantom is a very intelligent man with a deformed face and…mother issues."
While audiences relate to the titular character's wounded soul, they're also drawn to the musical's theatricality. Along with the infamous falling chandelier, lighting and stagecraft work together to create magical effects swirling across the footlights, swept up by opulent melodies.
Crawford says his approach to the role comes from his childhood love of comic books. He sees the Phantom as a super villain—a mix of the Beast from Beauty and the Beast and Batman's Joker. "He's maniacal. He's obsessive," says Crawford.
But when you're trying to get the audience to invest in the character, he feels, "You have to showcase their humanity. You need to have some kind of sympathy for him. When I was younger, I don't know if I'd grasped the amount of nuance for a performance that I have now."
Those familiar with the musical know that during the Phantom's seduction of the young soprano, Christine Daaé (Kaley Ann Voorhees) to the strains of "The Music of the Night," his hands and arms delicately move in rhythmic patterns in a choreographed sequence marking the show's pivotal moment.
When Crawford began rehearsals, the producers handed him "…a roadmap. You have to include those iconic gestures." But he was excited to find that the producers were also interested in his opinions. "They give an actor free rein as to how you get to that spot. It allows you to fill in the space. It's probably one of the most collaborative experiences that I've had."
The Tucson, Arizona native's path to the celebrated role arrives after years as a standby and/or understudy in shows like Les Mis, Shrek, Big Fish, and On the Twentieth Century, soaking up advice along the way. Whether it was the work ethic on display from Tony winners Norbert Leo Butz, Christian Borle, and Michael McGrath, or the showmanship and energy of veterans like John Rubenstein (the original Pippin), Crawford savored every moment. "Watching John dance, and fly all over the stage, is a perfect definition of Broadway. The more fun we could have, the more fun the audience would have."
Now that Crawford has climbed into a starring role of his own, he feels the dual responsibility of preserving perhaps the most iconic character in Broadway history and setting a good example for the current cast.
"To become part of that Broadway tradition is an amazing feeling," he says, adding, "For a show like this—which is very serious on stage—it's important to find balance. I try to keep it lighter backstage because you need to get that [tension] out of your body. I play my music while I'm getting my makeup done. We all have a good time at the Majestic. I definitely look forward to going to work every day."
Photo by Matthew Murphy.
Phantom Phacts
Phantom has worn the crown of Broadway's longest-running musical for over a decade.
• Performance count: 12,500
• Gross: over $1.1 billion
• Worldwide audience: 140 million+ people; 183 cities/41 countries/17 languages
• Awards: 70 majors, including 1988's Tony for Best Musical
• Original cast recording: 40 million copies sold
---
The Phantom of the Opera is playing at Broadway's Majestic Theatre, its home since 1988, at 247 W. 44th St. For tickets call 212-239-6200 or 800-432-7250 or visit thephantomoftheopera.com.