New York Spirit: The Best Distillery Tours in the City
August 9, 2018 - by Merrill Lee Girardeau
A spate of new distilleries popping up in New York is just more proof that the city never fails to surprise. We picture a big factory down south when we think of the word distillery, but turns out you can make whiskey, bourbon, rye, moonshine, and gin in city just as well as country. Below are some craft distilleries making excellent spirits and providing excellent tours in facilities throughout Brooklyn and one location in the Bronx. We even found a new vodka distillery in Manhattan! All offer tours and tastings for interested drinkers. You'll learn about historical distillers in New York during Prohibition and the production practices employed by these contemporary companies, both the traditional and the cutting-edge. Your learning will pay off with a few tasty samples of these fine spirits. Cheers!
Best Distillery Tours in NYC: Navy Yard

The American Distilling Institute voted Kings the Distillery of the Year in 2016 for their commitment to traditional and sustainable production. It's also the oldest distillery in New York City, using copper stills and 14-month aging periods for their whiskey. But Kings County won our hearts with the historical arm of their distillery tour: the Boozeum. Located in the Paymaster Building at the Brooklyn Navy Yard, this site also saw the Whiskey Wars of the 1860s along this very waterfront. You'll get the history of the Whiskey Wars and more at the Boozeum—and taste King County's wares, of course. The tasting room is open 7 days a week, while tours are Tuesday through Sunday from 3 to 5pm and once an hour on Saturday afternoons between 1pm and 5pm. 299 Sands St., 347-689-4211, kingscountydistillery.com
Best Distillery Tours in NYC: Williamsburg
Makers of Dorothy Parker Gin, navy-strength gin, and Mr. Katz's Rock and Rye, NY Distilling Co. is the celebrated craft distillery out of Williamsburg, Brooklyn. Their attached bar, The Shanty, offers clear views of the stills where the spirits are made. Complimentary tours are offered Saturday and Sunday afternoons at 2:30, 3:30, and 5pm. Take your tour up a notch or two with Behind the Scenes VIP tours at 1:30pm on Saturday and Sunday, which include a 200-mL flask of rye and a cocktail in the admission price. 79 Richardson St., 718-412-0874, nydistilling.com
Best Distillery Tours in NYC: Greenpoint
Juniper fans, rejoice! Greenhook Ginsmiths makes beautifully complex gin in Greenpoint, Brooklyn, using specially designed low-temperature copper stills. In addition to gin's juniper base, ingredients in GG gins include cinnamon sticks, chamomile, coriander seeds, and other rich botanicals to deepen the flavors. Their hour-long tours are offered on Saturdays by appointment. 208 Dupont St., 646-339-3719, greenhookgin.com
Best Distillery Tours in NYC: Bushwick
Wormwood seems like a word fit more for Shakespeare than for 21st-century industry, but this distillery has revitalized this misunderstood ingredient. Standard Wormwood makes gin, rye, and agave spirits with its namesake plant, a bitter leaf usually associated with absinthe production. The wormwood is grown on a farm upstate and brought to SW's Bushwick facilities, where their beautifully packaged spirits are made. Contact Standard Wormwood for a tour; they'll be glad to host you and give you a few sips of their products! 630 Flushing Ave., contact@standardspirit.com, standardwormwood.com
Best Distillery Tours in NYC: Red Hook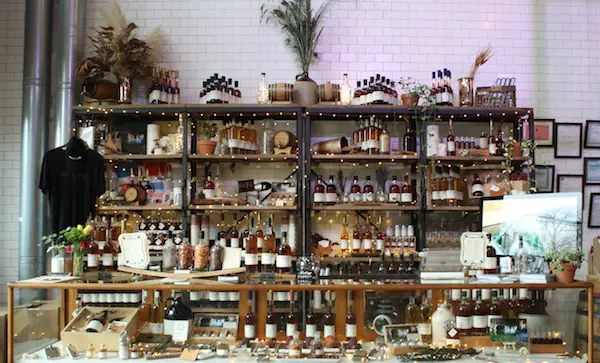 Three words: chocolate malt bourbon. That's the long and short of Cacao Prieto and Widow Jane, a chocolate company and distillery that share a facility in Red Hook, Brooklyn. On this tour, you'll get to try two products: Cacao Prieto chocolate bars and Widow Jane spirits. Both are made with innovative, artisanal processes and creme-de-la-creme ingredients (even the water used to make the whiskey is shipped from upstate!). You're probably already booking a tour, but just so you know, they offer them Saturday and Sunday at 12, 2, 4, and 6pm. They are $20 per person with chocolate and spirits tastings included. 218 Conover St., 347-225-0130, widowjane.com/widowjane
Best Distillery Tours in NYC: Red Hook
While you're in Red Hook, take a walk to Van Brunt Stillhouse, a company built buy a husband-and-wife team who produces small-batch whiskeys and rum. They source corn and grain from farms in upstate New York and produce impeccable varieties of whiskey like their fruity rye moonshine and velvet-smooth bourbon. The bar is worth a stop too, with craft cocktails and beer, plus Happy Hour every Sunday. Tour their distillery, tasting four spirits along the way, and enjoy $10 off the bottle of your choice. Come Saturdays 3-7pm and Sundays 2-4pm to check out the facilities. 6 Bay St., 718-887-6012, vanbruntstillhouse.com
Best Distillery Tours in NYC: Walking Tours
If you'd like a more comprehensive look at the Whiskey Wars of yore, Big Onion Walking Tours takes you through the historical neighborhood of Vinegar Hill on this engaging journey that ends at Kings County Distillery. On the way there, your Big Onion guide will show you the birthplace of Al Capone and the locations of historical distillers. At Kings, you'll get a tour and a taste of four whiskey flavors. These two-hour tours are $40 and offered twice a month. Meet at SE corner of Jay & York St., 212-439-1090, bigonion.com/tour/brooklyn-distilled
Best Distillery Tours in NYC: The Bronx
Head to the South Bronx for a double-header of great booze tours: Bronx Brewery and nearby Port Morris Distillery. Port Morris produces a Puerto Rican moonshine called pitorro, a dangerously strong (read: 92-proof) spirit infused with brown sugar, coconut, pineapple, raisins, and tamarind. It's sometimes called lagrimas del monte ("mountain tears") in Puerto Rico. At Port Morris Distillery, New Yorkers and childhood friends Ralph Barbosa and Billy Valentin and their team produce two rich, artisanal varieties of pitorro. One has a clear, pearly appearance, while the other is barrel-aged, giving it an amber color. Free tours and tastings are offered 3pm to 8pm, Wednesdays through Saturdays. 780 E 133rd St., 718-585-3192, portmorrisdistillery.com
Best Distillery Tours in NYC: Manhattan
The first distillery to open in Manhattan since Prohibition, Chelsea-based Our / New York Vodka dates all the way back to 2018. They're creating batches of 80 proof vodka that uses NYC tap water, the same source that makes NYC bagels and pizza so delicious. They'll be giving a workshop on September 15th that will include a welcome Martini, a tour of the distillery, and a guide to making and infusing your own take-home bottle of Our/New York Vodka—using their bounty of seasonal fruits, herbs, botanicals, and vegetables. Afterwards, enjoy a celebratory Excelsior cocktail, plus a bottle to take home. Distillery tours given regularly. 151 W. 26th St., 646-753-5556, ournewyorkvodka.com
Looking for Free Group Planning Services?
Get free advice on planning your group's trip to New York.
RESTAURANTS

Brings together the character of Hell's Kitchen past with th...

THEATER

Gaston Leroux's famous period thriller is now one of Broadwa...

SHOPPING

The sweetest experience in Times Square!...

SIGHTSEEING

In addition to 360-degree views from Midtown Manhattan, the ...