Tour de Frosé: The Best Frozen Rosé in NYC
July 18, 2018 - by Merrill Lee Girardeau
Rosé is enjoying quite a heyday in New York City right now. With this trend has come new spins on this picturesque pink wine, like frosé (or frozé, if you prefer). Like a frozen margarita, this slushy drink makes a perfect cooler for a hot NYC day. Various bars and restaurants are spiking it with hard liquor and flavored liqueurs, plus fresh fruits like strawberry, orange, and lemon to cool you down even better. Here are some of the best frosés out there, appearing at bars throughout Manhattan and Brooklyn.
The Best Frosé in NYC: Donna
We found a unicorn, ladies and gentlemen: frosé at happy hour! Donna, a subtly sophisticated bar near the Williamsburg Bridge, offers up their strawberry-flavored frosé for $3 off, Monday through Friday until 8pm. Their recipe is delectably dangerous with its added gin and cocchi rosa aperitivo. Taco Tuesday lasts till 11pm every Tuesday night, P.S. That means $3 off your tacos when you purchase a drink—and you know you will! 27 Broadway, Brooklyn, 646-568-6622, donnabklyn.com
The Best Frosé in NYC: Midnights
If you're just stepping off the L at Bedford Avenue, this is the place you dream of stumbling upon. Luckily, that's pretty likely, as Midnights lies in the center of the Williamsburg boom (geographically, at least). This bar/restaurant/club has everything, plus a killer back patio to boot. Grab a Lucille Ball while you're there. This is Midnights' take on frosé, with added campari, aperol, and pineapple. Save a few bucks and get a Lucille Ball made for two at just $25. 149 N. 6th St., 718-384-6961, midnightsbk.com
The Best Frosé in NYC: North River Lobster Company
"New York's only floating lobster shack" has a leg up on its competition with endless iterations of very good lobster, all on a boat that sails the Hudson while you eat. In addition to your lobster roll, get the insistent Frozé! Frozé! Frozé! This cold concoction comes in a glass for $15, a Colossal Claw Cup for $25, or pitcher for $55. Its contents are Cloud Chaser rosé, elderflower liqueur, and strawberry, with a dash of secrets. Pier 81, W. 41st St. and 12th Ave., 212-630-8831, northriverlobsterco.com
The Best Frosé in NYC: Vandal
The hip Lower East Side eatery Vandal attracts gaggles of beautiful people. With a wide-ranging menu—they offer pizza and poke bowls—you're sure to find something tasty for brunch, lunch, or dinner. Popular entrees include the bao buns and sea bass tacos. The restaurant, plastered with bright, edgy murals, is below-ground, while the street-level area is a lounge where you'll enjoy, among other things, their Rio de Frosé. It's Côtes de Provence spiked with vodka, with caçhaca, cocchi americano, lemon, and simple syrup. 199 Bowery, 212-400-0199, vandalnewyork.com
The Best Frosé in NYC: DaDong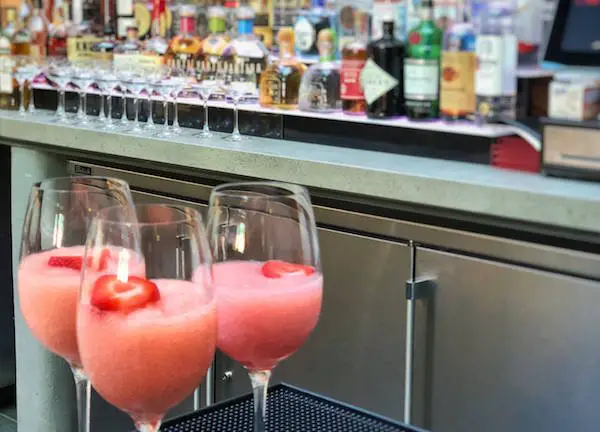 Elegant Chinese food with your frosé? DaDong, located near Times Square and at the border of Bryant Park, is a two-floor upscale Chinese restaurant named for its head chef. Whether dining inside or out, or just spending some time at the bar, be sure to have some frosé with vodka and strawberry puree, a perfect summer treat—and retreat—for a hot day. DaDong also serves a fabulous Peking duck and braised abalone with white truffle. 3 Bryant Park, 212-355-9600, dadongny.com
The Best Frosé in NYC: Bar Primi
After the heat of Nolita shopping, head for Bar Primi in Noho, where they keep the frosé cool all summer long. Theirs is made with rosato vermouth and strawberry. A spacious dining room mixing old and new Italy, the bar also specializes in homemade pastas. Once you've got a frosé in you, have a plate of squid ink campanelle, a little spicy and a lot delicious. 325 Bowery, 212-220-9100, barprimi.com
The Best Frosé in NYC: Pig Beach
Pig Beach is located in the South Brooklyn neighborhood of Gowanus, and it stays hopping all summer long. A casual barbecue hangout with exceptional ribs and pulled pork, as well as a massive back patio, Pig Beach is also Frosé Central in the area. This recipe tastes just like the pink lemonade from your childhood, but with a spike of booze for your adulthood. 480 Union St., pigbeachnyc.com
The Best Frosé in NYC: Refinery Rooftop
The frosé at Refinery's rooftop bar is blended for a cause. Right now, proceeds from their citrus-infused frosé sales will go to The Milliners Guild (the benefiting charity will change for August). This midtown rooftop bar attracts crowds, which is understandable for the fabulous views, cute decor, and winning menu of lunch items and bar snacks. 63 W. 38th St., refineryhotelnewyork.com
Looking for Free Group Planning Services?
Get free advice on planning your group's trip to New York.
RESTAURANTS

Vida Verde brings the tastes, colors, sounds, and scents of ...

THEATER

Gaston Leroux's famous period thriller is now one of Broadwa...

SHOPPING

A premier destination for family entertainment....

SIGHTSEEING

Located in Times Square in the heart of New York City, Riple...