If you're visiting New York from a more suburban or perhaps even rural area, the way transportation works in the city can feel foreign. The transportation system in New York is different from pretty much all others in America.
In most parts of the country, including other big cities like Houston, there's much less reliance on public transportation than in New York.
There are pros and cons to the way other locations do things. For example, it can be more convenient to get around in your own car, but you might also be at greater risk of being in a car accident.
Of course, some people do use cars in New York, although it's much less common.
With those things in mind, the following is a rundown of some of your options for getting around the city.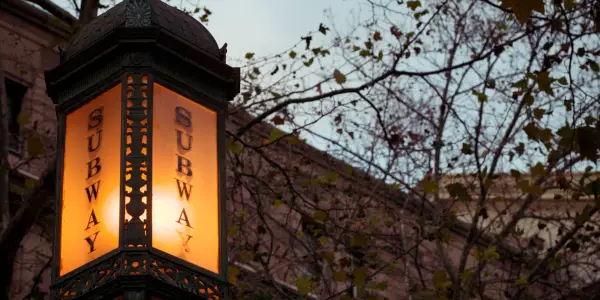 The Subway
The New York Subway system, pre-COVID, averaged around six million riders a day, and there are a few reasons for that. The subway is cheap, extensive, and practical. There are downsides, like the delays and the fact that sometimes there are safety risks, but overall it would be difficult to imagine that you'd be able to get around the city without the subway, even on a short vacation or visit.  
A subway ride costs $3 if you buy a single ride, and you swipe your MetroCard to get in. You can buy a MetroCard at the subway station. Once you swipe the card and you go through the turnstile, you can take any subway line and make as many transfers as you like.
There are local lines and express trains. Local lines stop at all the stations, and express only stops at certain stations.
While the subway is cheap and will take you anywhere you need to go, it gets confusing.
Also, if you have to transfer or go during rush hour, you can be surrounded by people, and the trip can be much longer than it would be ordinarily. The subway is dirty, there are rats and it gets hot in the summer, so your comfort level with these situations is something you'll have to consider.
If there's construction on a line, you have to find an alternate route.
The Bus
Riding the bus is as cheap as taking the subway, and you can also move from the subway to a bus and the transfer is free. You can use a MetroCard to pay for the bus ride, or you can buy a ticket from the driver, but you need to have exact change.
The busses tend not to have air-conditioning, and it's a slow option, but you're out in the open air and not down below in the subway tunnels.
Like the subway, the bus does get crowded, and if there are traffic or accidents, they're going to affect your bus ride and make it slower.
Taxis
Most of the official New York City taxis, which the Taxi and Limousine Commission licenses, are yellow. The rates should be printed on the door of an official taxi. Yellow taxis are the only vehicle allowed to pick passengers up as a response to hailing them from the street in the city.
You'll know a yellow taxi is available if its light is on. You need to get the driver's attention to hail a cab.
In upper Manhattan and the outer boroughs, the cabs that primarily operate are green, and the rules are a bit different. For example, the green cabs aren't allowed to pick people up in Manhattan below West 110th Street or East 96th Street, but they can drop off passengers.
There's a base fee to enter a cab, and in some instances, a congestion fee. Taxis are metered, and you have to pay tolls.
The drivers can be aggressive in cabs, but it's one of your fastest options to get anywhere.
If you're going to JFK airport, there's a flat fee. You pay for every fifth of a mile you travel, and then you also pay every minute the taxi is going slower than 12 mph. You pay additional amounts for traveling after 8 p.m. and before 6 a.m., and more for traveling during rush hour, from 4 p.m. to 8 p.m. on weekdays.
Along with aggressive driving, the big downside of taxis is that they're expensive.
Rideshare Services
Rideshare services work the same whether you're in New York City or your hometown, for the most part. They're typically cheaper than a cab, but not always. You find a car using your app, and you can carpool with strangers to save money. The pricing system isn't the same as cabs.
While rideshares may be cheaper than a cab, they're still an expensive option, especially if you hit surge pricing.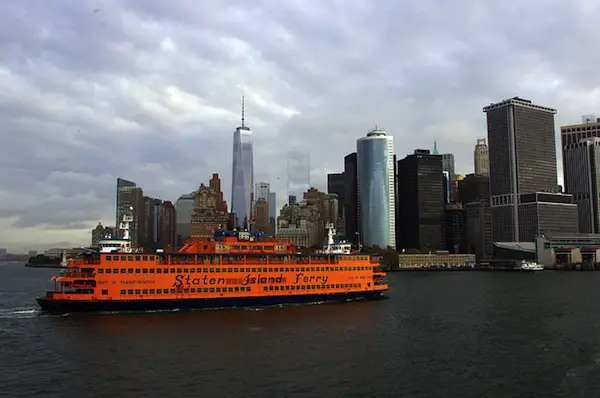 Image: flickr/Mike Steele.
The Ferry
If you're visiting New York and you have the opportunity to ride a ferry, it can be an experience in and of itself.
Some ferries are free, but others charge for tickets. There are commuter ferries like the NYC Ferry, which travels the East River. You can buy snacks and use free Wi-Fi when you're on board.
NY Waterway is also known as the Hudson River Ferry, and it's also a commuter ferry that travels between Manhattan and New Jersey. It's a reliable way to travel from New Jersey into the city.
The Staten Island Ferry departs from Battery Park, and the ride to Staten Island is around 25 minutes. The ferry is free, and you get great views of the city's skyline. You also go by the Statue of Liberty and Ellis Island.
There are plenty of ways to get around New York, and some are cheap while others are convenient, but it's unusual to find an option offering both, so you'll have to prioritize as you decide what's going to work for you.