Ready to live your Regency Era dreams? The Bridgerton Experience has landed in NYC, which means between now and the end of July, you can present yourself to the Queen and perhaps even win her highest regards as Diamond of the season. This immersive ballroom experience labels itself as a "once-in-a-lifetime night out in a Regency-esque world," so naturally, as a Bridgerton fan, I had to check it out.
Bridgerton first arrived on Netflix in December of 2020 and quickly won out as one of the most popular shows ever released on the platform. Based on the beloved book series by Julia Quinn, the show has been lauded as another of Shonda Rhimes's well-crafted, binge-worthy serials. The books and the series catapult you through time and place into the 19th-century Bridgerton family's social season. The Bridgerton Experience is a ballroom recreation that, like the show, gives you a chance to taste London high society—while retaining the contemporary style and inclusive casting that sets the show apart from other period pieces.
Quick note: For those who would like to attend the ball spoiler-free, I'd advise you to scroll away. I'll be detailing some of the many surprises of the evening from here. 
A Grand Entrance
Upon arrival, we step off a Midtown Manhattan side street and through a red velvet curtain to enter a hall decked in wisteria and hanging lights. Performers dressed as footmen stand by to officially escort us into the most exclusive ball of the season. There are gasps from guests around me as we enter the huge ballroom, also decorated with hanging flowers and a luminous chandelier over a black-and-white tiled dance floor.
On entering, we are handed a pamphlet with the latest from Lady Whistledown, including advice for how to best showcase oneself for an evening at The Queen's Palace. Lady Whistledown is the mysterious author of the Society Papers, a Deuxmoi-like leaflet that causes major tumult for our favorite socialites in seasons one and two.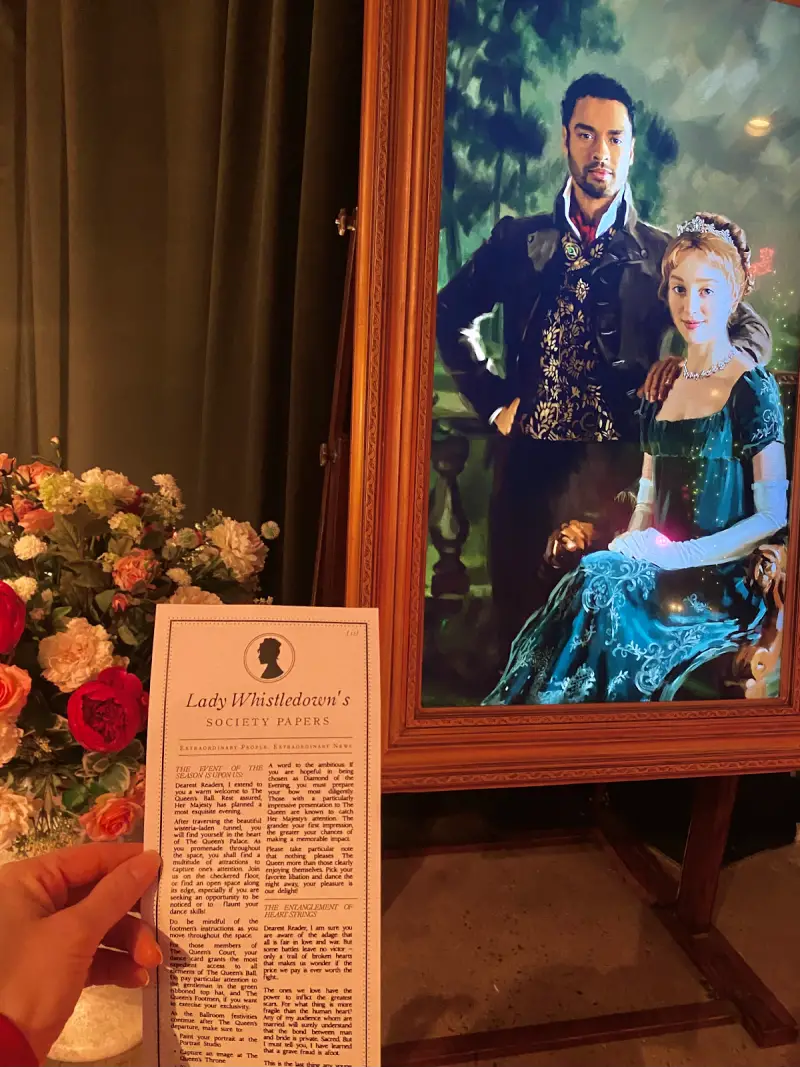 Before the performance begins, we're invited to explore the ballroom, which includes a portrait studio, a gift shop, a flower-laden bar, and plenty of ideal spots for a royal photo op. My guest and I stop at the Portrait Studio first, where we do our best to match Daphne and Simon's regality.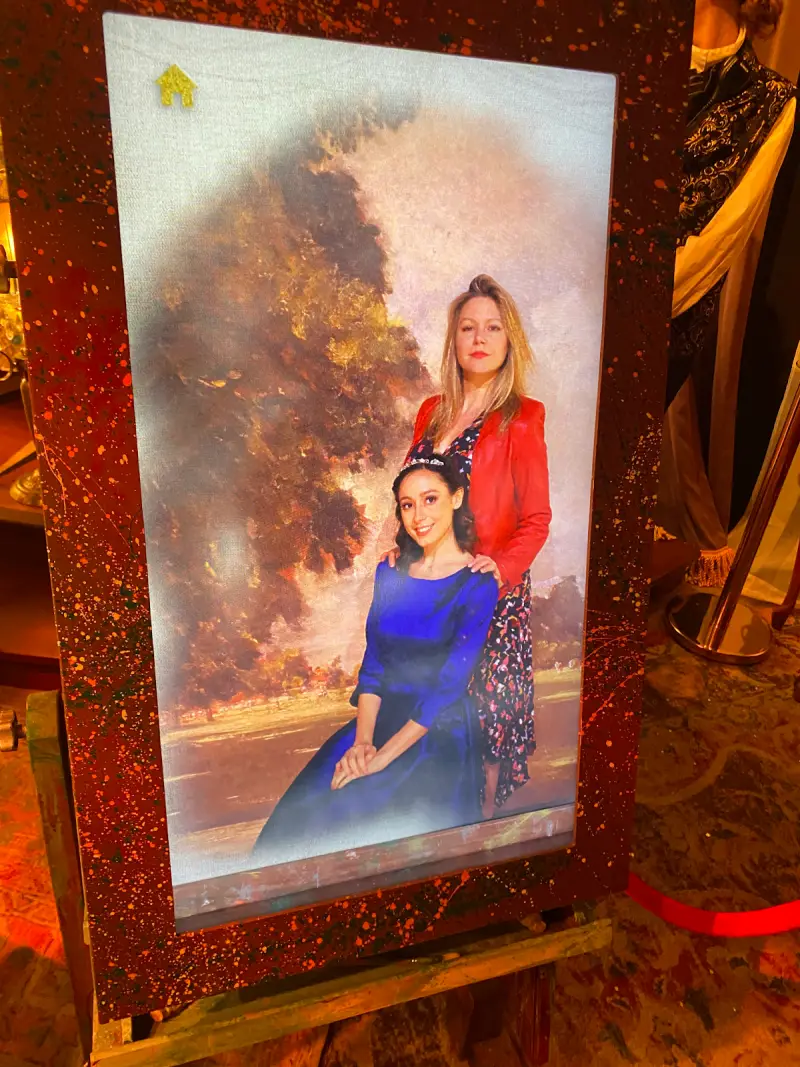 Tip: Once you've had your portrait taken, you'll be given a QR code for easy downloading, and for the rest of the evening, several giant frames placed around the ballroom shuffle through portraits of the evening's guests. You can catch yours in life-size framing if you're quick!
I recommend taking some time to browse the palace gift shop before the Queen's arrival. It's filled with fun swag for lovers of the show, as well as teasers for the latest release in Netflix's Bridgerton series, a prequel telling the story of Queen Charlotte's ascension to the throne. Purchase Bridgerton-themed makeup, clothing, totes, tea, and other accessories to enjoy during the ball and afterward.
What to Wear to Meet the Queen
If you're wondering whether ticket holders will be participating in full costume, I was amazed to see that nearly every guest in attendance had gone all out with full finery. Gowns, suits, tiaras, gloves—attendees haven't shied away from dressing for the Regency Era. Some wear gauzy modern gowns, while others opt for classic Regency designs, with empire waists, romantic floor-length skirts, and cutaway coats and tails. Some guests even spend the night balancing white wigs teased high above their heads. After I offer my admiration, one guest tells me that she made her eye-catching ball gown by hand for the occasion.
By the way, if you're concerned you might not stand out from the ornamented crowd, you can add a little extra 1813 glam to your look with a fan, tiara, and other accessories available for purchase from a footman near the entrance.
Royal Refreshments
After capturing our portrait, we make our way to the bar to try one of the themed cocktails of the evening. We chat up the friendly bartenders for their recommendations, and I settle on the Lady Bridgerton, a sweet, floral gin cocktail. My friend decides on the Whistledown & Dirty, crafted with vodka, lemonade, and mint. For those abstaining from alcohol, themed mocktails are also available (the non-alcoholic cucumber gimlet looks particularly delicious). There were also a few hors d'oeuvres being passed around early in the evening, but I wouldn't advise to come empty-stomached, as this is more of a cocktail experience than a meal. Word of warning: no drinks on the dance floor, so make sure to sip swiftly so you don't miss any of the interactive excitement to come. 
The Queen's Arrival
With drinks in hand, our attention is directed to a curtain in the far corner of the room, where two footmen wait. It is finally time for the Queen to make her grand entrance with her lady-in-waiting. She takes her seat on the throne at the front of the room, and the night's performance begins. Two gifted instrumentalists, a cellist and a violinist, provide the soundtrack for the evening, a mix of classically-arranged pop songs from artists like Ariana Grande and Madonna, as featured in seasons one and two. A classical rendition of Grande's "Thank You Next" was a personal fave of mine.
The crowd lines up on each side of the dance floor and a male performer steps out to present showy choreography before bowing to the Queen. He is then joined by his female dance partner for a beguiling performance that echoes Daphne and Simon's tryst from season one. Their complex pas de deux includes dancing with silks and a lot of chandelier-ography that draws titillated buzz from the crowd.
The night continues with a blend of performances from the cast and invited dances for the guests to enjoy. I won't spoil the surprise guest who makes an appearance during the most enthusiastic dance numbers, but you'll recognize this mischief-maker as an important part of the plot of season two.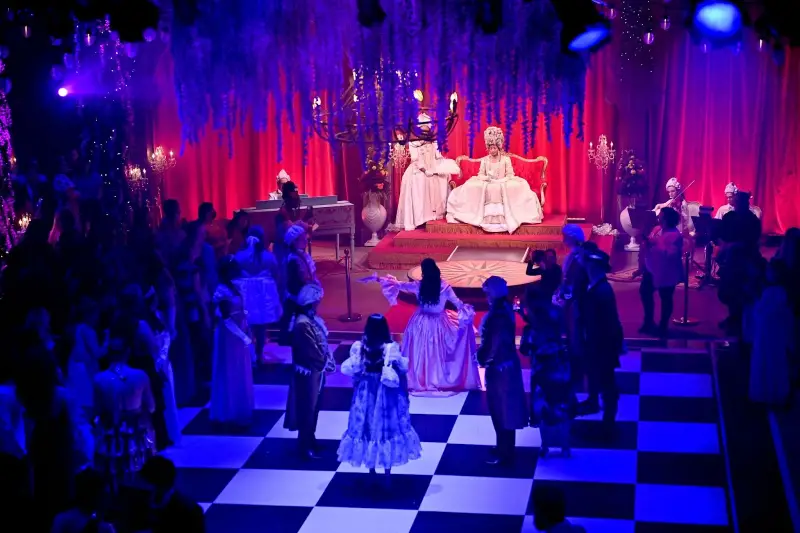 Diamond of the Season—er, Evening
The most anticipated moment of the night: meeting the Queen with the other lowly guests, one-by-one with our best bows and curtsies. I join the line and joke with my fellow commoners about how each of us feels slightly nervous to take our moment with the imperious Queen. But I am determined to win Diamond of the evening and secure my family's standing for the social season. With so many stunningly dressed people in the room, I know the competition will be pretty stiff. But when I get to the front of the line and give my deepest curtsy, I am sure that the Queen gives me a half-smile. And it goes through my ordinary, non-aristocratic head: maybe I can still squeak out a win over so many fabulously gowned competitors. 
I take in a Bridgerton Old Fashioned cocktail and a lot more enthusiastic dancing before the Queen gathers the guests to announce her choice for Diamond of the evening. She chooses a statuesque beauty in a modern green floor-length gown, who had included a Top Model-worthy runway walk before her curtsy. The crowd cheers as the surprised but excited winner blows kisses, while being showered in silver glitter. My friend and I go up to congratulate her after and learn that our mysterious Diamond is none other than Taryn Delanie Smith, Miss New York herself. The Queen never misses. 
Sadly, I haven't won. But there's always next season. 
Take the Trip or Skip? 
For lovers of Bridgerton and costume balls, The Bridgerton Experience delivers what it claims. The true highlights of the night are the live performances from the talented musicians and performers. From the first entrance, this immersive experience captures the atmosphere of the show well. I would recommend this experience for anyone looking for a swift but dazzling escape into another era on a New York City evening.
---
Mediapro Manhattan Studio, 508 W. 37th St. (btw. 10th and 11th Aves.), bridgertonexperience.com
Tickets start at $39. The experience lasts 90 minutes.
Bridgerton Experience Hours: 
Wednesdays–Thursdays: 7:00 p.m.
Fridays: 4:00 p.m., 6:30 p.m. & 9:00 p.m.
Saturdays: 4:30 p.m., 7:00 p.m. & 9:30 p.m.
Sundays: 2:00 p.m., 4:30 p.m. & 7:30 p.m.
Age requirement: 16+. Those under 18 must be accompanied by an adult (18 or older). 21+ with a valid ID to consume alcohol.