As the lyric goes, "Life is a cabaret," and if you believe in these words as much as Sally Bowles does, it's a sure bet that nightlife is the right life for you. Good thing you're in the perfect place, 'cause there's no doubt the Big Apple is the perfect home for it, boasting the hottest hotspots for luscious libations, scrumptious snacks, and the most irresistible pipes the planet has to offer.
Need help whittling it down further? To conclude the lyric, right this way, your table's waiting....
Feinstein's/54 Below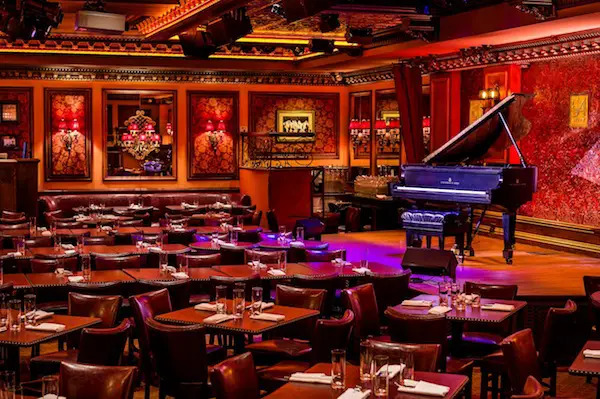 Photo: Marc Bryan-Brown
Since opening in 2012, first as the singular 54 Below before cabaret impresario Michael Feinstein came aboard in 2015, Feinstein's/54 Below has quickly become the go-to midtown hotspot for both its performers and cabaretgoers alike. Affectionately referred to as "Broadway's living room," the venue has been lauded for spotlighting a diverse array of Main Stem A-listers, from Lea Salonga and Brian Stokes Mitchell to Laura Osnes and Ethan Slater, among others. 


In addition to performance, newly minted chef Wayne Ricco boasts a wide-ranging seasonal menu, including specialties such as Arctic char, crab fritters, quinoa pilaf, and a signature bacon truffle mac 'n' cheese. The club presents between one and three shows nightly; ticketholders need not make a separate dinner reservation.
Tony winners John Lloyd Young and Beth Leavel kick off the year, with stage faves Tony Yazbeck, Jeremy Jordan, and Orfeh & Andy Karl tapped for appearances later in the season. 
For more information: Feinstein's/54 Below, 254 W. 54th St., 646-476-3551, 54below.com
The Green Room 42
Nestled in the heart of the Theater District, atop the trendy YOTEL Hell's Kitchen, The Green Room 42 is the "funky fresh" alternative for the modern cabaret experience. Founded in 2017, the modern urban lounge with the uber-relaxed vibe — accessed from the elevator within the YOTEL lobby — hosts nightly performances featuring today's most vibrant stage personalities, including Alice Ripley, Eva Noblezada, Frankie J. Grande, and Frances Ruffele.
Coupled with a chic, art-deco aesthetic — punctuated by a blend of the YOTEL's signature purple and splashes of deep crimson and white — a varied selection of casual bites and alcohol, and ticket prices that are proudly lower than a student rush ticket, The Green Room 42 is the city's newest institution for a night of frothy fun.
To boot, unique "millenial-ized" modifications to the modern dining experience are bested only by a strictly enforced "no food or beverage minimum" guideline. (However, per management, there's also no maximum, so if you're feeling adventurous...) 
Upcoming performers on the bill include Reeve Carney, Ann Hampton Callaway, Kathleen Turner, and Nicole Vanessa Ortiz, in addition to a variety of venue-exclusive series and events. 
For more information: The Green Room 42, 570 Tenth Ave., 646-707-2990, onfournyc.com 
Birdland Jazz Club
www.facebook.com/BirdlandJazzClub
Located in the heart of midtown, the historic Birdland Jazz Club has been playing host to legendary concerts and musicians since 1949 (albeit in three different locations). Steeped in history, the brand has featured memorable sets by iconic artists like John Coltrane, Miles Davis, Count Basie, Dizzy Gillespie, and, of course, its namesake — inaugural club headliner Charlie "Bird" Parker.
Since its renovation and reopening at its current location in 1996, Birdland has continued to cement itself as the place for New York jazz and blues entertainment, beckoning stars of stage, screen, and soul for up to three different sets per night. Post-revival performers have included Pat Metheny, Michel Legrand, John Pizzarelli, and Diana Krall, to name a few.
"Becoming a music multiplex has given us the great opportunity to expand the schedule to appeal to different kinds of musical taste," says venue producer and host Jim Caruso of the venue's eclectic offerings. "Between the perfect location, excellent sound and lights, great food and quality service, Birdland is truly a dream venue in every sense of the word." 
Since July 2018, the venue has housed the more intimate, cabaret-style Birdland Theater on its lower level (outfitted with a classic bar, natch). Both spaces offer equally diverse menus — Italian-influenced on the bottom floor, with signature Southern/Cajun mix on the top — complete with chef-curated wines, cocktails, and classic beers, and can't-miss decadent desserts. 
Forthcoming featured artists of note include Stacey Kent, Billy Stritch, and the Birdland Jazz Club; on February 23rd, Big City Songbook returns with a night of songs that pay tribute to the Big Apple itself. Meanwhile, Jim Caruso's Cast Party remains a staple every Monday night, and The Lineup with Susie Mosher is a regular Tuesday favorite.
For more information: Birdland Jazz, 315 W. 44th St., 212-581-3080, birdlandjazz.com