Chelsea Table + Stage wants to whisk you off the Manhattan streets this Halloween season and into a funhouse of kitschy softcore horror with IT: A Musical Parody. This is not the I.T. that you'll hear subway riders jabber on about during rush hour commute, but references instead the escapades of Pennywise, the personification of evil that finds corporeal form as a terrifying clown.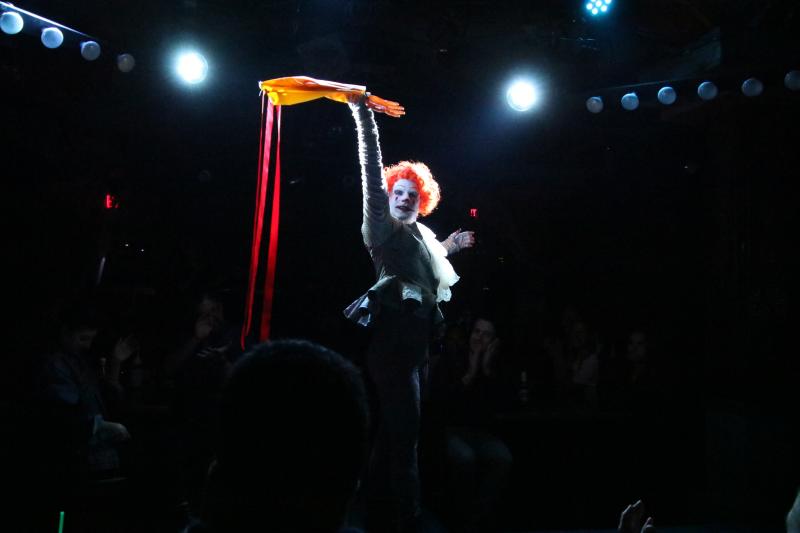 Photo by Bryan Carpender.
It's mostly an evening of toe-tapping frivolity, as Pennywise (played with panache by Garrett Clayton) seeks to snatch life from a group of hapless kids, all played here by adults. The engine that drives the show is not really the plot, but rather a cannily chosen series of pop tunes.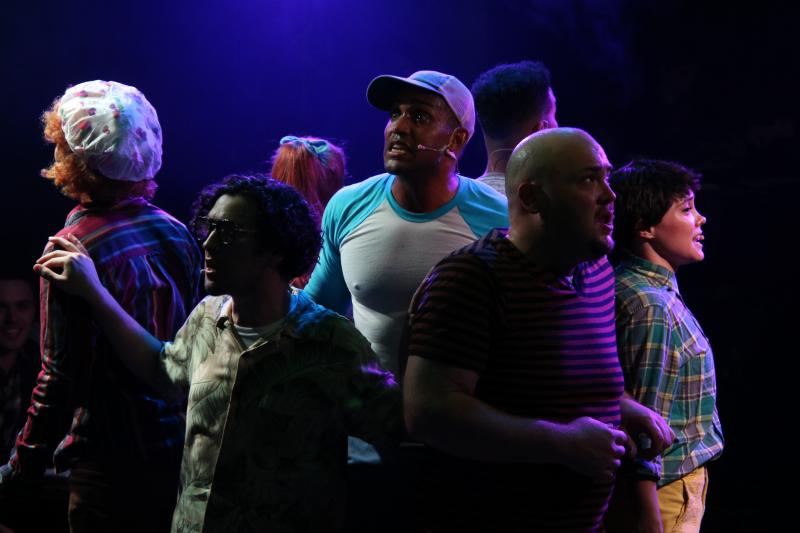 Photo by Bryan Carpender.
Act one, in which the youngsters first become aware they're being stalked, pulls together music from their youth—everything from Michael Jackson's "Bad" to Queen's "Bohemian Rhapsody" and Nena's one-off, "99 Luftballoons." The second act features music from their supposed adulthood, when they reconvene to try to dispatch Pennywise permanently.
Despite intermittent moments of profanity (so beware if you're bringing kiddos), the show is horror at its most benign and wholesome. The small live band turns on a dime as they dash through a catalogue of recognizable favorites that quickly brings the Moulin Rouge soundtrack to mind. 
Photo by Bryan Carpender.
But, as any good band will, they keep the spotlight on the spectacular ensemble of singers rocketing on and off the stage, all led by the redoubtable Clayton, whose Pennywise lands somewhere between the one so memorably created by Tim Curry in the '90s miniseries and that other Curry creation, Dr. Frank N. Furter from Rocky Horror. It's great fun to watch him roam the stage stalking and mocking his prey, and you'd never know he's one of Hollywood's easiest-on-the eyes performers, because here, he's hidden behind makeup and a series of red wigs, and he puts his voice front and center throughout. In a crowd of great singers, his stands out.
By now, locals and tourists alike know how terrific the venue is (decked out in red, it's perfect for a show like this), and the seasonal cocktails pack a delicious wallop (the mezcal/tequila combo is a particularly spicy thrill). The scallops and calamari never disappoint—nor the beef, if you're not into seafood. The service is brisk and quiet to keep the focus on the stage where it belongs.
Seasonal entertainment notwithstanding, Chelsea Table + Stage is building a reputation as one of the most dependably pleasant nights you can have anywhere in town.  Inside the 
Hilton New York Fashion District, 152 W. 26th St., 212-434-0499, chelseatableandstage.com
IT: A Musical Parody will be presented from Thursday, October 20th through Sunday, October 30th. Showtimes are Thursdays and Fridays at 8pm, Saturday and Sunday at 2pm and 8pm. There will be a special additional Halloween performance on Monday, October 31st at 8pm.