On the night of September 11, 2001, after the World Trade Center landscape had been desecrated into Ground Zero, Canadians Irene Sankoff and David Hein—along with a handful of their fellow NYC students—sat around a piano letting music mitigate their emotions.
Irene Sankoff and David Hein bring audiences together in Come From Away.
"Being in New York on that day and the days following, we wanted to help," said Hein. "We were all in the same boat. Race, age, whatever—that moment eclipsed everything." Not long afterwards, Sankoff and Hein married and went on to collaborate on the musical My Mother's Lesbian Jewish Wiccan Wedding. Michael Rubinoff, a Toronto producer, caught one of the performances and approached the couple with an idea: a musical focusing on the true-life story that unfolded when 38 planes were forced to land in Gander, Newfoundland on 9/11, stranding 7,000 passengers from across the globe. What made the situation especially heartening, he said, was the generosity and friendship shown these strangers by the people of Gander.
Intrigued, the couple launched themselves into firsthand research during a visit to Gander for the 10th anniversary of the events that touched and reshaped so many lives. While there they began homing in on the heartbeat of the show through first-hand interviews—a process that involved spending weeks living in Gander among the locals. "They wouldn't let us stay in a hotel; they gave us the keys," said Sankoff, adding that the only instructions they received were things like, "Feed the cats," and "Just let yourselves in and out". This small town world greets audiences at the beginning of Come From Away. Here locals inform us that Gander is home to a two-person police department, an elementary school, an SPCA, a TV station, and a hockey rink. Theatergoers also learn that the town is situated "on a giant rock in the ocean."
Even when not interacting and conducting interviews in Gander, Sankoff, and Hein continued delving into the people and stories that served as inspiration for their musical. And when the interviews, emails, and international Skyping let up, they found themselves sitting on massive amounts of material. The challenge then became how to tell 16,000 stories in 100 minutes with only 12 actors.
"Naturally, we had to create amalgamations of certain characters and details," said Hein. "For example, the reporter character is a combination of two reporters, allowing us to tell both their stories compactly."
"We relied on the people who were there to tell us whether or not we got it right," continued Sankoff, "and actually taking on multiple characters is a sort of 'Canadian aesthetic' insofar as we tend to step in when needed. Playing different characters is kind of a metaphor for how we can all be in anyone's shoes."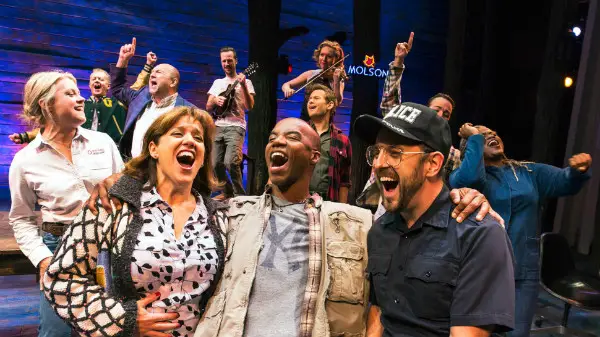 Come From Away image: Matthew Murphy.
In Come From Away, the lives of the Newfoundlanders and those of the visitors unfold gradually…and gracefully. Sankoff and Hein's creative superpowers are at their peak when it comes to telling a story in beautiful fragments with intertwining storylines. You can feel the energy and how in sync they became with both the passengers and the residents of "The Rock."
Before reaching Broadway, the perfectionist creators took time to develop the show at the Canadian Music Theatre Project, Goodspeed's Festival of New Musicals, and the NAMT Festival of New Musicals. Eventually, it premiered at the La Jolla Playhouse and Seattle Repertory and went on to shine at Ford's Theatre in Washington, D.C., the Royal Alexandra Theatre in Toronto, and the Gander Community Centre hockey rink. Only then did Come From Away head to the Big Apple where, after three years, it remains one of Broadway's hottest tickets.
In the end, everything you see unfolding on the Schoenfeld stage actually took place, including the budding romance between Dallas divorcee Diane and British oil engineer Nick. Notable as well is the pivotal character of pilot Beverly Bass, whose revelatory song, "Me and the Sky," stops the show.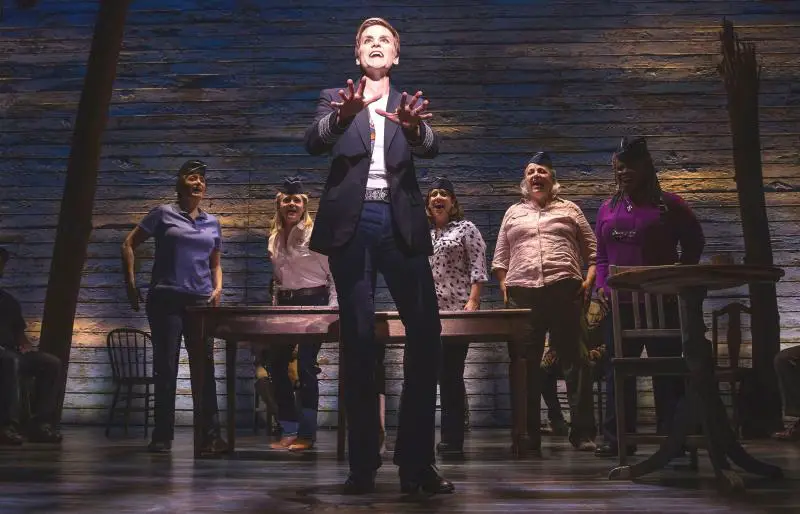 Jenn Colella and crew. Photo by Matthew Murphy.
"Beverly's probably seen the show over 100 times," says Hein. "And I'd guess Nick and Diane have seen at least 60 performances."
Indeed, Sankoff and Hein have built a show that not only inspires repeat visits but allows theatergoers to bond with—even hug—strangers next to them. It's a musical filled with humanity and humor and you will leave the theatre uplifted and inspired. Guaranteed.
---
Come From Away is playing at the Schoenfeld Theatre, 236 W. 45th St. Call 212-239-6200 or visit comefromaway.com for tickets and more information.