NYC's most iconic skyscraper, the Empire State Building welcomes some four million visitors to its Observatory every year. This week, the building opened a stunning new Observatory Entrance on 20 W. 34th St., an addition that will make the visitor's experience more "memorable, shareable, and pleasant," according to Anthony E. Malkin, CEO and Chaiman of the Empire State Realty Trust.
The Empire State Building's new observatory entrance at 20 W. 34th St. features a brand new lobby. Photo: Evan Joseph.


Part of a $150 million dollar redevelopment project, the first completed phase includes a spacious new lobby that showcases footage of celebrity ESB guests, a green room, and a grand staircase. In the center stands an authentic two-story model of the Empire State Building, designed by architectural model maker Richard Tenguerian, which is constructed so it can mimic the famed light shows on the skyscraper's upper floors.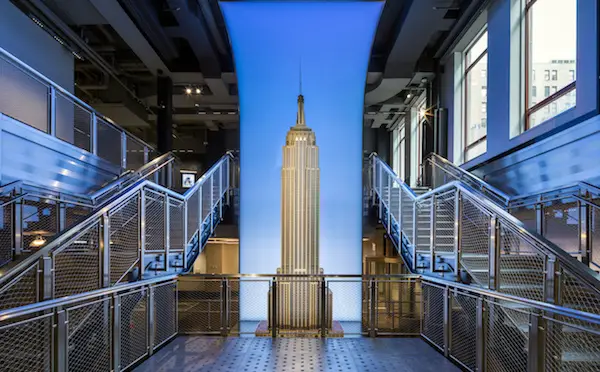 The sparkling new ESB Observatory entrance on 34th Street features an authentic two-story replica. Photo: Evan Joseph.

Guests next ascend to a floor where they can purchase tickets at state-of-the-art kiosks available in nine languages (English, French, Mandarin, German, Italian, Spanish, Portuguese, Korean, and Japanese). There's even a button for handicap access which will lower the interface. Here you can choose from the main 86th floor observatory deck or the additional thrill of a visit to the 102nd story observatory deck. A sunrise option is available, providing the opportunity to be there for dramatic early light with only 100 tickets sold. Visitors can also add on to their ticket if they wish to purchase prix fixe packages at the two in-building dining destinations, STATE Grill and Bar and the taqueria Tacombi.
Upstairs features two walls of state-of-the-art kiosks where visitors can buy tickets. Photo: Evan Joseph.
Once visitors purchase their tickets and get on line, they can whip out their cameras for selfies and other photo ops with stunning colorful images that adorn the waiting area.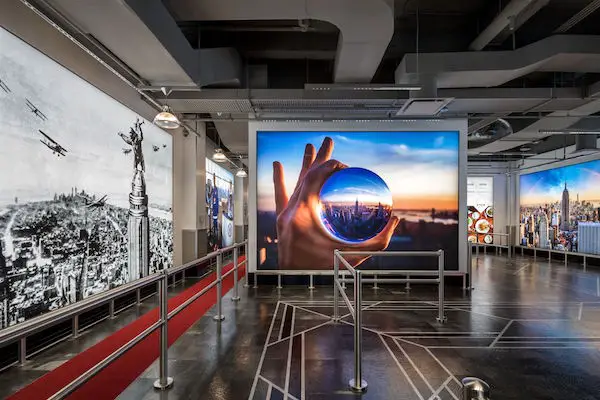 Instagrammable moments at the Empire State Building. Photo: Evan Joseph.
The rest of the redevelopment will be completed by the end of 2019. The former main entrance on Fifth Avenue will remain open as an exit, greatly improving the attraction's traffic flow.

CEO and Chaiman of Empire State Realty Trust Anthony E. Malkin speaks at the preview of the new entryway. Photo: Linda Sheridan.
The Empire State Building is open 365 days a year. Erected in 1931, the ESB has served as its own character in numerous films, including King Kong, An Affair to Remember and Sleepless in Seattle, to name a few. For more information, visit esbnyc.com.