Before the houselights dim signaling the prologue to Jez Butterworth's Olivier Award-winning The Ferryman, a large man walks onto the stage's graffiti-stained alley set. I can't see if there's another character just out of my sightline, so for me this guy is prequel to the prologue, marking the only time in this profoundly populated work I experience any sense of aloneness. Once the show begins others arrive, formulating the setup that will eventually spill into a farmhouse in Northern Ireland where the multi-generational Carney clan is preparing for their annual harvest celebration.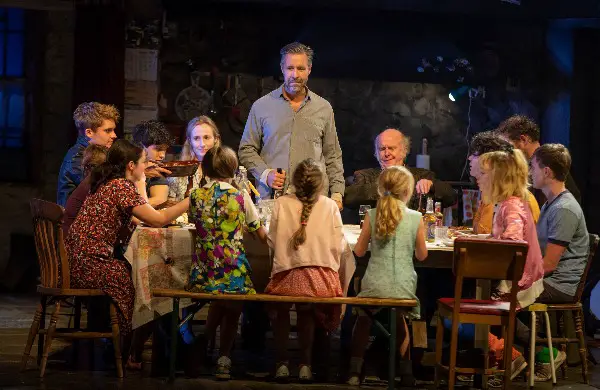 Paddy Considine as family head Quinn in the Olivier Award-winning The Ferryman. Photo by Joan Marcus.


Raucous shenanigans aside (and there are plenty), lurking behind every plot twist and poetic monologue are fresh and fermented Irish Republican issues. It's late summer, 1981, and incendiary personal and political affairs acutely define the Carney's harvest home.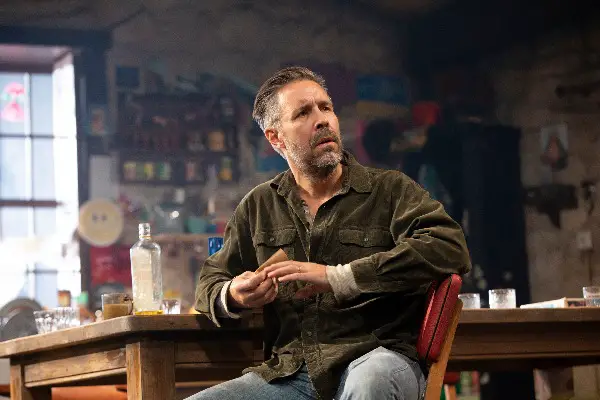 Paddy Considine. Photo by Joan Marcus.
Pater familias of the epic brood is Quinn, a compelling Paddy Considine, member of the acclaimed London cast who opted to unfurl this heart-stamping masterwork on Broadway. 
Characters range from infant to elderly, the latter a trio of diverse siblings—Uncle Pat (Mark Lambert), Aunt Pat (Dearbhla Molloy), and Aunt Maggie Far Away (Fionnula Flanagan)—who spin the past on their own terms to the delight of Quinn's kids who thrive on everything from Aunt Pat's political rants to Aunt Maggie's wistful lost love memories.
Fra Fee, Tom Glynn-Carney, and Conor MacNeill. Photo by Joan Marcus.
Brilliantly directed by Sam Mendes, daybreak comes on an intimate scene between Quinn and his sister-in-law Caitlin (a luminous Laura Donnelly), who has lived with the family along with her son, Oisin, since the disappearance of her husband/Quinn's brother 10 years earlier. The interaction morphs into a trickle of family and others until the stage bursts with food, music, whiskey, dance, lust, fury, sadness, and danger—the latter courtesy of IRA stalwart "Muldoon" (Stuart Graham) and his goons. 
Sprawling as the action may seem, it arrives in cozy pockets of concurrent news—the discovery of the body of Caitlin's husband; Republican hunger strike deaths at Maze Prison—and a day of revelry officially kicked off by the search for the escapee dinner goose, ultimately retrieved by the Carney's slow-witted giant of a neighbor, Tom Kettle (Justin Edwards), and brought to a closure of consequences.
Note: A predominantly American cast steps in on Feb. 19th with Tony nominee Brian d'Arcy James as Quinn and Tony winner Shuler Hensley as Tom Kettle. Tony winner Blaire Brown joins the cast as Aunt Maggie Far Away on April 16th.
---
The Ferryman is playing at the Bernard B. Jacobs Theatre, 242 W. 45th St. For tickets and more information, call 212-239-6200 or visit theferrymanbroadway.com.