A Perfect Day at Liberty Island, Ellis Island, & The Battery
September 28, 2018 - by Merrill Lee Girardeau
The tip of Manhattan—The Battery, connected to Liberty and Ellis islands across New York Harbor—is the cradle of New York history. A strategic battle site in the Revolutionary War and the former seat of the United States capital, this area combines the old and the new, with beautiful antique buildings like City Hall near brand-new construction projects like the ultra-modern Oculus mall. Liberty Island and Ellis Island are two of the most popular tourist destinations in the city and they're best accessed from here. We've devised a day of fun in and around The Battery, including a trip to the Statue of Liberty and Ellis Island, a long, luxurious lunch, an afternoon of shopping, one last sightseeing essential, and a fabulous French dinner. This plan is ideal for ambitious, energetic travelers, especially if you've brought kids along. Be sure to wear comfortable walking shoes; you'll need them!!
A Day at Liberty Island, Ellis Island, & The Battery: Getting to the Ferry
Statue Cruises is the only company providing round-trip ferry service to Liberty and Ellis Islands. The ferries leave from Battery Park in Manhattan and Liberty State Park in New Jersey. It's the far more popular pick to leave from Battery Park (although the Jersey location is much less crowded, FYI), and as such, you'll need to (a) book online and (b) pick a strategic time. When booking, be sure to choose a weekday morning if possible, as the crowds understandably flock to the ferry during midday on weekends. Ferries leave about every 20 minutes from Battery Park, and all passengers must be screened by security before stepping onboard the ship. Plan to arrive 30 minutes prior to your scheduled departure. Statue Cruises is located inside Battery Park at the southern tip of Manhattan, inside the low circular structure called Castle Clinton. Battery Park is accessible via the 1, 4, 5, W, and R trains. Castle Clinton National Monument, 1-877-LADYTIX, statuecruises.com
A Day at Liberty Island, Ellis Island, & The Battery: Liberty Island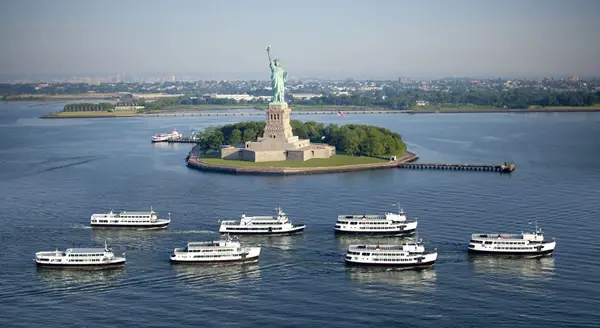 Liberty Island is one of the world's most famous islands, the site of an undisputed icon. The Statue of Liberty stands at 305.5 feet high, including the granite pedestal designed by Richard Morris Hunt. Her form, made of copper, was created by French sculptor Frederic Auguste Bartholdi. The nation of France gifted the statue to the U.S. in honor of its centennial in 1876, while the grand unveiling occurred a decade later on October 28, 1886. The star-shaped structure at Lady Liberty's base was built in 1807 in anticipation of the War of 1812 and is named Fort Wood. Statue Cruises offers three types of tickets. The Reserve Ticket gives you access to the grounds of Liberty Island. You can tour Fort Wood with The Pedestal Reserve Ticket. For $3 extra, get inside Lady Liberty's head with the Crown Reserve Ticket. Access to the Ellis Island National Immigration Museum is included in all tickets. Statue Cruises provides pre-taped audio tours in several languages as well, giving you a deeper orientation to the histories of Liberty and Ellis Islands. Budget about 2 hours for your tour of Liberty Island.
A Day at Liberty Island, Ellis Island, & The Battery: Ellis Island
Ellis Island's significance resonates as much in this age as it did in the nineteenth century. The Immigration Station at Ellis Island saw 12 million immigrants enter the United States between 1892 and 1954. Lying dormant for three decades, the Immigration Station was renovated and transformed into a museum in the 1980s, where visitors could explore the island's rich history and maybe even find some of their ancestors' names written in the record books! Statue Cruises provides a ticket upgrade called the Hard Hat Reserve Ticket for those interested in the undeveloped side of Ellis Island. The ticket includes a 90-minute tour, including a peek at a site-specific installation by the artist JR. Remember that all Statue Cruises tickets include access to Ellis Island, so you won't miss out on this national treasure! Budget about an hour to take in the museum. Ferries leave every 20 minutes, and your return trip to Battery Park is included in the cost of your ticket.
A Day at Liberty Island, Ellis Island, & The Battery: Lunch at Gigino at Wagner Park
Gigino is a verifiable crowd-pleaser, especially if you're spending the day with young children. While you're sipping your drink, the kids can play on the bright green lawn adjacent to the restaurant, getting out any energy they might have left after a long morning of history and ferry rides. Bonus: Gigino is a 3-minute walk from Castle Clinton, where you'll return after your ferry ride from Ellis Island. The food is approachable Italian, with penne alla vodka and osso buco-esque chicken for grownups and ravioli al pomodoro for kids. You'll know Gigino by the large white tent presiding over the patio, a perfect retreat in all kinds of weather. 20 Battery Pl., 212-528-2228, gigino-wagnerpark.com
A Day at Liberty Island, Ellis Island, & The Battery: Shop at Century 21

We hope you take a long lunch at Gigino, because we're about to send you on another odyssey: Century 21. This department store provides designer goods at a discount, with high-fashion labels like Marc Jacobs, Celine, Moschino, and Alexander Wang available for less. But not everything at Century 21 is ultra-chic. They also sell designer jeans, t-shirts, athletic wear, and shoes at a wide variety of price points. They also carry men's fashion and home goods. In short, you could spend a whole day here, but we'll budget you an afternoon and send you to your next downtown destination! Spend $20 and get a Mystery Gift Card valued between $5-$200. If you'd like to diversify your shopping a bit, there are also stores like Anthropologie, Urban Outfitters, and Zara nearby. 22 Cortlandt St., 212-227-9092, c21stores.com
A Day at Liberty Island, Ellis Island, & The Battery: One World Observatory
The 9/11 Memorial & Museum is located in the heart of downtown Manhattan and might have made a great pick for this list. But in our opinion, it's simply too much to tackle the Statue of Liberty, Ellis Island, and the 9/11 Memorial & Museum in one day. We'll point you to another testament of the city's recovery after September 11, 2001. That's One World Observatory, located at the top of One World Trade Center, built very near the site of the former Twin Towers. One World Trade is the Western Hemisphere's tallest building. At the top, you'll get an awe-inspiring view of the skyline and learn about the building's history and design. And you're in luck: City Guide is offering 20% off standard admission tickets with the promo code SUMMER18! 285 Fulton St., 212-602-4000, oneworldobservatory.com
A Day at Liberty Island, Ellis Island, & The Battery: Dinner at Augustine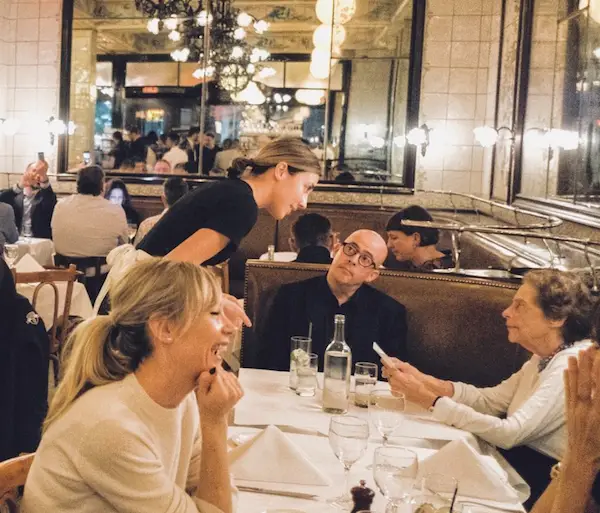 If you have children in tow, have an elegant dinner at the evergreen Augustine. This is French food done right, with a wonderful crudo with tuna, anchovies, and cherry tomatoes and pitch-perfect grilled salmon. The Whisky Burger deserves a shout-out too. They serve delicious craft cocktails and desserts like roasted oranges as well, all with impeccable, child-friendly service in their beautiful cream-colored dining room. 5 Beekman St., 212-375-0010, augustineny.com
Looking for Free Group Planning Services?
Get free advice on planning your group's trip to New York.
RESTAURANTS

Multi-concept restaurant offering modern Japanese cuisine, a...

THEATER

In a heartbeat, 38 planes with 6,579 passengers were strand...

SHOPPING

DataVision is redefining retail with their new, fully intera...

SIGHTSEEING

Rosé Mansion is back for another summer residency in NYC aft...