You've decided to plan a trip to New York City, the greatest city on Earth! You are in good company. According to nycgo.com, in 2012, 52.7 million people (international and domestic) visited New York City, and spent $36.9 billion dollars!
While New York City is only 23.7 miles, it is the world's greatest metropolis, offering an endless selection of museums, venues, restaurants and shopping options. For someone who has never been here before, it can be overwhelming. If you're thinking of putting together a group of family, friends or students to visit, here are some recommendations on how to make a group tour simple!
Group size
"How many people are in your group?" asks David W. Chien, Director of Marketing for CitySightsNY and Gray Line New York Sightseeing Tours, two of New York City's best group tour companies. "We can accommodate from one to 200 people," says Chien. "For those who shy from crowds, CitySightsNY also offers a customized van service," says Chien. 
After getting to the airport, a train ride in a new city with a group can be stressful. GO Airlink NYC offers door-to-door group van service for up to 56 people. For information, visit goairlinknyc.com.
Time
"How much time do you have on your trip? What are you looking to accomplish?" asks Chien. "New York City changes so much, every year. Gray Line's All Loops Tour offers 48 hour access, hop on hop off, with 40 stops, uptown, downtown, Times Square, Brooklyn, Bronx, and a night tour.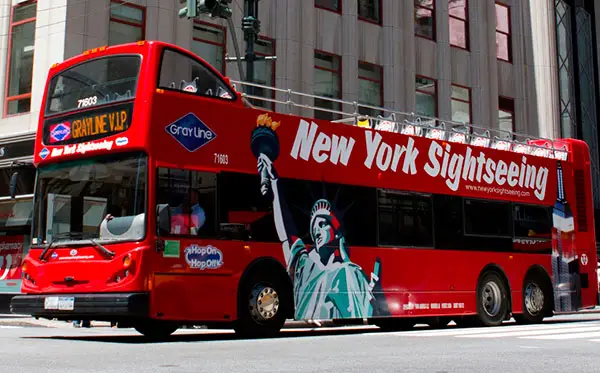 "A live tour guide is narrating. There are also pre-recorded narrations available in 11 languages. It's great for first time visitors." If you have a lengthier stay and want to get more sightseeing/shopping in, "Gray Line also offers day trips to Niagara Falls, Philadelphia, Washington DC and Woodbury Commons shopping outlet mall," says Chien. For more information on Gray Line New York Sightseeing Tours, visit newyorksightseeing.com.
Age
Certainly NYC is engaging for persons of every age, but getting around with children needs extra consideration. "Kids love double decker buses," says Chien. CitySightsNY's buses—double-deckers, are top-seating-only, so everyone gets an unobstructed view of the attractions. Their buses are furnished with state-of-the-art sound systems and urban storytellers who offer interesting facts about all of the city's famous faces and places. Plus children get special treatment. Kids ages 4-12 receive a 50% discount on tickets; children under 4 ride for free.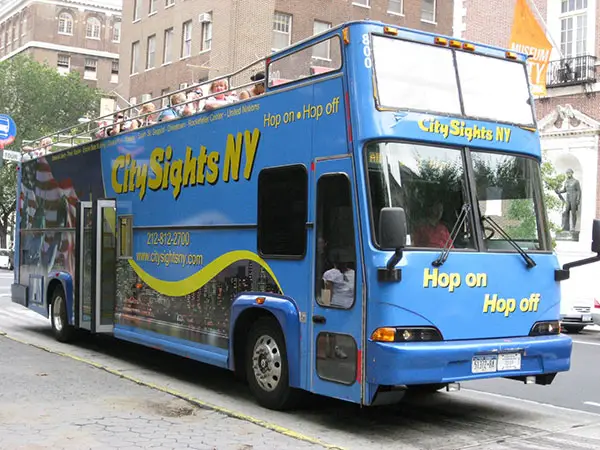 New York City can be an expensive town. For students worldwide, keeping costs down when traveling is a number one priority. STA Travel has been helping students get the best discounts in travel for more than 30 years. The STA Travel International Student Identity Card (ISIC), is recognized over all the world. Since its launch, it's helped more than 40 million students to get the most out of their travel experience by offering over 40,000 pre-negotiated discounts on student flights and tours. In addition to travel discounts, students are able to access exclusive discounts at places such as the Solomon R. Guggenheim Museum, South Street Seaport, The Metropolitan Museum of Art, Target, as well as mom and pop places around the city.
There are many ISIC card choices for students of all ages. Students are even able to use their ISIC card as a Mastercard prepaid credit card, which is immensely valuable for someone traveling abroad. It also comes with travel insurance which covers you whether something gets stolen, a flight is missed, or in the case of a medical emergency.
STA Travel offers services for planning student group flights, hotel and hostel discounts and specialized tours. For students planning a group tour to New York, visit statravel.com. For information and to apply for an ISIC card, click here. 
For college students, CitySightsNY also organizes some student travel itineraries, at iconic NY spots along Fifth Avenue, including Rockefeller Center, St. Patrick's Cathedral, FAO Schwarz, the NBA Store, as well as The Statue of Liberty, the United Nations and more. They can accommodate groups from 5 to 20 people. For more information on CitySightsNY, visit citysightsny.com.
For persons 65 and older, NYC offers myriad senior discounts. New York City's MTA offers a 50% reduced rate for seniors. Make sure to offer your age up front when making hotel reservations beforehand, not when checking out. Also, please be sure to have identification at the ready. When renting a car, ask about promotional car-rental discounts, which can be cheaper than senior-citizen rates. 
Times to travel
"The peak times to travel to New York City are from Memorial Day Weekend to Labor Day Weekend," says Chien, "Easter is when we begin to swing into season." Summertime travel also means taking advantage of NYC's many sightseeing cruises. For individuals, or groups of 20 or more, New York Water Taxi is a great way to see New York City's dazzling skyline, celebrated bridges, and lush waterfront parks.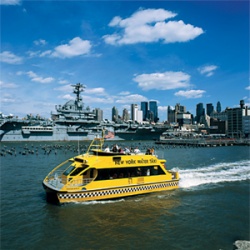 For $30, their All Day Access Pass will show visitors the Empire State Building, Statue of Liberty, Brooklyn Bridge, Governors Island. Passengers can do the whole ride in 90 minutes, or choose to get on/get off. There is also an All Day Access Pass that includes admission to the 9/11 Memorial. For more information, visit nywatertaxi.com.
Little kids love boat rides! In the summer, Circle Line Sightseeing offers special Kids Cruises.
Geared for children ages 3-12, the 75-minute cruise to the Statue of Liberty includes an interactive live tour guide, plus live entertainment. Special packages are available for smaller groups of 14 and under, as well as 15 persons and up. For more information, visit circleline42.com.
Special Interests
What do you want to explore? Museums? Famous sights from films? Broadway shows? "CitySightsNY offers a Museum Mile Tour that spans Fifth Avenue bet. 82nd and 105th Sts. and includes a ticket to Museum of the City of New York," says Chien.
Or maybe you want to sample some of NYC's best restaurants, without worry of a harsh price tag. Gray Line's "Eat & Play" Card is $24.99. This offers you restaurants, lounges, attractions, retailers, tours, Broadway shows and more, discounts of 10% - 50% off the entire bill. Some of the participating restaurants include: Heartland Brewery, T.G.I. Friday's, Legends Bar, Delmonico's, B. Smith's, Shula's Steakhouse, Sky Room, Bourbon Street, Charley O's, Lindy's, McDonald's, Macy's, NHL Powered by Reebok, Famous Footwear, DeNatale Jewelers, Guggenheim Museum, Central Park Zoo, Ripley's, NY Skyride, Intrepid Museum, Chicago, Stomp and Carolines on Broadway.
If you're a movie buff, you've come to the right city! Hundreds of films and television shows are shot in NYC every year. On Location Tours offers special bus tours: the New York TV and Movie Tour, featuring 40+ film and television show locations; there's a Sex and the City Tour, following all the local haunts where Carrie Bradshaw and the gang clubbed it up in the Meatpacking District; Sopranos Sights Tour; and more. For information and reservations, visit onlocationtours.com.
Manhattan is great, but the outer boroughs are rich in history and offer great places to eat, too! And if you visit New York, you have to have a slice of pizza! A Slice of Brooklyn Tours, which has been rated #1 tour of Brooklyn on TripAdvisor, was started by travel lover and Brooklyn native Tony Muia. Their buses can accommodate up to 56 people.
Best of all, their tours depart from Manhattan, so it's very convenient. The four-and-a-half-hour bus tour runs year round, highlighting the incredible pizzerias, landmarks, movie locations, and points of interest that have made Brooklyn world-famous. The bus tour then heads over the Manhattan Bridge for a look at DUMBO, the Brooklyn Bridge, and Fulton Ferry Landing, and then stops at Frank Sinatra's favorite pizza spot, Grimaldi's. If you travel to NYC in the winter, their Christmas Lights & Cannoli tour is a must, exploring the holiday lights of Dyker Heights. For information and reservations, visit asliceofbrooklyn.com.
Seeing NYC from a high vantage point is a must, at least once. Destinations such as Top of the Rock and the Empire State Building give incredible views. At Top of the Rock, The 67th and 69th floors include outdoor terraces which feature fully transparent, safety glass. The 70th floor, the uppermost level, provides a completely open air, unobstructed 360-degree view of New York City and beyond. The Empire State Building has observatories on the 86th (there's also an indoor one on this floor, for chillier days) and 102nd floors. Special discounts are available for groups of 20 or more. For more information visit topoftherocknyc.com and esbnyc.com.