It would be impossible to check out all of New York City's best Christmas displays in three quick hours if you were traveling by subway. So what do you do when you want to experience all of the city's holiday cheer during your visit to the Big Apple, but are pressed for time? Easy, you hop aboard High Quality Tours' Christmas Lights Tour.
Stay warm and cozy while you take in NYC's best Christmas decorations this year. High Quality Tours lives up to its name, providing a luxury vehicle that's top-of-the-line, comfortable (and heated!). The tour begins at Macy's Holiday Windows on 34th Street, makes its rounds through the city's most iconic Christmas decoration locations, and even drops down into Brooklyn to take in the famed Dyker Heights Christmas lights. Really, for $75, this three-hour New York City tour is one of the best steals of the season. A licensed tour guide will fill you in on all the holiday wonder around you, and you'll have the opportunity to get on and off the tour vehicle to snap pictures while getting up-close and personal with all of NYC's famed holiday decorations.
Along your journey, you'll be able to score photos of these much talked about Christmas decorations and so much more!


Rockefeller Center: Home of NYC's biggest and most beloved Christmas tree. Also home of The Rink at Rockefeller Center and a must-see for every New Yorker and tourist alike during the Christmas season.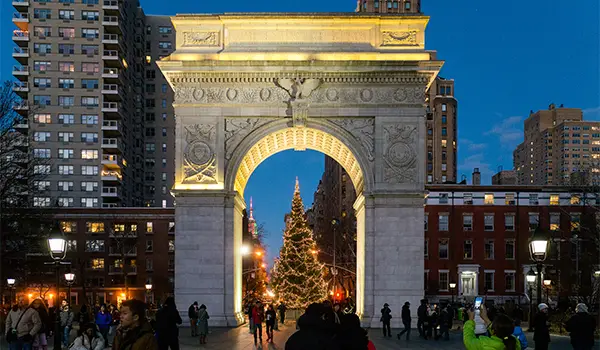 Image: Charley Lhasa/Flickr
Washington Square Park: Everybody knows Washington Square Arch is breathtaking, but put an enormous, glowing Christmas tree below it, and you've got yourself a spectacle that cannot be ignored.
Fifth Avenue: From Saks to Tiffany's, Fifth Avenue is known for its renowned Christmas decorations that take over storefronts from 59th to 39th. Keep your eyes peeled for Bergdorf Goodman and Henri Bendel, always two of the most impressive display windows.
Image: Shinya Suzuki/Flickr
Bryant Park's Winter Village and Rink: Bryant Park becomes one of the busiest epicenters of New York City during the Christmas season. Check out the park's Winter Village, with independent vendor kiosks, an ice rink, and of course, a tall standing Christmas tree at the heart of it all.
Dyker Heights: Dyker Heights is Brooklyn's pride and joy when it comes to holiday lights. The entire neighborhood goes all out to produce some of the most monumental light shows and decorations in all of New York City.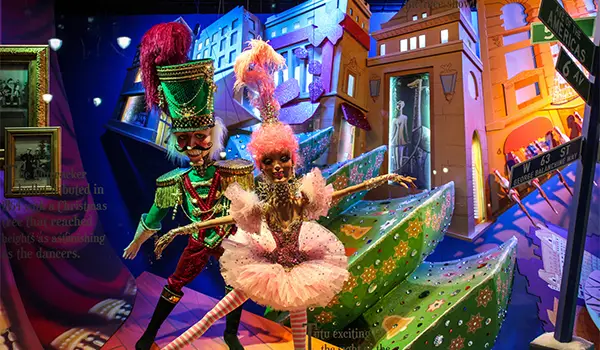 Image: Guru Sno Studios/Flickr
Macy's Window Displays: If there's one store that can compete with Saks Fifth Avenue's impressive window displays, it has got to be Macy's. Always Christmas themed, always impressive, always worth checking out, it's not a NYC Christmas until you've stopped by.
Get one-of-a-kind views of NYC's best holiday decorations this December on High Quality Tour's Christmas Light Tour. The streets of Manhattan may always be glimmering, but during the holiday season, they are truly a scene that you've got to see.
212-531-1212, highqualitytours.com