Read about the 2014 Holiday Train Show here.
The NYC holiday season is "full steam ahead" as the New York Botanical Garden is celebrating the 22nd anniversary of its Holiday Train Show. Trains, nature-fabricated landmarks, and the breathtaking fauna in the Enid Haupt Conservatory Victorian glasshouse provide a colorful and exciting eyeful of holiday family entertainment.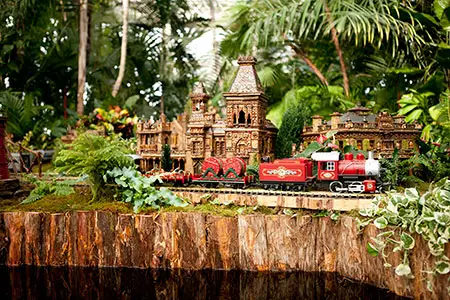 Photo: Ivo M. Vermeulen
Over 20 large-scale model railway trains and trolleys from the late 1800s, to modern freight and high-speed passenger trains, traverse a quarter-mile track across rustic bridges, trestles, through tunnels, and past waterfalls that cascade into flowing creeks. Trains are G-gauge, measuring more than two feet long and weighing as much as 10 pounds.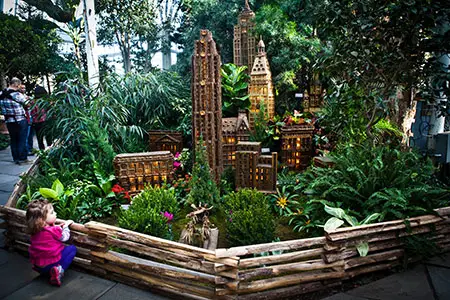 Photo: Talisman Brolin
Amid the glow of twinkling lights and the festive holiday tree, there're replicas of New York landmarks, crafted by Paul Busse and Applied Imagination, of natural materials such as bark, fruit, seeds, and pine cones. The original and magnificent Beau Arts Pennsylvania Station, Yankee Stadium, St. Patrick's Cathedral, Radio City Music Hall, the Brooklyn Bridge, Rockefeller Center, and hundreds of others are along the train route. A special attraction is Thomas the Tank Engine and other treasures loved by children.

Photo: Ivo M. Vermeulen
Activities include The Artist's Studio, showing how the replicas are constructed along with trains made of plant materials running on separate tracks; the educational Holiday Adventures in the Everett Children's Adventure Garden with train parades and arts and crafts at Ralph Lee's Artist Station (11am-5pm); and, from January 2 to 16, performances of All Aboard with Thomas & Friends.

"Kids" quite a bit older can enjoy complimentary cocktails, purchase seasonal refreshments, and ice-sculpting demonstrations on Bar Car Nights in the Streets of New York Holiday Dining Pavilion on December 14, 20, and 21 from 7 to 10pm. Tickets are $30; $20 for NYBG members. Purchase at www.nybg.org.
Non-member All- Garden Access tickets for the Holiday Train Show are: weekdays - $20, $18 seniors/students $10, children (2-12); weekends - $25, $22 seniors/students; $15 children. New York Botanical Garden hours are 1:30–5:30pm, weekdays; 10am-5:30pm, weekends and December 23–January 1. For exact details on daily activities and to purchase timed visits, click here.