Pop the champagne...get out the confetti...pump up the volume on the Grammy-grabbing cast recording: November 14th marks the day the irresistible hit musical Chicago celebrates its 20th birthday on Broadway!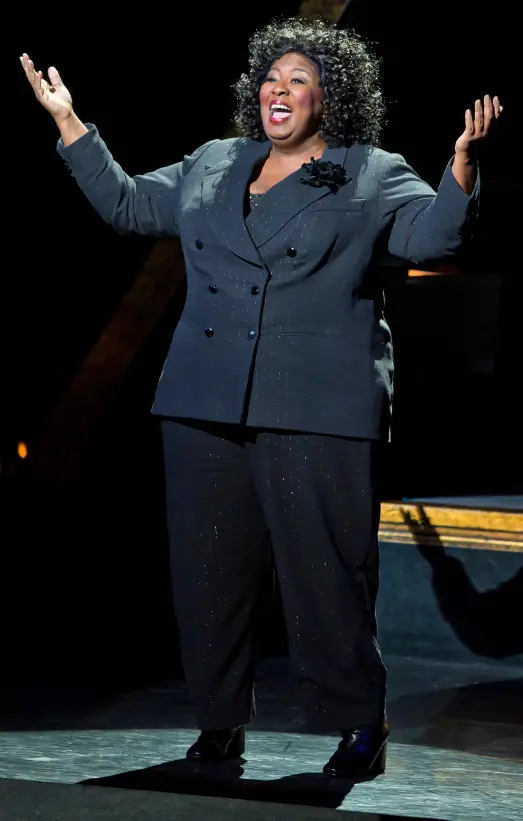 NaTasha Yvette Williams as the duplicitous Mama in Chicago. Photo: Jeremy Daniel


The Tony-winning revival of Chicago first dipped its toes into New York waters in May, 1996 via a razzle-dazzle 'em "Encores! Great American Musicals" production. Under the direction of Tony winner Walter Bobbie, with choreography by Bob Fosse acolyte Ann Reinking—who also played celeb-wannabe housewife/murderess, Roxie Hart—this quasi concert version turned out to be the prequel to a head-rush of a Broadway opening night six months later that scored the kind of raves that have producers heading to BMW dealerships.
The production's original cast is legend, with Bebe Neuwirth playing Velma Kelly, James Naughton in the role of Billy Flynn, Marcia Lewis as Matron "Mama" Morton, and Joel Grey as the ever-woebegone Amos Hart. But keep in mind this was a revival—the original Chicago debuted in 1975 with Broadway superstars Gwen Vernon, Chita Rivera, and Jerry Orbach. Premiere or revival, the lyrics make the case: "Give 'em a show that's so splendiferous; row after row will grow vociferous..."—decade after decade!
As for the record-breaking revival—the longest in Broadway history and the second longest running show overall—a spectacular number of stars have stepped into the show's revolving door over the years, among them Roxies: Christie Brinkley, Melanie Griffith, Brooke Shields, and Brandy Norwood; Mama Mortons: NeNe Leakes, Wendy Williams, and Sofia Vergara; Billy Flynns: Wayne Brady, Billy Ray Cyrus, Michael C. Hall, George Hamilton, Jerry Springer, Usher, Heisman Trophy winner Eddie George, and Jane the Virgin's Jaime Camil.
Fast forward to the current playbill of performers lighting up Broadway's Ambassador Theatre: a caboodle of outstanding troopers that includes Disney Channel's Veronica Dunne (in her Broadway debut as Roxie, through 11/26) and NaTasha Yvette Williams, a veteran showstopper who continues a killer off-and-on run as Cook County Jail's duplicitous Matron "Mama" Morton ("When you're good to Mama, Mama's good to you!").
Of course the role of Mama is traditionally served up with supersized vocal chords and moxie to the max—no problem for Williams who effortlessly belts out the big notes while tantalizing audiences with flirtatious comedic savvy.
A native of North Carolina who started singing in her church's "tiny tot" choir at age three, Williams' Broadway resume includes such groundbreaking shows as The Gershwins' Porgy and Bess and the original Color Purple. "I've been in shows that have run for a year or two, but I've never been in one running over 10 years," she says.
Now, with the count hitting a seismic "20," John Kander, Fred Ebb, and Fosse's Tony-winning show has doubled the ante—and the reasons to crank up a paparazzi-laden red-carpet celebration.
Set in the 1920s, the show kicks off with Roxie offing her lover when he tries to quash their affair. From there it's all media frenzy, led by disturbingly perky tabloid columnist Mary Sunshine (R. Lowe), backstabbing, and a score of killer musical numbers.
Still, in the end, it's about the audience and Chicago's most potent selling point—its theatregoer appeal. As for the show's uncompromising contemporary relevance, Williams observes: "Murder, love, finding yourself and seeking out what makes life better—the humanness of these ideas still translates to pretty much everyone today."
And as the finale lyrics remind us: "In 50 years or so/It's gonna change, you know/But, oh, it's heaven/Nowadays!"
Chicago is playing at Broadway's Ambassador Theatre, 219 W. 49th St. For reservations call 212-239-6200 or visit chicagothemusical.com.