Sometimes we crave (make that need) to walk (make that run) away from work, headlines, weather, social media, binge watching, laundry—or, as Doug Adams would say: "Life, the Universe & Everything." And what better season to escape the daily fray than the end of the year when the holidays rise up in all their sparkling, family-centric glory?
The remedy is here. Now. At the Marquis Theatre. November 23rd through December 30th. Slam-dunk. My personal guarantee. You're welcome.
The fourth Broadway installment of The Illusionists—the current version subtitled Magic of the Holidays—is a sexy and skillful balancing act of mind-boggling and mind-blowing, featuring five virtuoso magicians and the electrifying (literally) dance group Light Balance.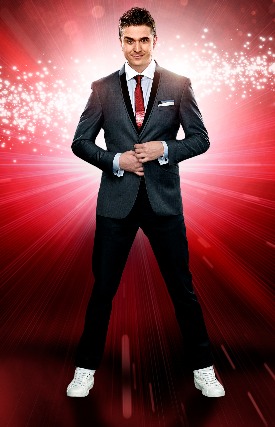 Adam Trent ("The Futurist") is waiting to astound in The Illusionists—Magic of the Holidays.


Clearly, upping the entertainment ante by leaps, bounds, metamorphoses, LED, and an extraordinary array of spectacular visuals is what drives the producers, creative force, and illusionists.
"Everyone has a distinct act, from high-high tech to old-school," says Adam Trent ("The Futurist"), whose charming smile and comedic patter work disarmingly well with his knack for confounding even the savviest practitioners of magic (Penn & Teller come to mind). "Basically, it's a magic show for people who didn't know they were fans of magic shows."
Trent's fascination with magic began while he was in elementary school. "I got a book on magic when I was eight or nine and started doing birthday parties," he recalls, noting that it was around that time he got to see the performer who would be his greatest influence: David Copperfield. "I thought he was the coolest thing ever, in part because of the variety he incorporated into his show—a mix of big and small, funny and astounding."
Graduating from kid parties to street performing, he eventually locked into the process that fit him best, a combo that's presently on display along with four other spellbinding artists in a show that is most likely the largest-scale magic show in the world.
Production values are stratospheric, from its rock concert lighting rig to its LED set and hologram projections, and the kind of music that catapults audiences into the moment—whatever—or whoever—that particular spellbinding moment might be.

That said, on the next page is a brief look at Trent and his costars in a show designed specially for this time of year.
"I think the new generation as a whole likes things experiential and interactive, like pop-up installations, so we've answered that by being as interactive as possible," notes Trent, going on to add, "Even if you've seen the show before, this version presents a new opportunity to share a variety of magical moments with family and friends."
A (Bet You Had No Idea) Trivia Guide to the Illusionists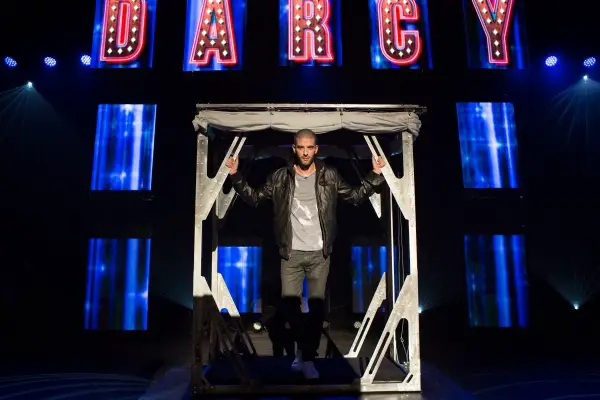 DARCY OAKE ("The Grand Illusionist")
• Born in Winnipeg, Canada
• First magician to make the final of Britain's Got Talent
• For Queen Elizabeth's 90th birthday celebration he performed before the Royal Family at a private dinner
COLIN CLOUD ("The Deductionist")
• Born in Scotland
• Studied forensic investigation at university
• Inspired by the observational skills of Sherlock Holmes
• Invited to work on material for the Sherlock Christmas Special on the BBC series Sherlock
CHLOÉ CRAWFORD ("The Sorceress")
• Born and raised in Portsmouth, England
• Featured in Sports Illustrated's swimsuit edition (2013) and voted Playboy's Cybergirl of the Month (February, 2014)
•Became the first successful female magician on Britain's Got Talent
SHIN LIM ("The Manipulator")
• Born in Vancouver, British Columbia
• Is a classically trained concert pianist
• 2018 winner of America's Got Talent and People's Choice Gold Medal Award
• In his two appearances on Penn & Teller: Fool Us, he fooled them
ADAM TRENT ("The Futurist")
• Born in Boulder, Colorado
• Self-taught musician; plays piano and guitar
• The youngest and only magician to win back-to-back medals in the P.C.A.M. Pro Magic Challenge
LIGHT BALANCE (Dance Group)
• From Dnipro City, Ukraine
• Popularized by their appearance on America's Got Talent
• Their high-tech neon and LED luminescent costumes are made by hand
• The overall optical illusion and dance moves are synchronized to a millisecond with music and lighting effects
The Illusionists—Magic of the Holidays opens at the Marquis Theatre (210 W. 46th St.) on November 23rd and runs through December 30th. For tickets call 800-745-3000, or visit theillusionistslive.com.