Paddlesports Galore! Free Kayaking, Rowboat Rentals & Paddleboard Yoga in NYC
May 31, 2019 - by Merrill Lee Girardeau
You might've seen New York by bus or by boat, but what about a kayak? A rowboat? What about a war canoe? All of these paddlesports and more can be found in New York's major and minor bodies of water, from the serene Van Cortlandt Park Lake in the Bronx to the waterway to the world, the Hudson River. Whether you're looking for a guided tour of the skyline by kayak or a free jaunt in a giant canoe, you can find it on this list. We'll begin with the classic rowboat in Central Park, move onto tours of the city by kayak and paddleboard, and then onto free paddlesports available this summer around the city.
Rowboat Rental: Rowboats & Gondolas in Central Park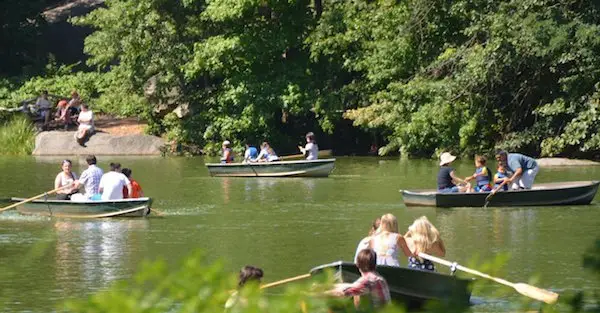 The phrase rowboats in Central Park calls to mind an iconic image. This classic New York activity is the city at its best, with the tranquility and fun of Central Park surrounding you and glimpses of the skyline in full view. Rent a rowboat for you and up to 3 friends for $15 per hour. Or take a tour on a Venetian gondola with resident tour guide and gondolier Andres Garcia. Gondola tours are $45 for 30 minutes and accommodate 6 guests at a time. When you're done, why not have lunch or a drink at the boathouse? Sounds like a perfect afternoon to us! The Loeb Boathouse in Central Park: East 72nd St. and Park Drive North, 212-517-2233, thecentralparkboathouse.com
Kayak Tours: New York Kayak Co.
New York Kayak Co. boasts a unique slate of fun classes and tours for anyone interested in paddling around the city. Take a guided tour with experienced kayakers and paddleboarders; you'll build your skills with practice classes and short rides around the piers on the Hudson River until your arms are buff enough to paddle to Governors Island and back or around the island of Manhattan. New York Kayak Co. also offers Paddleboard Yoga in the Hudson so you can practice your downward dog on a floating yoga mat! If you're interested in adding a little competition to your paddlesports, try Kayabi, the sport that combines kayaking with dodgeball. 40 N. River Piers, Suite 10, 1-800-KAYAK-99, nykayak.com
Kayak Tours: Manhattan Kayak + SUP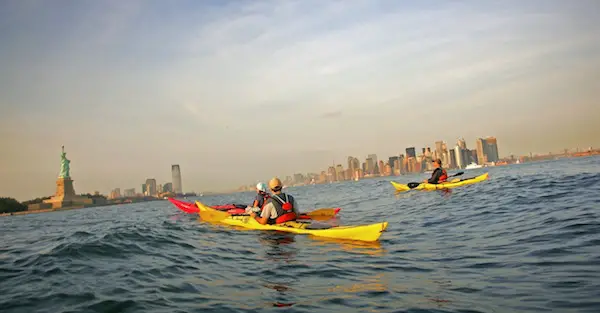 Experience New York City via kayak or stand-up paddleboard (SUP) with this thrilling series of water trips! Manhattan Kayak + SUP gives you an adventure, whether you're a beginner or advanced in water sports. Start with a skyline tour by kayak or paddleboard during the daytime, or pay a little extra to see the skyline light up at night from your spot on the water. Other tours include a sushi trip, one to the Statue of Liberty, a secret beach escape, and for advanced kayakers, a circumnavigation of Manhattan! These tours are arranged by skill level, so you can "graduate" from Sushi Trip to the Surf City tour, ensuring you have the skills needed for the difficulty and duration of the journey. 555 12th Ave. at W. 44th St., 212-924-1788, manhattankayak.com
Kayak Tours: Wheel Fun Rentals in Marine Park
Have a New York adventure unlike any other in an 800-acre wildlife preserve. Located in Brooklyn, Marine Park is a wetland preserve with blue herons, fiddler crabs, and monarch butterflies. You won't believe these natural environs lie so close to such a vibrant city! Tour Marine Park via kayak and paddleboard with Wheel Fun Rentals (they also offer bike and surrey rentals, hence the name). Hourly rates are reasonably priced, while a day-long rental for single kayak or paddleboard only costs $40. Avenue U. & E. 33rd St., 805-650-7770, wheelfunrentals.com
Free Paddlesports: Brooklyn Bridge Park Boathouse
Kayaking under the Brooklyn Bridge sounds like the way to win at your day in New York. Free kayak rides are held by Brooklyn Bridge Park Boathouse on Saturdays, Sundays, and Thursdays. You'll get 20 minutes on the water with a dazzling view of downtown Manhattan and the Statue of Liberty from the comfort of your kayak. Saturday sessions are held 10 am to 3 pm until the last weekend in September. Sundays, come 11 am to 2 pm. Thursday, try a kayak happy hour, 5:30-6:45 pm. Sunday and Thursday sessions will be held until the final week of August. Life jackets are provided. No reservations necessary, but be mindful that kayaks are first come, first served. Piers 1 & 2 at Brooklyn Bridge Park: enter from Old Fulton St. or Atlantic Ave., bbpboathouse.org
Free Paddlesports: The Downtown Boathouse
A mainstay of free kayaking in the city, The Downtown Boathouse has Hudson River recreation down to a science. Enjoy a free kayak ride from Pier 26 near Tribeca, with no experience necessary—although if you'd like to build your skills, they do offer kayaking classes. Plan a day on Governors Island (food, free hammocks, art—check it out!), and you can kayak with Downtown Boathouse there too. Donations are welcome, but rides are always $0. Pier 26 sessions are held Tuesday, Wednesday, and Thursday evenings from 5:30-7 pm and 9 am to 5 pm on Saturdays, Sundays, and holidays. Governors Island sessions are held at Pier 101 from 11 am to 4 pm on Saturdays. Check calendar for upcoming dates and scheduled closings. Manhattan: Pier 26; Governors Island: Pier 101; email info@downtownboathouse.org, downtownboathouse.org
Free Paddlesports: Long Island City Community Boathouse
At the Long Island Community Boathouse, no need to book a kayak or canoe in advance. Just walk up, and they'll hand you a paddle with a smile! The LIC Boathouse holds free kayaking and canoeing sessions in Anable Basin and Hallets Cove in the East River on the edge of Queens. That means you'll get picture-perfect views of the New York skyline and an arm workout for free! Children and dogs are welcome, but they'll need an adult and a lifejacket to participate. These free paddling sessions are held on Sundays during the summer, and donations are always welcome. 46-01 5th St., 631-LIC-BOAT, licboathouse.org
Free Paddlesports: North Brooklyn Boat Club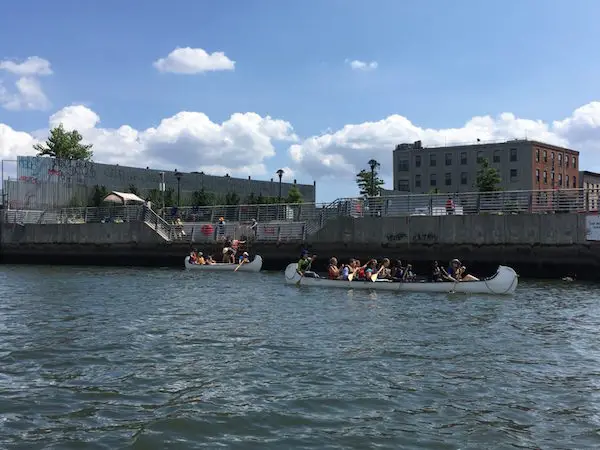 The North Brooklyn Boat Club is a community of paddlesport enthusiasts and conservationists exploring the East River from Greenpoint, Brooklyn. They hold Public Paddles on Saturdays, meaning you in a 25-foot war canoe! The next Public Paddles are scheduled for June 1 & 15. NBBC also holds bird-watching canoe rides, kayaking for all skill levels, and more! 51 Ash St., northbrooklynboatclub.org
Free Paddlesports: Village Community Boathouse
A free ride in a handmade rowboat? Please and thank you. Village Community Boathouse hosts cost-free boat rides during the warm months in the waters of Manhattan, the Bronx, and Brooklyn. Come for Community Rowing on Sundays at noon and Tuesday evenings at 5:30 pm in the Hudson River to see Manhattan's west side through a new lens. In the Bronx, come row a boat in Van Cortlandt Park Lake, every Friday from 4:30 to 7 pm until August 23. Rides in Brooklyn's Prospect Park Lake begin at noon and run until 4 pm every Saturday from June 8 until August 24. Life jackets are provided, and there's no experience necessary. Although the rides come at no cost, consider donating to VCB once you've finished your tranquil ride. Or do them one better and volunteer to help set up! Manhattan: Pier 40, 353 West St.; The Bronx: south end of lake in Van Cortlandt Park; Brooklyn:Well House Drive at the northwest corner of Prospect Park Lake; 212-229-2059, villagecommunityboathouse.org
Looking for Free Group Planning Services?
Get free advice on planning your group's trip to New York.
RESTAURANTS

Multi-concept restaurant offering modern Japanese cuisine, a...

THEATER

In a heartbeat, 38 planes with 6,579 passengers were strand...

SHOPPING

Specializing in the great vineyards of California, France, A...

SIGHTSEEING

SPYSCAPE is the world's preeminent spy museum and experience...