Relax in style at LeGrande Lounge, the posh bar located inside The Time Hotel in NYC. This Times Square gem allows you to sit back with a cocktail on a velvet couch or chat at the bar with new friends. If you're seeing a Broadway show nearby (The Book of Mormon is right next door!), this is the place to go for pre- or post-theatre drinks. Read on for what to expect at LeGrande Lounge in Times Square.
LeGrande Lounge NYC: The Space
As the mezzanine space above the lobby of The Time, LeGrande manages to be intimate and open at once. A sleek, modern expanse filled with deep greens, purples, gray, and taupe, its best feature is perhaps the jewel-toned velvet seating in both the front and back of the bar. A versatile space, the area around the bar is open and perfect for mingling, while the smaller seating areas nearby can be closed off for private parties with bottle service. The streets outside can be a hectic place, but inside LeGrande Lounge time slows down as you kick back with a drink and good conversation.
LeGrande Lounge NYC: Drinks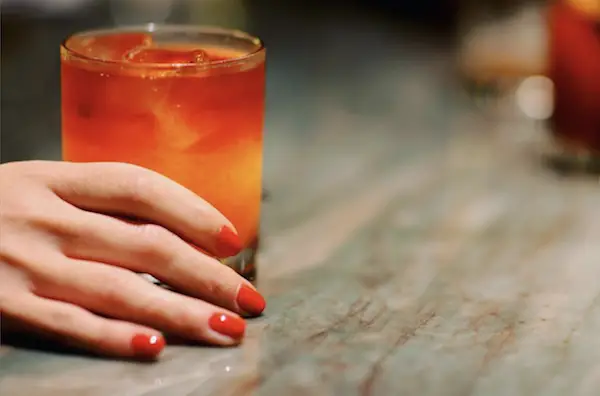 LeGrande serves a range of beer and wine, but its specialty drinks are cocktails. Go classic with an old fashioned or Moscow mule, or take a look at their custom recipes like the Defying Gravity (named after the famous tune from Wicked). This sweet, balanced drink is made with Bulleit Rye, Domaine Canton, lemon, ginger, and Peychaud bitters. Other innovations include the spicy, tequila-based Cell Block Tango and Madame's Choice made with Earl Grey tea. And if you don't see something you like on the menu, just ask the bartender to customize something more to your liking. The staff behind the bar know their mixology!
LeGrande Lounge NYC: Bites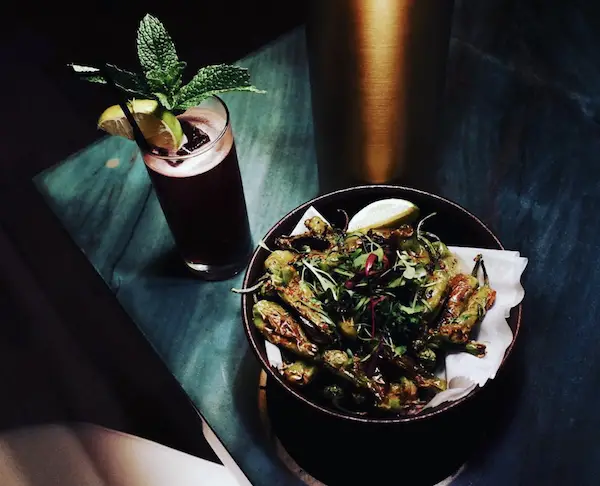 If you're peckish before the show, LeGrande has a variety of snacks to satisfy. There are options for savory choices, sweets, and somewhere in between, like the honey butter grilled cheese with truffle preserves. Snacks like guacamole and French fries can tide you over until dinner, while heartier options like tacos and Salt & Pepper Fried Chicken could serve as a small meal unto themselves. If you're at LeGrande for drinks and dessert, indulge in the chocolate layer cake with white and dark chocolate mousse.
LeGrande Lounge NYC: Events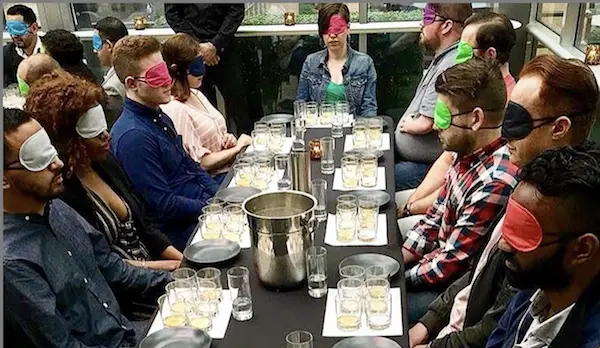 From this summer's Whiskey in the Dark event. Instagram.
LeGrande is full of surprises. Drop in any night, and you just might discover live jazz, a DJ, or drag bingo as you walk inside. The lounge also hosts seasonal events like a New Year's Eve party or a costume-crazy Halloween bash. Keep up with LeGrande on Facebook and Instagram to find out about upcoming live jazz and other special offerings on the calendar!
If you're looking to host a private event in the heart of the city, let the LeGrande staff take care of you. The 2,700-square-foot space at LeGrande offers enough room for 240 standing guests and 140 seated guests. For smaller parties, the rooms off the main bar area can be easily closed off to provide a private space for you and your guests. Contact the event staff at LeGrande to book the space for an intimate party, a rehearsal dinner, or corporate gathering.
LeGrande Lounge NYC: While You're Here
As long as you're around, why not check out the other great food and drink options at The Time New York? Located on the ground floor, Serafina serves phenomenal thin-crust pizzas, as well as a wide-ranging slate of other Northern Italian dishes. Its convenient Theatre District location means you'll have fast, friendly service and great accommodations for families and groups.
Also on the first floor is Goldfinch Coffee Shop, serving Stumptown (read: amazing) coffee, sandwich, salads, and pastries from 7am to 7pm. 
LeGrande Lounge is located on the mezzanine level of The Time Hotel lobby, located at 224 W. 49th St. Hours: Monday 5pm-11pm; Tuesday-Friday 5pm-midnight; Saturday 5pm-2am. Email events@legrandeny.com if you'd like to book your next event at LeGrande. For reservations, call 212-320-2984 or reserve a table on Open Table. Visit thetimehotels.com for more information.