To indulge yourself or someone else with a luxury experience, there's no place better than New York City. Here are eight ways to mark a special day worthy of the splurge!
The Metropolitan Opera was founded in 1883. The first opera house was built on Broadway and 39th Street by wealthy businessmen who wanted their own theater; the Met moved to Lincoln Center in 1966. Performances take place Monday through Saturday evenings with, for the first time ever, a few Sunday matinees. This year's season includes Agrippina, Porgy and Bess, and Cosi Fan Tutti.  Tickets start at just $25; if you are under 40 you can get tickets to some Friday performances for  $100 in the orchestra and $80 in the grand tier that include a pre-performance party or, a little less luxurious, for less without the party. The building is thrilling with two famous murals by Marc Chagall, a sweeping staircase, and wonderful acoustics. A built-in system on the back of each seat lets you follow what is being sung in English. Some people dress up and although it's not necessary, looking nice can add to the glamour.


Does caviar signal luxury to you? Visit Petrossian, founded in Paris in 1920 and located in New York at 911 Seventh Avenue between 57th and 58th Streets, steps from Carnegie Hall. Each month brings an evening Caviar Master Class, a chance to learn more about this delicacy. Petrossian is open daily 10am to 8pm (7pm on Sundays) for brunch, lunch, and dinners where you can select from luxe eats like smoked salmon with toast points and crème fraiche ($28) or caviar pasta with crème fraiche and salmon avocado tartare ($21). To accompany: coffee, tea, champagne, or wine. Petrossian also offers all manner of things caviar-related, either to gift yourself or others.
Drop by Sotheby's (York Avenue and 72nd Street) where collectors, art lovers, and just plain folks come to browse six floors of gallery space or attend one of more than 85 live auctions held each year. In April, 2019, Claude Monet's 1890 painting "Meules" sold for $110.7 million, an auction high for the artist and the most ever for an Impressionist work. Gallery showings change frequently depending on upcoming auctions. The galleries began in 1744 and expanded from London to New York in 1955. To learn about upcoming auctions: sothebys.com/en/calendar.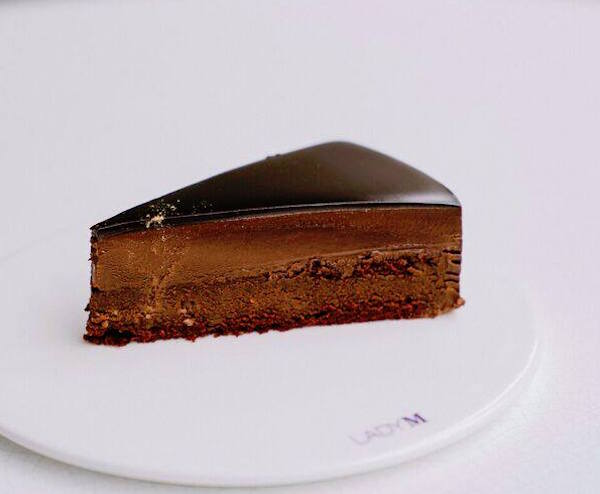 The New York City flagship shop of Lady M Bakery is at 41 E. 78th St. The bakery's nine-inch Green Tea Mille Crepes has twenty lacy thin crêpes enveloping pastry cream, with powdered match on top. It serves 10-14 and costs $90. The Gateau au Chocolat features alternating layers of dark chocolate sponge cake and crushed walnuts folded into chocolate mousse, topped with chocolate ganache and splash of gold dust. Serving 8-12, it costs $85. An individual raspberry chocolate bar is made of chocolate mousse, atop a layer of raspberry compote and chocolate sponge, $6.50. You can eat salads and sandwiches at most Lady M locales.
Like the sparkle of diamonds and other precious stone? To see over 4,000 jewelers and wholesalers at work visit the Diamond District on West 47th Street between Fifth and Sixth Avenues. Many merchants here are Orthodox Jews wearing high black hats and long side curls. You can simply stroll around, going inside to visit individual stalls and shops as you wish. If you  want to buy a diamond, do some homework since many scam artists—as well as many highly reputable business people—are at work in the area. Most shops are open Monday to Friday from 10:30am to 5:30pm, though a number do business on Saturday and Sunday too. 
For book lovers who love literary classics, beloved children's books or gorgeous decorative bindings, Bauman Rare Books, 535 Madison Ave. between 54th and 55th Streets, is the place to go. If you are a collector, would like to start to collect, or simply enjoy browsing, the staff will offer help. Open Monday-Saturday, 10am to 6pm, Bauman books cover many topics from American history to autographs and signed books to music—including first edition, signed scores. For books that range from Winston Churchill to Steig Larsen's The Girl with the Dragon Tattoo, this is the place to see them.
Oasis Day Spa, One Park Avenue (between 31st and 32nd Sts.) is dark, hushed, and serene. With 19 treatment rooms, men's and women's changing areas, and a relaxation room outfitted with lemon-infused water, teas, and light snacks, you will leave blissful. Choose from the vast menu of offerings including aroma therapy message (60 minutes with deep tissue, $160); Signature Facial (60 minutes, $140); Oasis Purity Wrap with detoxifying seaweeds and kelp (60 minutes $135), waxing of every possible body part, special spa packages, and offers for brides or mothers-to-be. Oasis is professional and entirely delightful.
For a suit, sportcoat, or shirt (for men and women), nothing fits like a garment made just for you. Alan David Custom, 6 E. 40th St., Suite 702, has been a family-owned business since 1926 and continues to follow the traditions of bespoke tailoring. Women love the way business suits and shirts fit, as do men who can select from trousers, shirts, sports coats, suits, and formal wear. You choose the fabric, skilled tailors do the rest. If you can work in the time, there is a fitting appointment. A man's custom suit runs $1,195 to $1,995 with all-cashmere more expensive. The company offers discounts for first-time buyers.