If Broadway musicals were an Olympic sport, Aladdin would scoop up the gold, no contest. 
A gorgeously choreographed sprint from full-throttle opening number to rapturous curtain call, neither the show nor its indefatigable cast seem capable of slowing down for a nanosecond.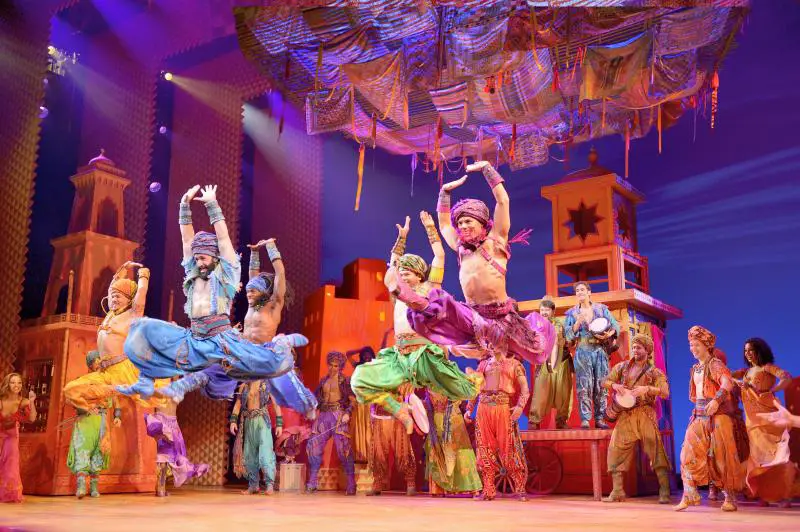 Photo by Deen van Meer.
Before audiences even get their first glimpse of the bustling marketplace teeming with vivid colors, music, and all manner of merchants, sword dancers, fortune tellers, and dervishes, Genie materializes to welcome us to his home base, the exciting—albeit fictional—city of Agrabah, whose fame rests in a small, but power-packed, curio: the Lamp.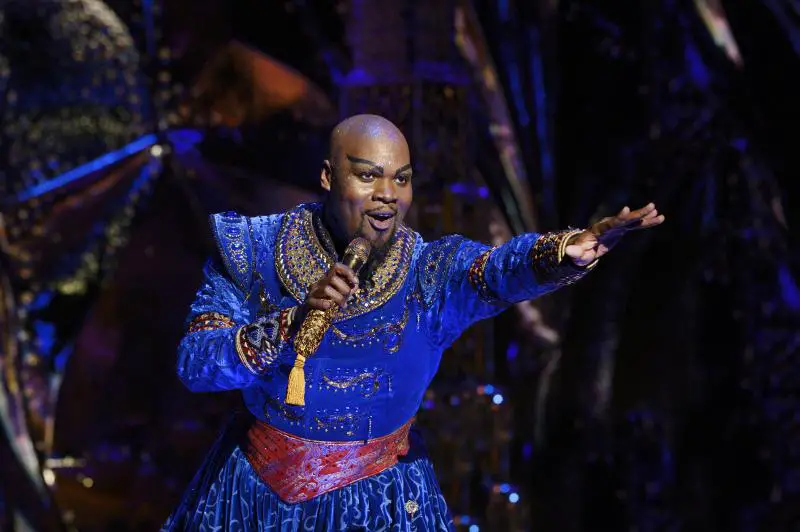 Photo by Deen van Meer.
As played by Michael James Scott, Genie is a supernatural adrenaline rush. Having rejoined the Broadway cast for a limited run in 2019/2020 (he was a standby when Aladdin debuted in 2014, going on to tour as Genie in Los Angeles, London's West End, and Australia), Scott soon found himself waiting out the pandemic alongside the rest of New York's theatre community. But, in 2021, when theatre marquees lit up once again, he was back in what he calls "one of the most fun roles on Broadway." Still, he's well aware that it's also one of the most demanding. 
"You're using every actor tool in your arsenal. The mental and physical challenge of it all is unlike anything I've ever done and I'm so grateful that I'm able to sustain and do the role eight times a week," he notes, adding that while pacing himself was key, he had to fully embrace the role on his own terms, which meant getting out of his head. "People want to love you and it's incredible to play Genie, so the moment I stopped apologizing for myself, the role clicked."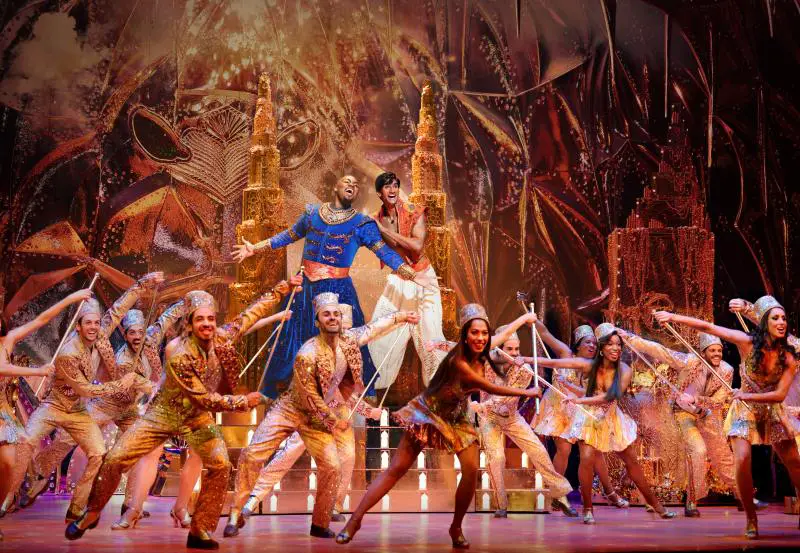 Photo by Matthew Murphy.
And oh boy did it click, with Scott embracing and personalizing the charismatic character in a way that totally—and spectacularly—reinvents the Genie voiced by Robin Williams in the animated film. Absolute proof comes late in Act I, when "A Friend Like Me," the biggest, most eye-popping, heart-stopping, electrifying, pyrotechnic production number in the history of Broadway musicals, explodes onto the New Amsterdam Theatre stage, quarterbacked by Scott's Genie.
Photo by Deen van Meer.
As soon as Genie reveals himself to Aladdin (handsomely played by Michael Maliakel)—"Me, Genie; you Master of the Lamp"—the number begins its masterful evolution from tongue-in-cheek scat/Disney homage ("Ska de wah!/Bibbidi bobbidi boo!") through a choreographic bouillabaisse of dancing girls, magic tricks, sword-wielding dudes, and game shows. It culminates in a heart-stopping tap-a-thon. And in the driver's seat, bouncing from one anachronistic persona to another while singing, dancing, springing up stairs, and having the time of his life, is Scott. Exhausting, one would think, yet the actor emerges with energy to spare and ready to tackle the Act I finale.  
"It's the layers upon layers in that number that make it so satisfying to perform," says Scott, who hands the credit to director/choreographer Casey Nicholaw, with whom he has a long-standing Broadway history. And as for the skills he's honed over the years to bring him to this high point in his career, he cites his training at the hands of showbiz luminaries, an enviable list that includes studying with Gregory Hines and Ann Reinking, and working as  Ben Vereen's standby, in Paris, during his senior year of college.
Interestingly, when asked what he loves doing most in the show Scott is quick to name Act II's "Somebody's Got Your Back," a retro buddy number, where he teams up with Aladdin and his sidekicks Babkak (Zach Bencal), Omar (Brad Weinstock), and Kassim (Milo Alosi) for some soft-shoe and 1950's variety show gestalt. "I'm drawn to the classic song-and-dance-man style of Fred and Ginger and Sammy Davis, Jr. For me, that's a little breather, and audiences get to see another side of Genie," says Scott, adding "Just five guys doing this old-school throwback…it's such a cool moment."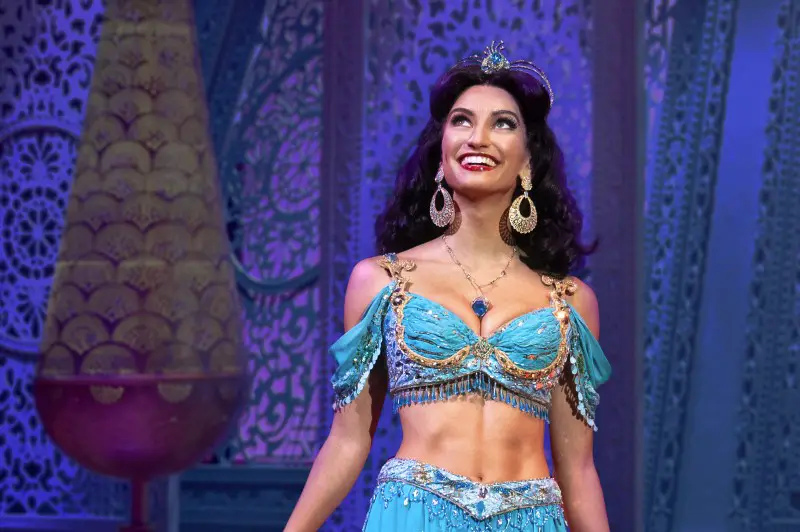 Sonya Balsara as Jasmine. Photo by Matthew Murphy.
In looking at the whole show, Scott is quick to observe that Aladdin is both a unique and distinctively Disney show, boasting one of the most gorgeous and diverse companies on Broadway. "Aladdin is, quite honestly, a universal show. I've seen the same audience response all over the world. It's the whole exciting theatre experience: joy and love wrapped up in a big, beautiful Broadway musical."
Aladdin is playing at Broadway's New Amsterdam Theatre, 214 W. 42nd St. For reservations call 866-870-2717 or visit aladdinthemusical.com.