The 10 Things Not to Miss at the 2018 NY International Auto Show
March 29, 2018 - by Ethan Wolff
The New York International Auto Show has returned to the Javits Convention Center for 2018 with a serious array of horsepower. Some 1,000 new cars and trucks are on display, ready to be checked out by the over 1,000,000 visitors who come each year. Experience all the latest car models from a hands-on, driver's seat vantage. You'll learn about the latest in fuel efficiency and take home a gift bag or two. Over 60 vehicles are making their North American debuts, joined by futuristic concept cars and a few shiny classics. The show runs from Friday, March 30th, through Sunday, April 8th. Read on for our picks for the ten best things to see at the 2018 New York International Auto Show.
Fresh Palettes
One of the funnest parts of the Auto Show is trend spotting, which is on display in some new hues. Brown is back, but not in the '70s sense—a new breed of metallics can be found here, with bronze and graphite inspirations. Above is "Structural Blue," a new Lexus shade that purports to be the result of a 15-year research project inspired by the American Morpho butterfly.

Gullwing Doors
Sure, you're not dropping $400,000 large on a supercar any time soon, but there's no harm in looking, right? There are some amazing feats of engineering on display here, like the Rimac C_Two pure-electric GT hypercar, which comes from, of all places, Croatia. The gullwings may not be essential, but they're a nice touch—you can find them at BWM and Hyundai as well.

Take Yourself Off Roading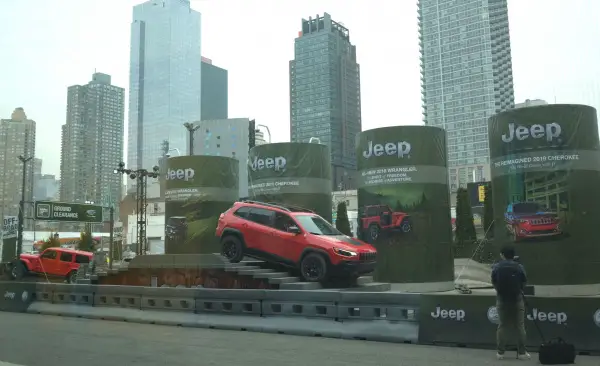 Toyota Camry and Jeep both have test tracks waiting for you outside. The Jeep version will put you in the mind of a roller coaster as you work the new Jeeps through an off-roader obstacle course.
Going to the Matte
Matte paint is having a moment this year, and on some marques where you might not expect it. Lexus, Mercedes, and Maserati are all in on the look, and BMW is even sporting it in a shade that's not gray.

Bugattis Old...
The Saratoga Automobile Museum has a great display of vintage classics, with some $10 million dollars worth of irreplaceable automobiles arrayed in the sunken south end of the Javits Center. Among the highlights is this 1938 Bugatti Type 57C Stelvio Cabriolet by Gangloff.

...and Bugattis New
Bugatti has apparently come a long way since 1938. Making its North American debut is the Bugatti Chiron Sport, which is lighter and more versatile than the existing Chiron. Before you schedule a test drive, note the price tag: $3.26 million.
Porsche Has a Station Wagon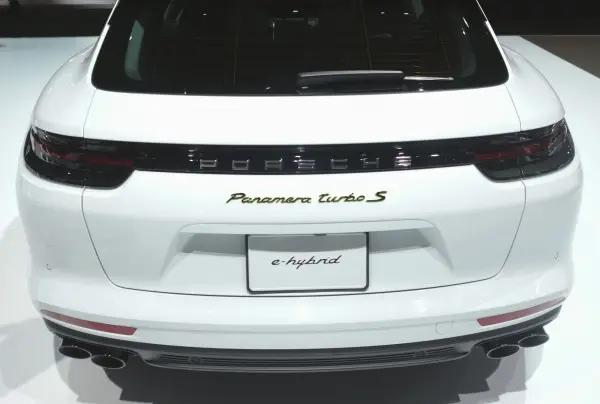 No, they're not calling it a station wagon. They're calling it the Panamera Turbo S E-Hybrid, but it's a classic 5-door design and much lower to the ground than an SUV. For the family that needs luxury performance on their way back from soccer practice...

Accessorize
If you don't pull the trigger on a new car, you might still find some swag worth your while. Brands are putting accessories and miniatures out on display.

World Car of the Year
If you want some direction for your shopping, there are some prestigious awards on display. The Volvo XC60 is at the top of the heap, winner of the 2018 World Car of the Year as determined by the World Car Awards.

The Future
Yep, that's a Hyundai. Prototypes at the Auto Show give us a glimpse of the future and if it's anything like the Genesis Essentia Concept, it'll be a pretty slick time to be alive. This all-electric, high-performance concept has gullwings (natch) and a
translucent top and engine bay.
---
The 2018 New York International Auto Show is at the Javits Convention Center at 655 W. 34th St. (Eleventh Ave.), 800-282-3336, autoshowNY.com. Food and drink are available inside the show. Open Monday through Saturday from 10am-10pm, Sunday 10am-7pm. Tickets are $17 for adults 12 and over; $7 for children under 12. Avoid the lines by buying your tickets online.
Looking for Free Group Planning Services?
Get free advice on planning your group's trip to New York.
RESTAURANTS

Beer hall casual meets craft cocktails with a healthy dose o...

THEATER

Kander and Ebb's "musical vaudeville" in which Roxie Hart ga...

SHOPPING

An array of quality branded merchandise showcasing HBO's® aw...

SIGHTSEEING

Hop aboard these environmentally friendly twin-hulled catama...