Highlights of the 2017 New York International Auto Show
April 14, 2017 - by Linda Sheridan
The New York International Auto Show returns to the Javits Convention Center , serving up a sprawling, multiple story feast of color, concept, and horsepower. Nearly 1,000 new cars and trucks are on display, plus a few eye popping vintage models, ready to be checked out by the nearly one million visitors who come each year. The show, now open, runs April 14-23. Bring your comfy shoes, a camera, and make a date to find your next dream car or truck!

Record Breaker: Dodge Challenger SRT Demon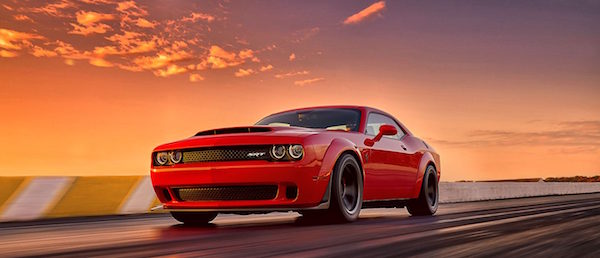 Introduced to the world on April 11, with some earlier in the year praise from The Fate of the Furious's Vin Diesel, the Dodge Challenger SRT Demon claims to break new records in terms of being the fastest production car on the market, accelerating from zero to 60 in 2.3 seconds, highest horsepower, highest G-Force and fastest quarter-mile (9.65 seconds at 140 miles per hour of any production car), and even claims to be the first production car to be able to pop a wheelie. "Domestic. Not domesticated" is the tag line. Indeed.
Nissan Rogue Dogue
Cute doggie not included.
Everyone loves to bring the dog along for a ride. Nissan's new Rogue Dogue caters to dog owners, with an extra compartment created just for Fido. It has a safety harness, non-spill water bowl, pull-out ramp for getting in and out, a doggie shower and dryer, and even a video camera for those doggie window shots. Nearby, was a limited edition Nissan Rogue, designed with inspiration by the Star Wars X-Wing, complete with the Death Star looming overhead.
Electric-New Tesla Rival, Lucid Air
Tesla competitor Lucid made its New York debut, with the Lucid Air electric sedan. During a recent test run at Ohio's Transportation Research Center, it hit a whopping top speed of 217 mph. However, it's not scheduled to hit the market until 2019.
Hybrids
A variety of hybrids are on display, including Ford's Police Responder Sedan, with reduced CO2 emissions, needs less fillups; it's interior is equipped with standard police necessities, and even has a "pursuit mode." There's also the Nissan Rogue Hybrid, which is nearly $3,000 cheaper than the Toyota RAV4 Hybrid.
SUVs and Trucks
The new RAM 1500 Rebel TRX
The RAM 1500 Special Edition Rebel TRX is a chiseled, immense beauty; it's also America's most powerful factory (6.2-Liter HEMI® V8 Engine) and fuel-efficient full size truck.
There are SUVS aplenty to explore. For those that love the quality of the Range Rover but not its mammoth size, this year it introduces the Range Rover Velar, that's more compact, and has eco-friendly upholstery.
Tesla CEO Elon Musk recently stated that plans are in the works to unveil a Tesla truck in September 2018.
Vintage Cars & More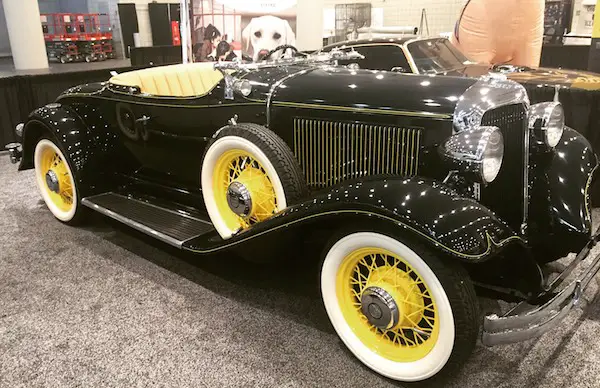 On the lower level, is a section dedicated to vintage NYPD police cars, some dating back to 1940, as well as myriad other gems, such as this 1932 Chrysler. (above)
There are numerous activity stations throughout the showrooms, too, driving simulations, a Star Wars character-themed digital mirror, "Design Your Own Chevy" station, and more.
________________________________________________________________________
Find the 2017 New York International Auto Show at 655 W. 34th St. (Eleventh Ave.), 800-282-3336, autoshowNY.com. Food and drink are available inside the show. Open Monday through Saturday from 10am-10pm, Sunday 10am-7pm. Tickets are $17 for adults 13 and over; $7 for children under 12 (2 and under free). Avoid the lines by buying your tickets online.
Looking for Free Group Planning Services?
Get free advice on planning your group's trip to New York.
RESTAURANTS

Guy's American Kitchen & Bar is a dynamic restaurant introdu...

THEATER

A new musical following a wannabe rock star who poses as tea...

SHOPPING

DataVision is redefining retail with their new, fully intera...

SIGHTSEEING

Enjoy a narrated harbor tour including views of the Statue o...