Easter in New York brings egg hunts, fine brunches, and a bonnet-filled procession down Fifth Avenue that's been a city tradition for nearly a century and a half. Celebrate the holiday in true New York fashion with a trip to the Easter Parade. The tradition dates all the way back to the 1870s, when upper class New Yorkers would stroll down Fifth Avenue after church and show off the fashionable new outfits they'd purchased for the holiday.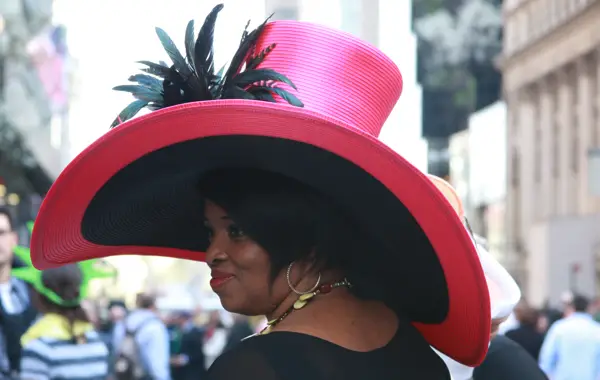 Image: Katy Gartside Photography/Flickr
Though it started as a spontaneous affair, the event quickly grew in popularity, becoming a beloved cultural institution. In 1933, songwriter Irving Berlin even debuted a song about the event, "Easter Parade," in the Broadway musical revue As Thousands Cheer. The popular standard went on to inspire the 1948 MGM movie musical Easter Parade, which features Judy Garland and Fred Astaire singing the tune while parading past St. Patrick's Cathedral in their Sunday best. Though the parade doesn't have quite the same cultural relevance today, there's still plenty of spectacle for modern paradegoers to enjoy. Unlike other New York City parades, don't expect any floats or organized processions here—true to its origins, the city's Easter Parade is a fairly informal gathering, where the attendees themselves are the true stars.
Traffic shuts down for the parade on Fifth Avenue between 49th and 57th Streets from 10am to 4pm on Easter Sunday (April 1st, 2018), letting festive paradegoers fill the streets in their elaborate Easter finest. There's plenty of vintage apparel on hand, harking back to the parade's heyday, along with costumes and extravagant Easter bonnets decked out with flowers, Peeps, Easter bunnies, and everything in between. Feel free to join in the fun with your own Easter outfit, or just mingle amongst the festive crowds without dressing for the occasion. Either way, taking part in this 140-year-old tradition is the perfect way to celebrate Easter in classic New York City style.