Since its days as New Amsterdam, New York City has been defined by a spirit of openness and creativity. June is Pride Month and a great time to delve into the city's pivotal role in the fight for gay rights and recognition. 1969's Stonewall Uprising took place in the West Village, the first LGBTQ+ museum started in SoHo, and the community rallied at the New York Stock Exchange during the AIDS epidemic. Iconic figures like Andy Warhol, James Baldwin, and Audre Lorde called the city home as well. The NYC LGBT Historic Sites Project works toward "making an invisible history visible"—visit nyclgbtsites.org for a comprehensive list of significant city locations.
When Is the 2023 Pride Parade?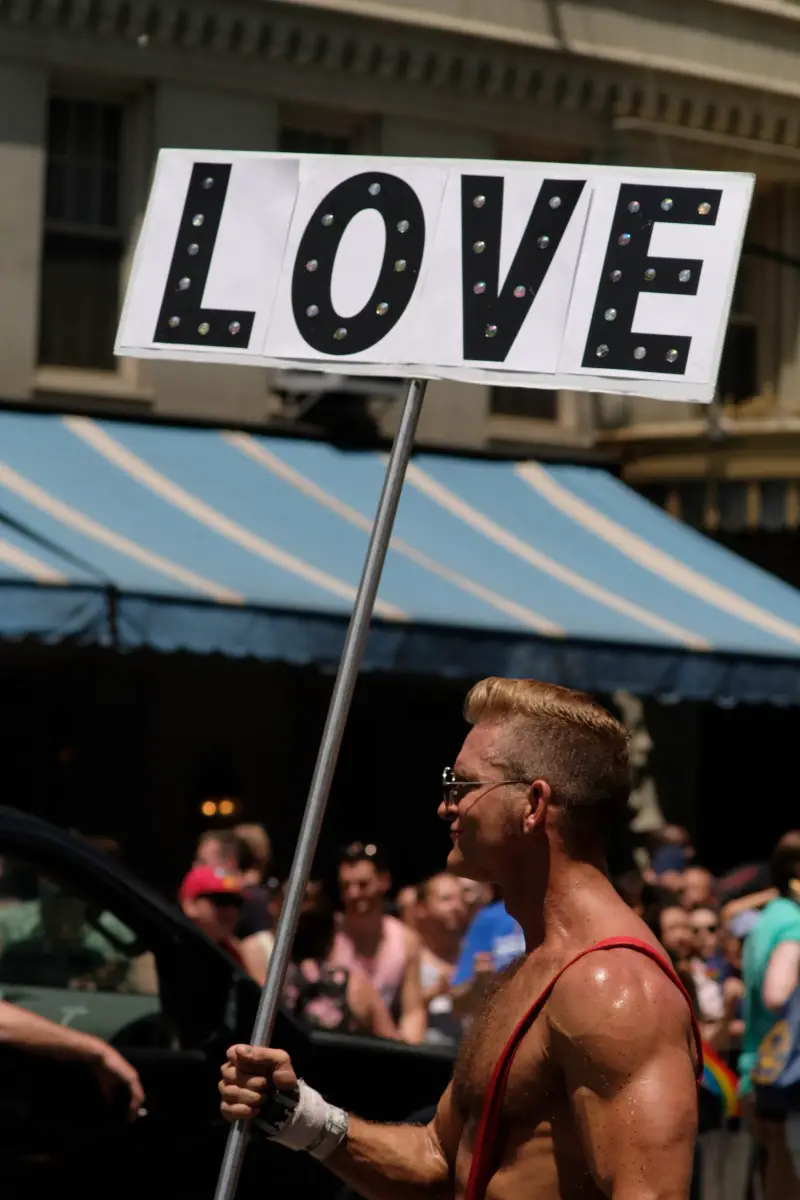 Photo by Malcolm Lightbody on Unsplash.
The Pride Parade, officially known as the NYC Pride March, takes place on Sunday, June 25th. It begins at noon, stepping off from 25th Street and Fifth Avenue. It heads south down Fifth Avenue to 8th Street, where it heads west to cross Sixth Avenue. In the West Village, the march continues on Christopher Street to pass the Stonewall National Monument before heading north again on Seventh Avenue to pass the New York City AIDS Memorial. The march ends in Chelsea, at Seventh Avenue and 16th Street. The Grand Marshalls for the 2023 March are Billy Porter, Yasmin Benoit, AC Dumlao, Hope Giselle, and Randolfe "Randy" Wicker.
Actress, businesswoman, and transgender rights advocate Angelica Ross returns for a third year as co-host and featured performer of the broadcast special on ABC 7. That broadcast airs from noon to 3pm on Sunday.
Pride Special at Ellen's Stardust Diner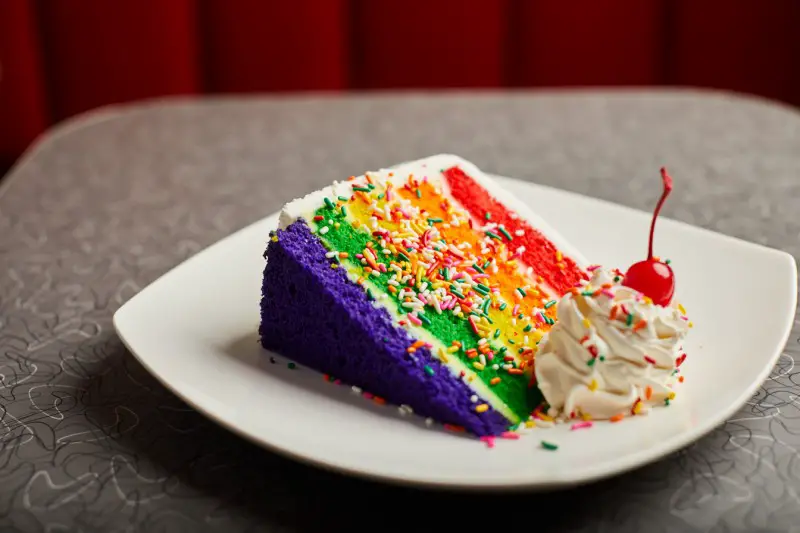 The show goes on at this popular Times Square spot for delicious food, drinks, and live performances. Ellen's has been a staple in the Broadway community since 1987 and is known for its famous singing waitstaff, performing tunes from popular musicals. All June, a portion of the proceeds from Ellen's rainbow cake, milkshake, and merchandise will go to Broadway Cares/Equity Fights AIDS. Diners will also be able to experience a variety of "Starduster" performances from iconic musicals like A Chorus Line, Rent, Hedwig and the Angry Inch, Falsettos, Avenue Q, Kinky Boots, The Color Purple, and A Strange Loop.


1650 Broadway, 212-956-5151, ellensstardustdiner.com
Second Annual Pride in Times Square Celebration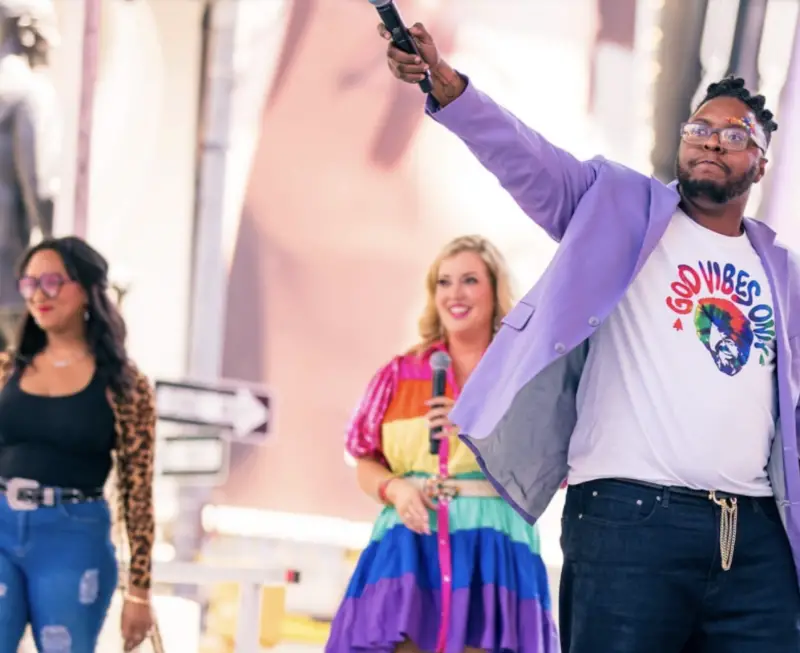 Image: Times Square Alliance.
The Times Square Alliance and Playbill have announced the lineup for the second annual PRIDE IN TIMES SQUARE celebration, which features free events centered around NYC Pride Weekend, June 23rd and 24th. Look for big-name stage and screen stars, Broadway/Off-Broadway productions, local Times Square business promotions, Pride Piano sessions, live DJ sets, a trans and ENBY Pride celebration, a Drag Pride celebration, and the return of last year's Big Broadway Disco.
PRIDE MAIN STAGE
Special guests, concerts, and surprise performances take to the stage on Friday, June 23rd and Saturday, June 24th.
THE BIG BROADWAY DISCO
Times Square will "ignite the night" with THE BIG BROADWAY DISCO—a large-scale street party that invites revelers to dance through Times Square to classic and contemporary Broadway songs and performances, all with a disco flair. With the Playbill Pride Float as a focal point, expect DJ's, performers, dancers, and fabulous costumes, Saturday, June 24th starting at 5pm.
PRIDE PIANO BAR
Take photos with a one-of-a-kind piano and stay for piano sing-along performances and piano concerts throughout both days, led by top Broadway musicians and performers.
TIMES SQUARE ALLIANCE BUSINESS & SOCIAL PROMOTIONS
The Times Square Alliance will celebrate the best of the neighborhood's Pride discounts, deals, giveaways, and special menu items from local businesses all month long. Special offers will appear at TSQ.org/PrideDeals from Times Square restaurants, shops, shows, and attractions that celebrate and support the most colorful month of the year. Plus, experience #SignsOfPride in Times Square with displays of Pride flags and rainbows on screens and billboards throughout the Crossroads of the World.
Exploring NYC's LGBTQ+ Heritage
Chelsea
Chelsea, the neighborhood west of Fifth Avenue and north of 14th Street to about 30th Street, has long been known for its stately brownstones, art gallery scene, and quaint, tree-lined streets. Along with Hell's Kitchen, Chelsea also boasts the highest density of same-sex couples in the city. The neighborhood's stretch of Eighth Avenue presents a prosperous line of gay-friendly businesses, with rainbow flags out all year round. For some fresh air and rare views, walk The High Line, a converted railway that cuts above the city streets.
Hell's Kitchen
This Midtown West neighborhood is filled to the brim with dining and entertainment options, and home to many LGBTQ+ owned businesses and gay residents. Gay-friendly nightlife options include the Wild West-themed Flaming Saddles and the industrial-chic Industry Bar. The area is close to Broadway shows and features Restaurant Row, with great dinner spots like Jasmine's Caribbean Cuisine.
The Village
Greenwich Village (or the West Village, as it's also known) is one of the hearts of NYC's LGBTQ+ culture. Along Christopher Street are hotspots like the cabaret bar The Duplex and Marie's Crisis Cafe, "the world's only acoustic sing-a-long showtunes piano bar." Monster is a Sheridan Square stalwart with show tunes upstairs and a heavily Latino crowd jamming to the latest dance tracks downstairs. Called home by the local lesbian crowd (though a few boys are usually thrown in for good measure), the small, unpretentious bar Cubbyhole features a capricious décor that's heavy on the fish. The Lesbian, Gay, Bisexual & Transgender Community Center ("The Center") has its home on West 13th Street. This essential community organization hosts arts events and provides services like counseling and HIV resources. An adorable neighborhood full of historical row houses and cobblestone streets, the Village makes for a perfect, meandering walk in June (with fun photo ops on Gay Street).
NYC AIDS Memorial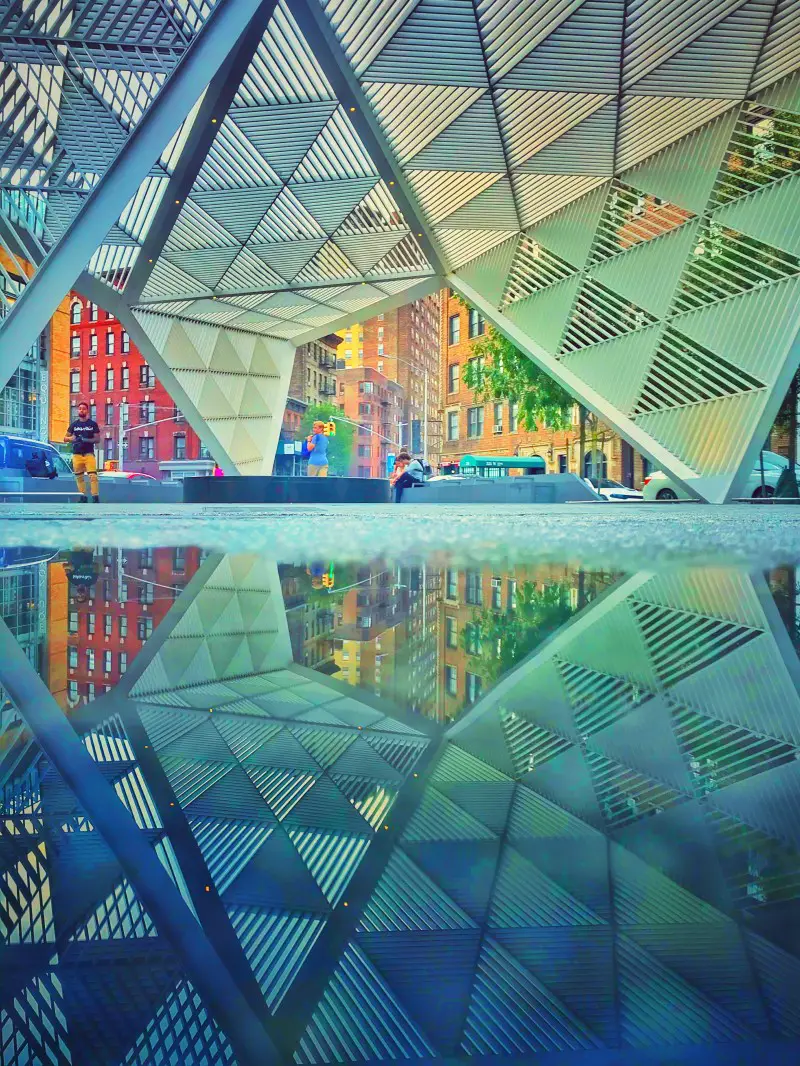 Mr. Nixter/Flickr.
The NYC AIDS Memorial in the West Village stands as a testament to the over 100,000 New Yorkers lost to AIDS and the continuing fight against this disease. St. Vincent's hospital, formerly located on the park site, started the city's first AIDS ward during the epidemic in 1984. The memorial and surrounding park were designed by Studio ai, and artist Jenny Holzer designed the engraving on the memorial pavement, inscribed with passages from Walt Whitman's poem "Song of Myself." There is programming at the site, with Saturday, June 10th seeing the multi-media presentation Peter Cramer & Jack Waters, Weavers of the Daisy Chain Gang Chorus: Ties That Bond.
200-218 W. 12th St., nycaidsmemorial.org
Stonewall Riots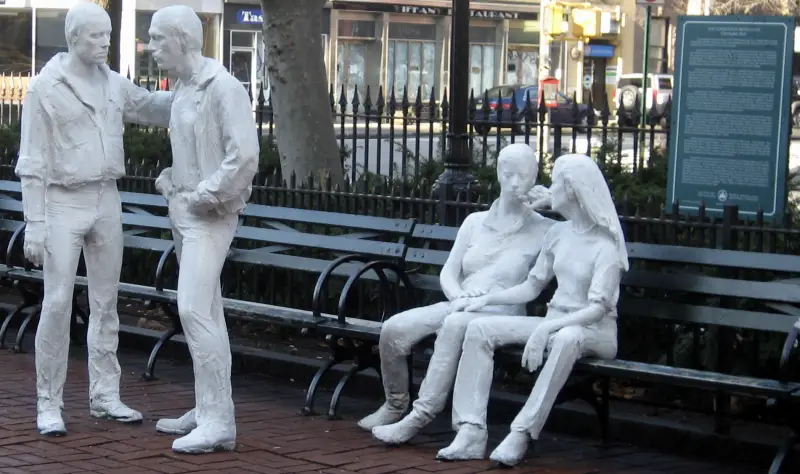 George Segal's "Gay Liberation" sculpture in Christopher Park honors the gay rights movement and commemorates the 1969 uprising at the Stonewall Inn across the street. Image: Wally Gobetz/Flickr.
In 1969 at a West Village gay bar called the Stonewall Inn, patrons resisted a police raid. The subsequent six-day uprising, which spread from Stonewall to the triangular Christopher Park across the street, is considered the birth of the modern LGBTQ+ movement. Stonewall is an active bar today, and across the street from it is the Stonewall Inn State Historic Site, part of the urban oasis that is Christopher Park.
53 Christopher St., 212-488-2705, thestonewallinnnyc.com
Leslie-Lohman Museum of Gay & Lesbian Art
The world's first museum dedicated to LGBTQ+ art and artists, this institution grew out of a 1969 exhibit in the SoHo loft of Charles Leslie and Fritz Lohman. The museum preserves the history of queer art with an archive of over 30,000 works. On view now is Images on which to build, 1970s-1990s, looking at image cultures, and Coyote Park: I Love You Like Mirrors Do, exploring intimate entanglements.
26 Wooster St., 212-431-2609, leslielohman.org
James Baldwin's Residence
The writer James Baldwin (1942-1987), raised in Harlem, lived much of his adult life in France. Critical of America's institutional racism, Baldwin became a powerful voice during the Civil Rights Movement. His second novel, Giovanni's Room, frankly depicted gay and bisexual lifestyles during the 1950s. He owned this remodeled rowhouse on the Upper West Side and stayed there whenever he came to town.
137 W. 71st St.