The musicals of legendary musical theatre team Richard Rodgers and Oscar Hammerstein have been an indelible part of American culture for 75 years, with hits like The Sound of Music and Oklahoma! still delighting audiences around the world. Musical theatre lovers who want to celebrate the duo's innovative partnership can now make their way to the New York Public Library for the Performing Arts, where a new exhibition is putting a spotlight on the songwriters' career and legacy.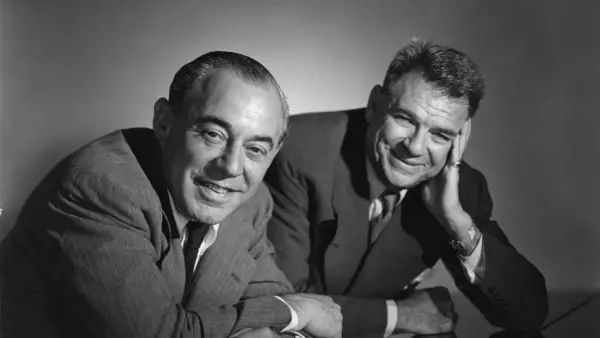 Celebrating 75 Years of the Rodgers and Hammerstein Musical highlights Rodgers and Hammerstein's work and cultural influence. Through a collection of over 70 items including both production and promotional materials, the exhibition shows that while Rodgers and Hammerstein's musicals may be regarded as "classic" shows today, the duo were true trailblazers, pushing the musical form in both form and content.
A display on the museum's first floor is dedicated to spotlighting Rodgers and Hammerstein as innovators, particularly through their first musical Oklahoma!, which debuted 75 years ago, in 1943. Regarded as one of the most influential musicals of all time, Oklahoma! integrated music, drama, and dance for the first time as no other show had done before. Kicking off a practice that would carry throughout the duo's career, Rodgers and Hammerstein also weren't afraid to address the anxieties of their World War II-era society, pushing the musical past its typical light and cheery subject matter to explore deeper realities. The new exhibition celebrates these innovations and the enduring popularity of Rodgers and Hammerstein's shows, bringing together artifacts that include photographs, promotional materials, and a video wall screening choreographer Agnes de Mille's groundbreaking Oklahoma! dream ballet and choreography notes from de Mille's papers.
Carousel set design (Act II, final scene) by Jo Mielziner, 1945. Billy Rose Theatre Division, The New York Public Library for the Performing Arts.
The museum's second floor is devoted to Carousel, coinciding with the 1945 musical's current Broadway revival. The display goes chronologically through the classic tale of carnival barker Billy Bigelow's romance with millworker Julie Jordan, capturing each major scene through original set designs, costume sketches and photographs from the musical's original production. Though a small exhibition, the two floors together give a glimpse into Rodgers and Hammerstein's groundbreaking original productions—and show why the duo's musicals are still going strong long after those productions have closed.
Celebrating 75 Years of the Rodgers and Hammerstein Musical is currently on view at the New York Public Library for the Performing Arts through September 25th. For more information, visit nypl.org.