City Guide has been experts in New York for a long time, so it takes some effort to reveal city secrets to us. The Bowery Boys, a beloved podcast dedicated to NYC history, has done that and more with their new book Adventures in Old New York, "an unconventional exploration of Manhattan's historic neighborhoods, secret spots and colorful characters."
The book comes as advertised, drawing on ten years of podcasting experience from co-hosts/co-authors Greg Young and Tom Meyers. Current fans (with 250,000 downloads every month, The Bowery Boys is iTunes's top podcast in the travel category) will appreciate the loving detail, with a brisk, light, and clever touch that includes plenty of laughs. For visitors, Adventures in Old New York provides a great companion, broken down by neighborhood, with maps and addresses to make touring through the stories easy. The book limits its scope to Manhattan, perfect for travelers who don't want to log too many miles tracking down the secrets of the city.
Like the city they describe, the illustrations in Adventures in Old New York layer old and new—period drawings and gorgeous vintage photography intersperse with black and white images showing the present. When you're done, you won't walk around New York City with the same eyes.
As Greg Young puts it in the introduction, "History here is active and alive." Read on for the 14 mind-blowing New York secrets we learned from Adventures in Old New York.
1. Home of a Corrupt Party Boss/The Father of Our Country: Same Place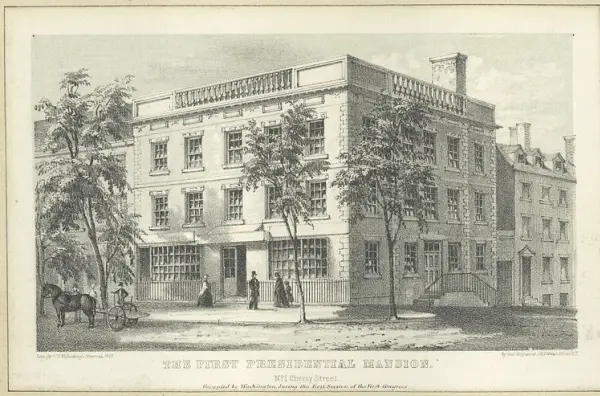 We didn't have to look any further than the very first page of Adventures in Old New York to get our heads spinning. William "Boss" Tweed is the most notorious of city politicians, the "Grand Sachem of Tammany Hall" from 1858-1871 and synonymous with public corruption. He was born at 1 Cherry Street in Lower Manhattan, which just happens to be…where President George Washington lived when New York was the first capital of the U.S. As The Bowery Boys put it, "you could say the neighborhood went a little downhill."
2. "Great Moments in Architectural Trolling"

The Chrysler Building is one of the city's favorite skyscrapers, finished with flourishes of Art Deco chrome. That spire, so key to the whole design, was actually a bit of stealth engineering. The Bowery Boys recount how it was snuck through the roof and affixed in just 90 minutes—providing enough additional height to outreach rival 40 Wall Street and make the Chrysler, for the moment, the tallest building in the world.


3. There's a Saint's House in Manhattan
Image: Shriram Rajagopalan/Flickr
New York may have a reputation for sin, but there's a saintly landmark in Lower Manhattan. In classic New York fashion it's all but swallowed up by skyscrapers, but the Shrine of St. Elizabeth Ann Bayley Seton is still standing on the same plot it's occupied since 1793. (Seton was the first American saint and lived here as a young woman.)
4. A Legendary Punk Outfitter/Home of Alexander Hamilton's Family: Same Place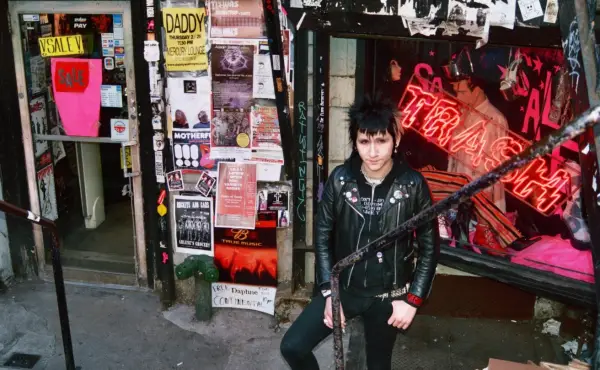 Image: Lisa Chamberlain/Flickr
The Federal-style townhouse at 4 St. Mark's Place was where Alexander Hamilton's widow and son moved in 1831. It later held Trash and Vaudeville, clothier to the likes of the Ramones and Debbie Harry, and a downtown legend from 1975-2016.
5. New York's Most Famous Address Is Basically Abandoned
Image (right): George Rex/Flickr
One Times Square is one of the most gazed-at buildings in New York, hosting the dropping of the ball pretty much every New Year's Eve since 1907. The Bowery Boys note that almost no one today knows what the building itself looks like. Finished in 1904 as the headquarters of the New York Times, it was once an elegant tower with the feel of an elongated Venetian palazzo. It's still standing, although unrecognizably thanks to a blanket of screens and signs, with no tenants in the former newsrooms above—and only a Walgreens to give it life on the ground floor.
6. Rock 'n' Roll Was Born in Manhattan
West Side Story, opera, jazz—it's easy to picture the genesis of those musical forms on the Upper West Side. But rock 'n' roll? Indeed: The Bowery Boys call out The Pythian, an Egyptian-motif apartment building on West 70th. In 1954 the first rock single, "Rock Around the Clock" by Bill Haley and the Comets, was recorded right here.
7. "Television Disco Inferno"
Captain Kangaroo. Studio 54. The same place. (To Tell the Truth was filmed here as well.) As The Bowery Boys note, "A single block, after all, can tell a multitude of stories." So can a single building.
8. You Can Have a Beer Where O. Henry Wrote "The Gift of the Magi"
Image: Jazz Guy/Flickr
In a look at survivor taverns in New York, The Bowery Boys drop the detail that the very bar where O. Henry wrote the immortal "The Gift of the Magi" is still there and still serving up pub classics and cold draughts. It's Pete's Tavern in Gramercy and it's been holding down the same corner since 1864.
9. Who Needs Washington, D.C.?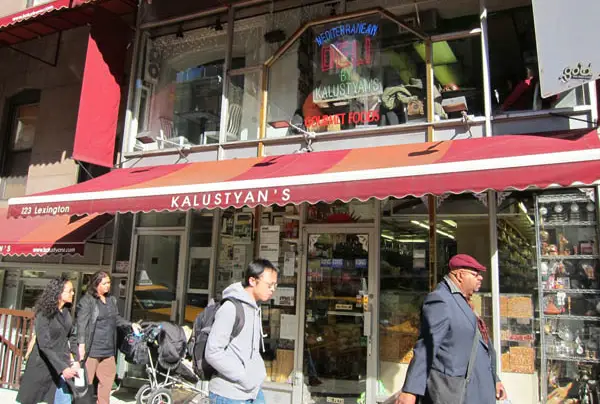 The Bowery Boys drop all kinds of historical government cred for New York, including the locations of former homes of George Washington, Thomas Jefferson, Alexander Hamilton, and the unprepossessing Indian grocery in Curry Hill which is where President Chester A. Arthur lived. (In New York, more often than not, pragmatism trumps history.)
10. Same Place: Home of a Beloved Humorist/The House of Death
A lovely West Village townhouse where Mark Twain once lived is also one of the most haunted addresses in Manhattan. Some two dozen ghosts are believed to stay here, and Twain himself has been spotted in his trademark white suit. There was also a notorious murder in 1987. Why don't the living residents up and leave? Well, it's a tight rental market in NYC.
11. The Brother of Lincoln's Assassin Is Still Revered in New York
Edwin Booth was arguably the greatest actor of his time, forever marked by guilt and tragedy thanks to his brother John's killing of the president. Edwin withdrew from acting, but his fans gradually coaxed him back. In today's New York you can still find a monumental statue of Edwin in Gramercy Park, a social club he founded (The Players Club), his bedroom left exactly as it was when he died, and two theatres (the Winter Garden and the Booth Theatre) named in his honor.
12. The City's Grid Is Still Marked by One of Its Original Spikes
In 2004, geographers found an ancient bolt embedded in city stone. They believe it's an original spike from the survey that turned the city into the orderly grid of streets we know today. Two centuries later the bolt is still there hidden in plain sight. (It would have marked just another intersection if visionary minds hadn't greenlighted the construction of Central Park.)
13. There's a Manhattan Neighborhood in the Bronx
Marble Hill on the northern side of the city dates back to the beginnings of the Dutch occupation of Manhattan. To ease local shipping, a canal was cut in 1895 through the lower part of the nabe, turning it into an island. (Local commuters must have loved that.) Twenty years later, the old northern waterway was filled in, joining Marble Hill with the Bronx, and mainland New York. As The Bowery Boys phrase it, "Like an island amoeba, it broke from one creature and joined another."
14. Shady Masonic Conspiracies All Across Manhattan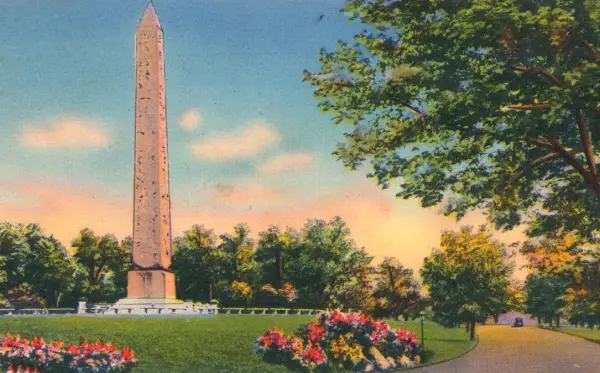 The Bowery Boys lay it out straight when it comes to Manhattan's Masonic Hall: "All human affairs are controlled from this building…" Okay, they walk it back with a "just kidding," but all the same there's a great Masonic secret in New York involving the seemingly arbitrary placement of an ancient Egyptian artifact (Cleopatra's Needle) and a pair of Manhattan graves. Read Adventures in Old New York for the full revelations.
---
The Bowery Boys: Adventures in Old New York is available in paperback for $13.25.