You may see everything from Hamilton to Hadestown, but New York's theatre culture extends far beyond the stages of Broadway's 41 theatres. The following experiences are for anyone looking for theatrical flourishes in their walking tours, exhibits, karaoke, and dining. Broaden your Broadway experience with these 9 fun-filled activities in the theatre capital of the world!
Madame Tussauds New York Presents Broadway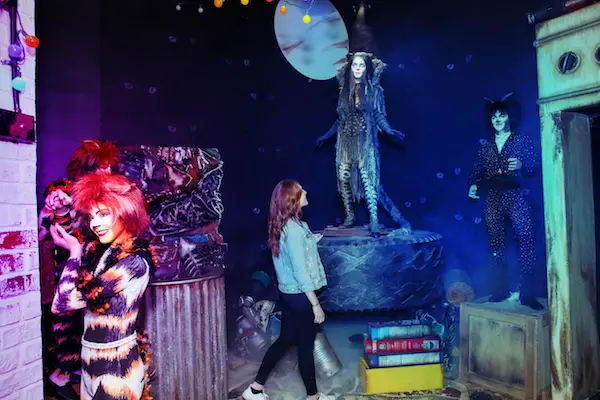 Fans of Andrew Lloyd Webber, rejoice! Broadway at Madame Tussauds invites you to the stage of Webber's most beloved musicals. Meet the Phantom of the Opera face-to-face, perform "Memory" from Cats, and try on Joseph's technicolor dreamcoat yourself. This interactive experience brings you backstage at a Broadway show and takes you center stage for a belt-it-out finale. Before you go on, you can even have a drink or two at the Broadway Bar. 234 W. 42nd St., 212-512-9600, madametussauds.com


Broadway On The Water Cabaret Cruise

Experience the magic of Broadway's biggest hits on the waters around Manhattan! Hornblower's Broadway-themed cruise features a live band performing your favorite hits from Broadway musicals. During your two-hour journey around the city, drink, eat, and take photos of icons like the Brooklyn Bridge and the Statue of Liberty. The cruise lasts two hours and is held on Monday evenings. Pier 78: 455 12th Ave., 888-467-6256, hornblower.com/new-york/broadway-dinner-cruise
Broadway Up Close Walking Tours
Take a Broadway-centric walking tour of the historic Theater District with Broadway Up Close. This popular service hosts in-depth tours led by industry insiders who have worked in some of the theatres they're describing! The company hosts tours for newbies—called "Broadway's Beginnings"—and more specialized tours like "Hamiltour" (on the smash-hit musical Hamilton) and "The Ghostlight Tour: Haunted Broadway." Various locations, broadwayupclose.com
Karaoke at Marie's Crisis
Take center stage at the mecca of theatre nerdom: Marie's Crisis. This basement-level karaoke dive, featuring live piano accompaniment, is filled with musical-obsessed singers ready to flex their voices. The bar has a reputation for honoring tunes from deep cuts to "Defying Gravity," plus encouraging corporate sing-alongs. Actual Broadway stars have been known to late-night here, and there's always a crowd once the piano starts at 8pm. 59 Grove St., 212-243-9323, mariescrisis.us
Cocktails on Broadway at The Lambs Club

The Theater District restaurant The Lambs Club invites theater fans to its new Cocktails on Broadway Series. July through December, these monthly events will feature new Grey Goose cocktails based on six Broadway shows currently running, with actual cast members in attendance. Thursday, August 1, come for the Pretty Woman-themed Va Va Viv! cocktail. In following months, check out drinkable homages to Beetlejuice, Chicago, Tootsie, and Waitress. Each special evening will also debut new artwork on Grey Goose bottles, created by Toby Triumph and inspired by the Broadway show of the evening. After the series ends, these custom bottles will be auctioned off, with proceeds benefiting Broadway Cares/Equity Fights AIDS. Although snacks are complimentary, you'll want to sample The Lambs Club cuisine from Iron Chef Geoffrey Zakarian while you're around. 132 W. 44th St., 212-997-5262, thelambsclub.com
Broadway Bars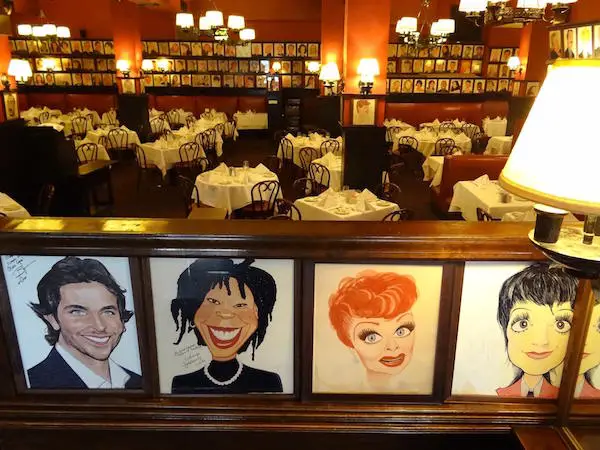 In addition to meeting your favorite stars at the stage door, you might glimpse Broadway luminaries storied haunts around the Theatre District if you know where to look. Our list of bars for Broadway fans features legendary post-show hangouts like Sardi's and Joe Allen. You might also visit the famous Ellen's Stardust Diner in Times Square to hear the wait staff belt out show tunes between taking orders. 
Posters at Triton Gallery
Looking for a vintage Broadway poster? Check out Triton Gallery, which carries Broadway posters and other items from theater history into the present. This shop has been open since 1965 and carries the world's largest collection of Broadway posters. The gallery also has an online store at the link below. 690 Eighth Ave., 6th Floor, 212-765-2472, broadwayposters.com
New York Public Library for the Performing Arts
If you're looking to do a deep dive on theatre history, come to New York Public Library for the Performing Arts. This facility houses a wide range of rare archives, recordings, and more related to the performing arts and always hosts exhibitions delving into the arts of theatre, dance, film, and music. Right now there's a Jerome Robbins exhibit and one on the Upper West Side's Second Stage Theater. Broadway obsessives can explore the Billy Rose Theatre Division, the Rodgers and Hammerstein Archives of Recorded Sound, and Theatre on Film and Tape Archive as well. 40 Lincoln Center Plaza, 917-275-6975, nypl.org
Museum of Broadway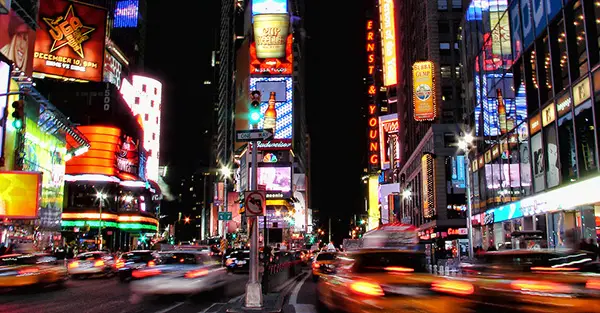 Photo: Diego Torres Silvestre/Flickr 
In the heart of the Theater District, a Museum of Broadway is set to open sometime next year. While not much has been released about the new venture, Playbill reports that it will be a pop-up experience that takes visitors to the birth of Broadway and tracks its development. You'll also learn about the complex mechanics of staging Broadway shows. themuseumofbroadway.com