We can think of one good reason to look forward to the end of the summer, especially if you're a big-time tennis fan: the US Open Tennis Championships, held right here in New York City. 2019 will be another big year at the Open, now celebrating its 51st anniversary. We're just a year removed from the completion of the five-year transformation of the USTA Billie Jean King National Tennis Center in Flushing Meadows, Queens, which included the final construction of the new Louis Armstrong and Grandstand stadiums, the retractable roof over Arthur Ashe Stadium that debuted in 2016, and many other grounds innovations. The 2019 US Open kicks off with Fan Week, which begins August 19 and features the US Open Qualifying Tournament and many other free events, all leading up to main-draw play beginning on Monday, August 26 and running through September 8.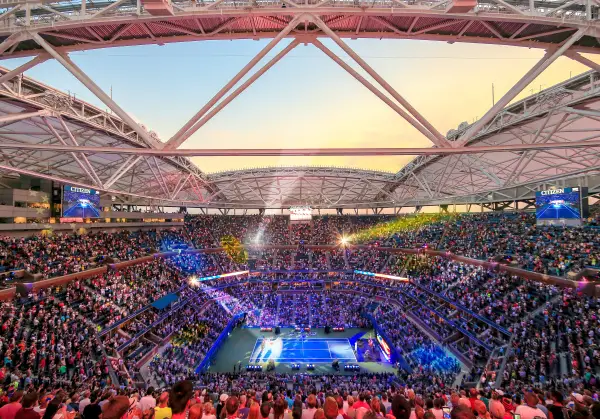 One of the most prestigious events in tennis, the U.S. Open is the final event in the Grand Slam, following the Australian Open, French Open, and Wimbledon. The matches are easily reached by subway; some 700,000 fans attend the U.S. Open every year, making it the world's highest-attended annual sporting event. This will be the tournament's 139th year.
Sessions for the 2019 tournament begin on Monday, August 26th, and continue through Sunday, September 8th, when the men's final and women's doubles final are held. The biggest stars in the game will be here.
Serena Williams, looking to match Margaret Court's all-time record of 24 Grand Slam singles titles, leads a star-studded field of women. Defending champion Naomi Osaka, who defeated Williams in the 2018 US Open final, and world No. 1 Ashleigh Barty are also among the 13 Grand Slam women's singles champions who will be in action. Along with Williams, reigning French Open champion Barty, and world No. 2 Osaka, the field includes world No. 8 Sloane Stephens, two-time US Open champion Venus Williams, 2016 US Open champion Angelique Kerber, and 2006 US Open champion Maria Sharapova.


Led by defending US Open champion and world No. 1 Novak Djokovic, the ATP's Top 98 men have officially earned direct entry into the 2019 US Open. Rafael Nadal and Roger Federer—eight US Open titles but no New York meetings between them—are also among the six former champions in the initial field, which includes 2016 champ Stan Wawrinka and 2014 winner Marin Cilic. Rounding out the Top 10 entries are: No. 4 Dominic Thiem, No. 5 Alexander Zverev, No. 6 Stefanos Tsitsipas, No. 7 Kei Nishikori, No. 8 Karen Khachanov, No. 9 Fabio Fognini, and No. 10 Daniil Medvedev.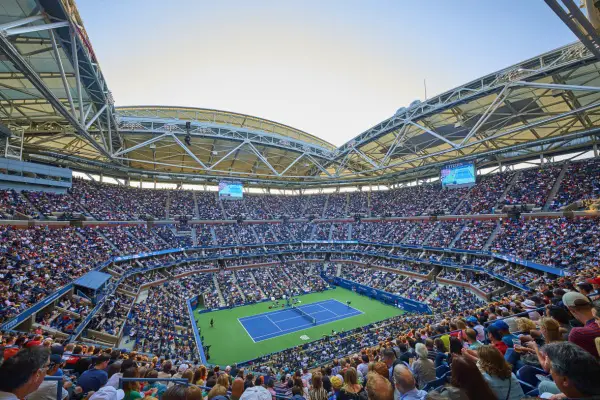 Photo: USTA.
Tickets for the biggest matches can be scarce, but with tennis of this caliber, even a warm-up rally on a side court can be thrilling. Looking for free tennis? The US Open Qualifying Tournament runs ahead of the main event (Monday, August 19 through Friday, August 23), with 256 men and women competing for the final 32 spots in the singles competition. It's open to the public and free to attend.
One of the annual highlights of Fan Week is Saturday's Arthur Ashe Kids' Day powered by Net Generation. The USTA Billie Jean King National Tennis Center is the site of a free kids' festival with interactive games, face painting, balloon artists, prizes, music, special guests, and much more. Kids can step onto the US Open courts just like the pros, with tennis activities offered for all ages and abilities.
New since 2016 is a state-of-the-art 8,125-seat Grandstand stadium, with more food, more shade, and some spectacular architecture, located in the southwest corner of the tennis center. (It has a retractable roof, so weather will be less of a factor than ever in US Open scheduling.)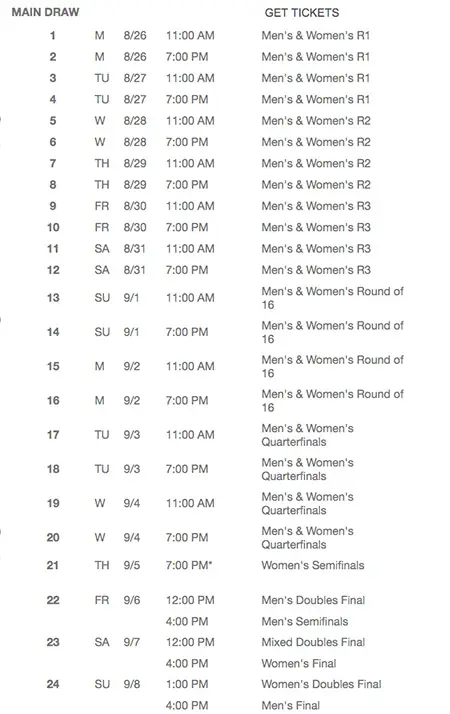 *Field court time TBD.
(Note that this is a tentative schedule, and subject to change.)
The fastest and least frustrating way of getting to the Open is by subway. The 7 train provides easy access from 42nd Street stops in Manhattan, including Grand Central Terminal, to the Mets-Willets Point Station right near the stadium. Alternatively, you can take the Long Island Rail Road to Mets-Willet, which will cost a little more, but have much fewer stops. For detailed directions on Google Maps, click here or visit usopen.org/transportation for more information.
Food is not an afterthought at the US Open. Among the options is legendary New York restaurant Benjamin Steakhouse, which will be opening a pop-up location. Champions by Benjamin Steakhouse will be serving classic New York City steakhouse fare, including favorites like Benjamin's dry-aged Porterhouse. The pop-up will be open from August 26th through the final day of the tournament, available 11am to 11pm.
Reservations are now open but can only be made through these three options:
Calling the reservation line: 718-393-1933 (Monday-Sunday 9am-7pm)
Please note that access to this restaurant is limited to Arthur Ashe Stadium holders of Courtside tickets, Suite tickets, or those with Champions Bar & Grill Restaurant Passes. Reservations will be accepted for parties of 8 or less. Every member of the party must have a ticket or appropriate club level. Reservations will be confirmed 24 hours in advance.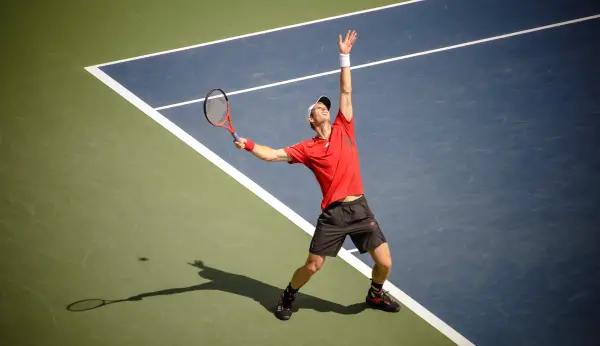 Image: Andy Murray at the US Open by Bobby Das/Flickr.
Remember, pack lightly. The US Open has strict rules and security procedures that prevent all non-medical food items from being brought in. Only one bag is allowed per person (and no backpacks). It can't be any bigger than 12" x 12" x 16". Flags, banners, and signs, along with recording devices, are also strictly prohibited. Cell phones are allowed; just don't get caught trying to record Djokovic's wicked serve. For details on the US Open security procedures, including a complete list of what is allowed on the grounds, click here.