Tennis Anyone? See the 2018 US Open in NYC
August 14, 2018 - by City Guide News Desk
We can think of one good reason to look forward to the end of the summer, especially if you're a big-time tennis fan: the US Open Tennis Championships, held right here in New York City. 2018 will be a milestone year at the Open, as the tournament is celebrating both its 50th anniversary, as well as the completion of the five-year transformation of the USTA Billie Jean King National Tennis Center in Flushing Meadows, Queens, which includes the final construction of the new Louis Armstrong and Grandstand stadiums, the retractable roof over Arthur Ashe Stadium that debuted in 2016, and many other grounds innovations. The 2018 US Open kicks off with Fan Week (beginning August 21st), highlighted by the US Open Qualifying Tournament and several other free events leading up to main-draw play on Monday, August 27th.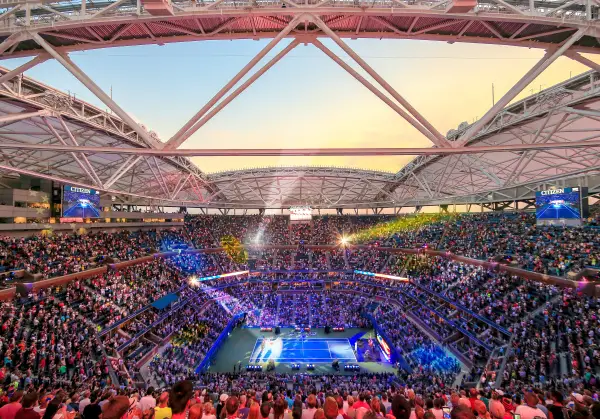 One of the most prestigious events in tennis, the U.S. Open is the final event in the Grand Slam, following the Australian Open, French Open, and Wimbledon. The matches are easily reached by subway; some 700,000 fans attend the U.S. Open every year, making it the world's highest-attended annual sporting event. This will be the tournament's 138th year.
Sessions for the 2018 tournament begin on Monday, August 27th, and continuing through Sunday, September 9th, when the men's final and women's doubles final are held. The biggest stars in the men's game will be here, including World No. 1 Rafael Nadal, No. 2 Roger Federer, and No. 3, Alexander Zverev. The women's side is equally impressive. Eleven Grand Slam singles champions, including six US Open winners, headline the 2018 US Open women's singles field. In total, 100 of the top 101-ranked players in the world have earned direct entry into the 128-player main draw, led by world No. 1 Simona Halep, defending US Open champion and world No. 3 Sloane Stephens and six-time US Open winner Serena Williams.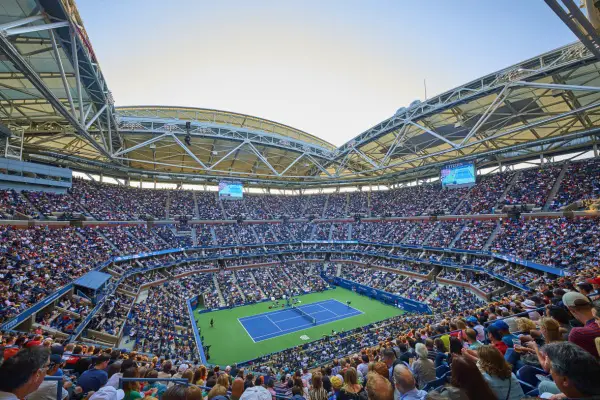 Photo: USTA.
Tickets for the biggest matches can be scarce, but with tennis of this caliber, even a warm-up rally on a side court can be thrilling. Looking for free tennis? The US Open Qualifying Tournament runs ahead of the main event (Tuesday, August 21 through Friday, August 24), with 256 men and women competing for the final 32 spots in the singles competition. It's open to the public and free to attend.
The 2018 Arthur Ashe Kids' Day takes place on the Saturday ahead of the US Open, August 25th. There are games, activities like face painting and juggling workshops, live performances, and the chance to watch the pros practice at the new Louis Armstrong Stadium. Tennis stars Rafael Nadal, Novak Djokovic, and Angelique Kerber will make appearances as well.
New since 2016 is a state-of-the-art 8,125-seat Grandstand stadium, with more food, more shade, and some spectacular architecture, located in the southwest corner of the tennis center. (It has a retractable roof, so weather will be less of a factor than ever in US Open scheduling.)
Session

Day

Date

Session Time (ET)

Match Sched.

1

Monday

8/27

11:00 AM

Men's & Women's R1

2

7:00 PM

3

Tuesday

8/28

11:00 AM

Men's & Women's R1

4

7:00 PM

5

Wednesday

8/29

11:00 AM

Men's & Women's R2

6

7:00 PM

7

Thursday

8/30

11:00 AM

Men's & Women's R2

8

7:00 PM

9

Friday

8/31

11:00 AM

Men's & Women's R3

10

7:00 PM

11

Saturday

9/1

11:00 AM

Men's & Women's R3

12

7:00 PM

13

Sunday

9/2

11:00 AM

Men's & Women's
Round of 16

14

7:00 PM

15

Monday

9/3

11:00 AM

Men's & Women's
Round of 16

16

7:00 PM

17

Tuesday

9/4

11:00 AM

Men's & Women's
Quarterfinals

18

7:00 PM

19

Wednesday

9/5

11:00 AM

Men's & Women's
Quarterfinals

20

7:00 PM

21

Thursday

9/6

7:00 PM *

Women's Semifinals

22

Friday

9/7

12:00 PM

Mixed Doubles Final or Men's Doubles Final

4:00 PM

Men's Semifinals

23

Saturday

9/8

12:00 PM

Mixed Doubles Final or Men's Doubles Final

4:00 PM

Women's Final

24

Sunday

9/9

12:00 PM

Women's Doubles Final

4:00 PM

Men's Final
(Note that this is a tentative schedule, and subject to change.)
*Field court time TBD.
The fastest and least frustrating way of getting to the Open is by subway. The 7 train provides easy access from 42nd Street stops in Manhattan, including Grand Central Terminal, to the Mets-Willets Point Station right near the stadium. Alternatively, you can take the Long Island Rail Road to Mets-Willet, which will cost a little more, but have much fewer stops. For detailed directions on Google Maps, click here or visit usopen.org/transportation for more information.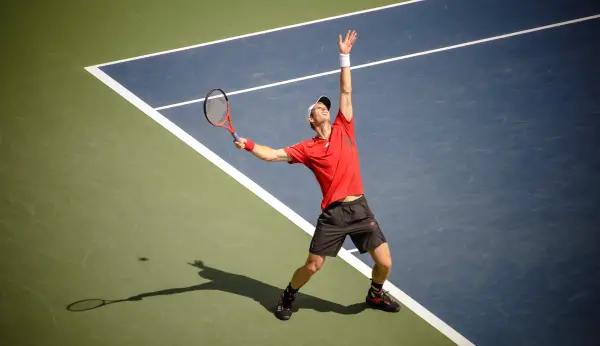 Image: Andy Murray at the US Open by Bobby Das/Flickr
Remember, pack lightly. The US Open has strict rules and security procedures that prevent all non-medical food items from being brought in. Only one bag is allowed per person (and no backpacks). It can't be any bigger than 12" x 12" x 16". Flags, banners, and signs, along with recording devices, are also strictly prohibited. Cell phones are allowed; just don't get caught trying to record Djokovic's wicked serve. For details on the US Open security procedures, including a complete list of what is allowed on the grounds, click here.
Looking for Free Group Planning Services?
Get free advice on planning your group's trip to New York.
RESTAURANTS

Multi-concept restaurant offering modern Japanese cuisine, a...

THEATER

In a heartbeat, 38 planes with 6,579 passengers were strand...

SHOPPING

The sweetest experience in Times Square!...

SIGHTSEEING

SPYSCAPE is the world's preeminent spy museum and experience...
SAVINGS OPPORTUNITIES
Carmel - $4 off any trip over $20. -12/31/2019