On Monday, November 11, Manhattan will honor, recognize, and send a big thanks to America's veterans and their families at the 2019 Veterans Day Parade, which is produced by the United War Veterans Council(UWVC).
The 2019 Parade commemorates the centennial of the Veterans Day, which was formerly called Armistice Day. At 11 am on November 11, 1918, the guns of World War I fell silent as the Armistice ending the fighting took hold. In 1919, communities around the world marked the first anniversary of the Armistice with reflective and commemorative events. New York City's observations included a parade on Fifth Avenue. After World War II, Armistice Day became Veterans Day, honoring those of all eras. 2019 marks the 100th observation of this day. The United States Marine Corps is this year's featured military branch. As always, the Army, Navy, Air Force, and Coast Guard will be proudly represented as well.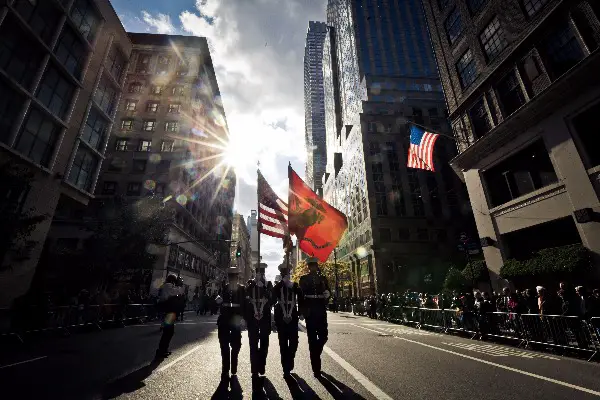 Image: MarineCorps NewYork/Flickr.
The parade will proceed rain or shine, and will kick off at noon and finish around 3:30 pm. It will travel north on Fifth Avenue, from 26th to 46th Street. The route is 1.2 miles and takes approximately 30 to 35 minutes.
The parade is preceded by a traditional Opening Ceremony inside Madison Square Park (24th Street & Fifth Avenue). The ceremony begins at 11 am and starts with a moment of silence to commemorate the precise moment of the Armistice that ended World War I (the 11th hour of the 11th day of the 11th month). The ceremony ends just before 12:00 noon with the laying of wreaths at the Eternal Light monument. Limited seating is available at the opening ceremony.


Spectators are encouraged to gather along the parade route. The parade can also be viewed on WABC and via online streaming at uwvc.org/vetsday. For more, visit uwvc.org/vetsday.
Events, Discounts, and Beyond
Over the past 11 years, Applebee's restaurants nationwide have served free meals to veterans and active duty military on Veterans Day to honor them for their courage and sacrifice. Join them this Veterans Day, Monday, November 11, 2019 to continue the tradition. NYC locations include 234 W. 42ndSt. , 212-391-7414, and 205 W. 50thSt. , 212-262-2400, applebees.com
United War Veterans Council/UWVC-C. Forbes Inc. has teamed up with the UWVC to provide and manage this year's official parade merchandise shop online. The web shop features exclusive apparel and collectibles that flaunt the 2019 parade centennial design. A portion of the proceeds helps fund the UWVC's mission of honoring our vets in need with health, wellness, and educational programs. Visit UWVC.shop.
To help raise awareness of the work the UWVC does year-round for vets, C. Forbes Inc. is hosting its #SocksForVets campaign. For every pair sold through the end of November, the organization will donate a pair of socks to veterans in need. The super soft, comfy socks boast a bold red, white, and blue design and the UWVC Veterans Day Parade Centennial logo. They work with casual wear or dress attire.Socks can be purchased at the official parade online shop. Snap an interesting photo and share it by tagging #SocksForVets.
All NYC locations of bar chain Clinton Hall are offering a free Clinton Hall Gigawatt IPA by The Bronx Brewery for anyone showing their military ID on Veterans Day.
Casual Latin spot Areppas (all three NYC locations) will offer 50% off an entree (dine-in only) if you show a military ID or certificate upon checkout.
9/11 Memorial & Museum Salute to Service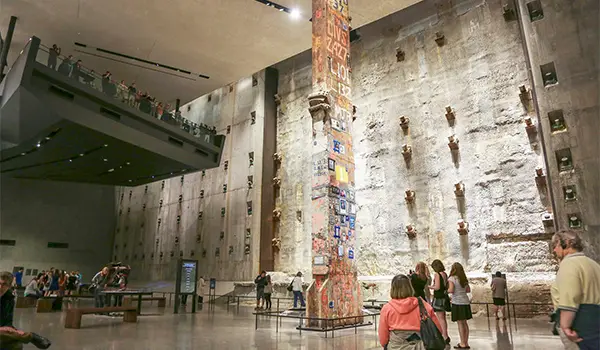 The 9/11 Memorial & Museum will pay tribute to our veterans during Salute to Service—a tribute honoring veterans and the families and communities that support them. From November 8 through 14, the 9/11 Memorial & Museum will host a series of events and special programs for veterans and their families, as well as the visiting public. Throughout the tribute, veterans will receive free Museum admission. They'll also receive half-price Museum tickets for two family members during the tribute. On Veterans Day, the Museum will open at 8:00 a.m. to accommodate the veteran and military community participating in theparade.The 9/11 Memorial Museum will also host previews of a new special exhibition, Revealed: The Hunt for Bin Laden, for active members of the U.S. military and veterans on November 11 and November 14, 2019. 180 Greenwich St., 212-312-8800, 911memorial.org
Intrepid Sea, Air & Space Museum
The Intrepid Sea, Air, & Space Museum is dedicated to the exhibition and interpretation of history, service, and science as related to its home aboard the aircraft carrier Intrepid—a National Historic Landmark. Visitors can examine original artifacts, view more than 25 historic aircraft, and explore interactive exhibits. Launched in 1943, Intrepid fought in World War II. It survived several kamikaze attacks and one torpedo strike. The ship also served in the Cold War, the Vietnam War, and as a NASA recovery vessel in the 1960s. Decommissioned in 1974, it now sits on the Hudson River and is the centerpiece of the museum. The submarine Growler is the only American guided missile submarine that is open to the public. Growler offers visitors a firsthand look at life aboard a submarine and a close-up inspection of the once "top-secret" missile command center. Pier 86, W. 46th St. and 12th Ave., 212-245-0072, intrepidmuseum.org
New-York Historical Society
The New-York Historical Society will host several programs, which offer the public opportunities to meet and listen to personal stories from veterans. On November 9, guests are invited to hear stories of trauma and homecoming at theVoices From War Performance, which will be held from 2-4 pm in the Historical Society's Auditorium. From 11 am–4 pm, reenactors from the 3rd New Jersey Regiment will discuss life on and off the battlefield at the Living History: Soldiers of the American Revolutionevent. It will be held on the 1st Floor of the Museum. All ages are welcome at both events.
The programming for November 10th includes a special Sunday Story Time entitled, Hero Mom. Guests can read all about mothers in the military and how their children cope with deployment. The event will be held at 11:30 am at the DiMenna Children's History Museum, and is open to people ages 3 to 7. Finally, on November 11, guests are invited to Living History: Soldiers of the American Revolution. They'll hear from reenactors about serving during the Revolution. They'll also be treated to experience a theatrical event about Deborah Sampson (played by Judith Kalaora)—the real-life woman who disguised her gender and fought with distinction. The event will be held from 11 am–4 pm on the 1st Floor of the Museum and is open toall ages.170 Central Park West at 77th St., 212-873-3400, nyhistory.org
New York City Vietnam Veterans Memorial Plaza
New York City's official Vietnam Veterans Memorial was initially built in 1985 and provided a unique, spacious, and respectful area to commemorate the war and remember our veterans. In 1999 the Friends of the Vietnam Veterans Plaza organization was established and had a mission to redesign, fund, and rebuild the 90,000-square-foot plaza located at 55 Water Street, downtown Manhattan. In November of 2001, the organization completed the renovation phase by raising $7.1 million from both the public and private sectors. The Plaza at 55 Water Street was the first public space dedicated and reopened after the attacks of September 11th 2001. Since the restoration, the Plaza has enjoyed greater public interest and has become a venue for numerous veterans' events and related activities. 55 Water St., vietnamveteransplaza.com
Circle Line Sightseeing Cruises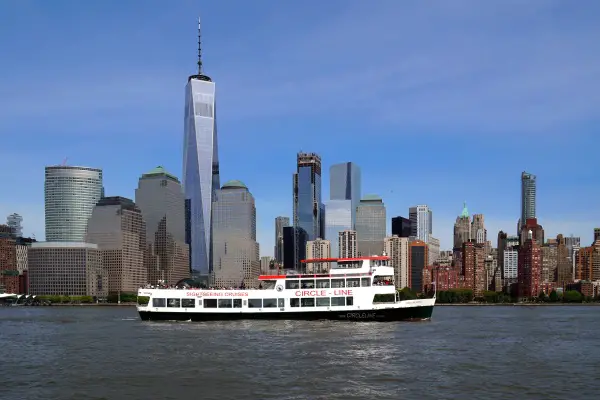 As a thank you to veteran and active military members, Circle Line Sightseeing Cruises will be offering discounts. Take in the grandeur of New York and witness spectacular views as knowledgeable guides point out the landmarks. 212-563-3200, circleline.com
Fraunces Tavern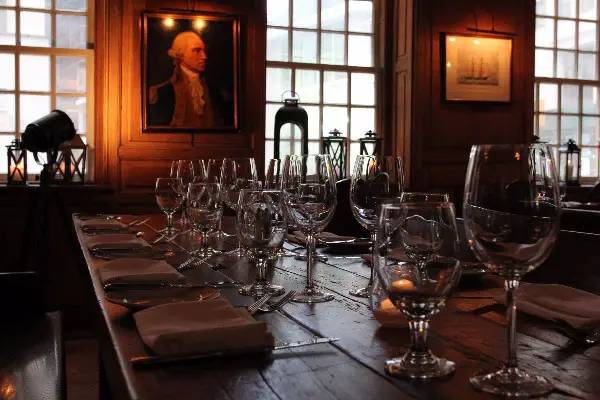 Fraunces Tavern is housed in the city's oldest building, where George Washington bid farewell to his troops. History buffs will enjoy the museum, which is also located on the premises. Visit the room where General George Washington gave his famous farewell to his officers, view artist John Ward Dunsmore's collection of Revolutionary War paintings, and more. The tavern serves American fare, as well as an extensive collection of beer, whiskey, and cocktails. 54 Pearl St., 212-968-1776, frauncestavern.com
Flatiron BID Free Walking Tour
On November 10, the Flatiron/23rdStreet Partnership Business Improvement District (BID) will host a free walking tour—led by historian, author, and professional tour guide Miriam Berman—to explore the history of our national heroes. The tour will meet at 11am in front of the iconic Flatiron Building at 23rdStreet between 5th Ave and Broadway, at the tip of the prow. Advance registration is not required. For more, visit flatirondistrict.nyc/discover-flatiron/free-walking-tour
Gerber Group: The Campbell Bar, The Crown, Irvington Bar & Restaurant, Kingside, Mr. Purple, The Roof, and Taco Electrico
As a thank you to veterans, Gerber Group will be offering 50% discounts on house spirits and beer (with a maximum discount of $50) to all service members with proof of Military ID at all Gerber Group venues, which include The Campbell Bar, The Crown, Irvington Bar & Restaurant, Kingside, Mr. Purple, The Roof, and Taco Electrico. For more, visit gerberbars.com/venues/.