How to Mark Veterans Day in NYC
October 26, 2018 - by Regina Molaro
On Sunday, November 11, Manhattan will honor, recognize, and send a big thanks to America's veterans and their families at the 2018 Veterans Day Parade. The U.S. Army was selected as this year's featured branch of service. The 2018 parade, led by Grand Marshal Florent Groberg, will commemorate the 100th anniversary of the end of the World War I. Groberg—a Medal of Honor Recipient and Army veteran—received America's highest military honor for heroic acts during his service in Afghanistan in 2012.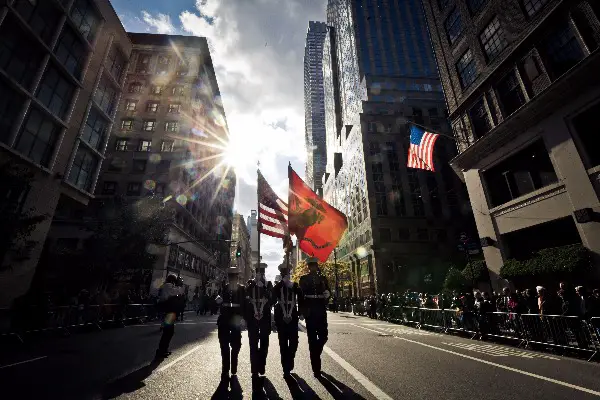 Image: MarineCorps NewYork/Flickr
The parade route will kick off at 11:10am and run north on Fifth Avenue from 26th to 45th Street. In keeping with a tradition that dates back to after World War I, veteran leaders, elected officials, senior military officers and special guests will present wreaths at Madison Square Park's Eternal Light memorial prior to the parade. New York will play host to plenty of additional Veterans Day events. For more information, visit uwvc.org/vetsday.
9/11 Memorial & Museum Salute to Service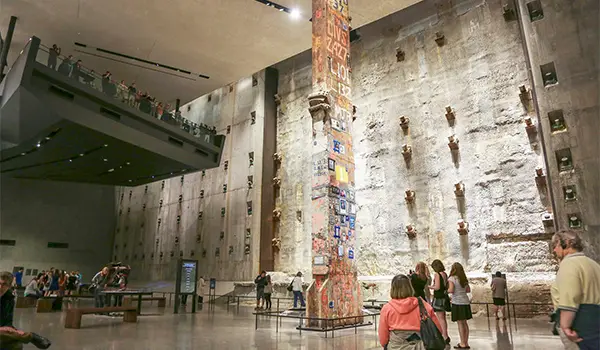 The 9/11 Memorial & Museum will pay tribute to our nation's veterans during Salute to Service—a special five-day tribute honoring America's veterans as well as the families and the communities that support them. From November 7 to 11, the 9/11 Memorial & Museum will host a series of events and special programs for veterans and their families as well as the visiting public. Throughout the tribute, veterans will receive free museum admission. Veterans will also receive half-price museum tickets for two family members during the tribute. Ticketing for Salute to Service will be available at a dedicated ticket table at the museum entrance. 180 Greenwich St., 212-312-8800, 911memorial.org
Intrepid Sea, Air & Space Museum
The Intrepid Sea, Air, & Space Museum is dedicated to the exhibition and interpretation of history, service, and science as related to its home aboard the aircraft carrier Intrepid—a National Historic Landmark. Visitors can examine original artifacts, view more than 25 historic aircraft, and explore interactive exhibits. Launched in 1943, Intrepid fought in World War II. It survived several kamikaze attacks and one torpedo strike. The ship also served in the Cold War, the Vietnam War, and as a NASA recovery vessel in the 1960s. Decommissioned in 1974, it now sits on the Hudson River and is the centerpiece of the museum. The submarine Growler is the only American guided missile submarine that is open to the public. Growler offers visitors a firsthand look at life aboard a submarine and a close-up inspection of the once "top-secret" missile command center. Pier 86, W. 46th St. and 12th Ave., 212-245-0072, intrepidmuseum.org
New-York Historical Society

The New-York Historical Society will host several family programs. Among them are Living History: Veterans Day Weekend, which will be held November 10 through 11 from 11am to 4pm. Attendees will have an opportunity to meet soldiers and citizens from different wars. They will be portrayed by living historians—including members of the "Harlem Hellfighters"—a unique African American regiment.
On Veterans Day, November 12, visitors can explore Freedoms and Food in WWII. From 1pm to 3pm, they can find out how food was an essential part of our victory. They can also visit interactive stations to learn about what civilians and soldiers ate, grew, canned, or avoided. Stations explore rationing, special foods for soldiers, 1940s nutrition, and how M&M's began as a soldier staple and later became a candy fave! A display of uniforms and tools will be on site, and visitors can also explore how mail was sent to and from soldiers. The programs are open to all ages and are free with museum admission. 170 Central Park West at 77th St., 212-873-3400, nyhistory.org
New York City Vietnam Veterans Memorial Plaza
New York City's official Vietnam Veterans Memorial was initially built in 1985 and provided a unique, spacious, and respectful area to commemorate the war and remember our veterans. In 1999 the Friends of the Vietnam Veterans Plaza organization was established and had a mission to redesign, fund, and rebuild the 90,000-square-foot plaza located at 55 Water Street, downtown Manhattan. In November of 2001, the organization completed the renovation phase by raising $7.1 million from both the public and private sectors. The Plaza at 55 Water Street was the first public space dedicated and reopened after the attacks of September 11th 2001. Since the restoration, the Plaza has enjoyed greater public interest and has become a venue for numerous veterans' events and related activities. 55 Water St., vietnamveteransplaza.com
Circle Line Sightseeing Cruises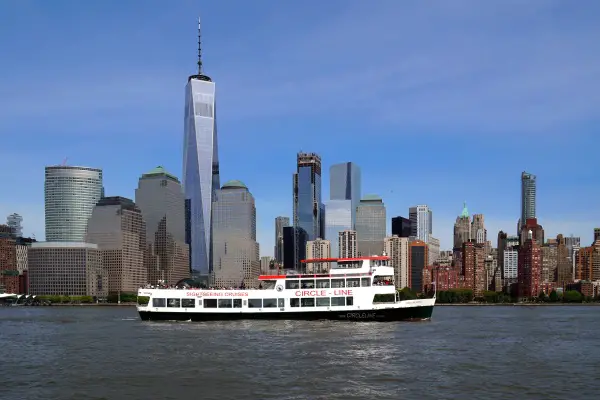 As a thank you to veteran and active military members, Circle Line Sightseeing Cruises will be offering discounts (details were not available as of press time). Take in the grandeur of New York and witness spectacular views as knowledgeable guides point out the landmarks. 212-563-3200, circleline.com
Fraunces Tavern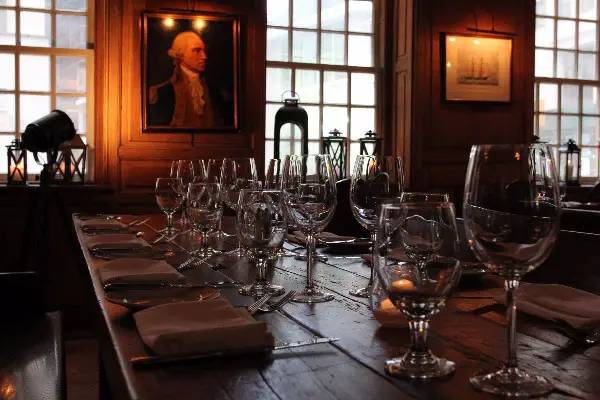 Fraunces Tavern is housed in the city's oldest building, where George Washington bid farewell to his troops. History buffs will enjoy the museum, which is also located on the premises. Visit the room where General George Washington gave his famous farewell to his officers, view artist John Ward Dunsmore's collection of Revolutionary War paintings, and more. The tavern serves pub fare, as well as an extensive collection of beer, whiskey, and cocktails. 54 Pearl St., 212-425-1778, frauncestavernmuseum.org
Looking for Free Group Planning Services?
Get free advice on planning your group's trip to New York.
RESTAURANTS

Multi-concept restaurant offering modern Japanese cuisine, a...

THEATER

Kander and Ebb's "musical vaudeville" in which Roxie Hart ga...

SHOPPING

DataVision is redefining retail with their new, fully intera...

SIGHTSEEING

Sweeping, unobstructed, open-air views of NYC from the top o...