The Statue of Liberty and Ellis Island in New York City have seen over 9 million visitors—just in the last two years! These iconic landmarks are must-sees when you visit the city, but as with all great sightseeing, you'll need to plan a little for the best experience possible. City Guide is here to help with tips on how to book your trip to these historic islands this summer!
The Statue of Liberty and Ellis Island: Buy Tickets Online with Statue Cruises
Statue Cruises is the only company providing ferry service to Liberty Island and Ellis Island. Other companies just ride you around these islands without letting you off to explore! You can book online or in person at Statue Cruises' offices (one is inside Castle Clinton at Battery Park; the other is in Liberty State Park in New Jersey). Booking online is the more efficient pick. Print your tickets before you leave home, and you'll skip the line at the ticket counter and proceed to the security screening facility near the boat.
The Statue of Liberty and Ellis Island: Types of Tickets
All Statue Cruises tickets give you ferry transportation to and from Liberty Island and Ellis Island, and you'll have the opportunity to walk these famous landmarks. The basic ticket for grounds access is called the Reserve Ticket. The Pedestal Reserve Ticket gives you a look inside the star-shaped Fort Wood at the base of the Statue of Liberty. Both Reserve and Pedestal tickets are $18.50 for adults. For only $3 extra, the Crown Reserve Ticket lets you inside the Statue of Liberty for $21.50. All tickets include access to the Ellis Island National Immigration Museum. To see the undeveloped side of Ellis Island with a 90-minute tour, plus site-specific art by the artist JR, book the Hard Hat Reserve Ticket.
The Statue of Liberty and Ellis Island: Book a Weekday Morning or Late Afternoon
From Memorial Day until Labor Day, cruise hours have been extended for the summer. The first boats of the day will embark at 8:30am, while the final scheduled boat will leave at 5pm. Peak travel times to these popular islands occur during summer weekends in the middle of the day. To cut down your wait time and get a little more space onboard the deck of your boat, book a Statue Cruise on a weekday. For even less of a crowd, schedule your departure time before 10am or after 2pm.
The Statue of Liberty and Ellis Island: Leave from New Jersey
Statue Cruises sends daily ferries from Battery Park at the tip of Manhattan and from Liberty State Park in Jersey City. Consider leaving from New Jersey, as it's less crowded in line and on the ferry. Plus, your skyline view of Manhattan at the departure point is superior (sorry, Battery Park) and makes for quintessential photos of your trip! If you're coming by car, the Liberty Park location also offers plenty of parking.
The Statue of Liberty and Ellis Island: Travel Light
What could be better than seeing the city from inside Lady Liberty's crown? You can book a trip that includes this special access inside America's most famous statue (tickets here), as well as priority entry at security. Children under 48" high cannot be admitted to the Crown, and backpacks and other large bags will not be allowed inside (backpacks are also forbidden if you purchase Pedestal access to the Statue of Liberty). You can store your bag in a locker for $2 fee or travel light and save a little money.
The Statue of Liberty and Ellis Island: Guided Tours in Your Language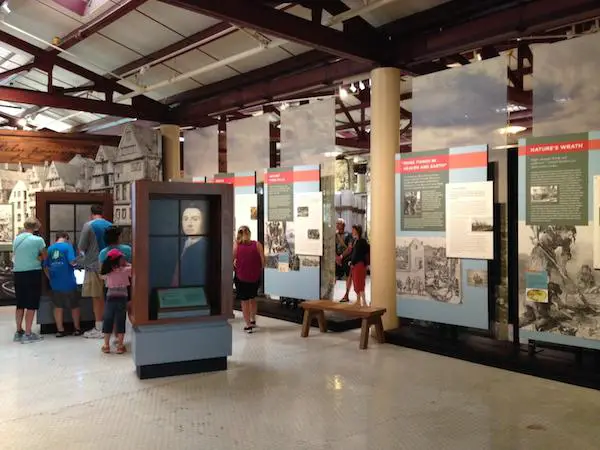 Inside Ellis Island Facebook
Pre-taped audio tours are available with all Statue Cruises tickets. These guides orient you to the history of the Statue of Liberty and relevant facts about its construction and upkeep, as well as the immigration hub of Ellis Island a short boat ride away. The audio guides are available in English, Arabic, French, German, Italian, Japanese, Mandarin, Russian, and Spanish. Guides are also available in American Sign Language (ASL).