New York City is a great place to watch soccer, especially when it's the biggest games in the world. It's been a long wait since 2014, but the 2018 FIFA World Cup has finally arrived, with Russia doing the hosting. Whether you're a die-hard soccer fan or simply just like to cheer a team on over drinks, here are some New York City hotpsots to catch all the action. Kickoff is June 14th and the games run through the championship on July 15th. Note that Russia is 7 hours ahead of NYC, so you may find yourself watching games on the early side.
Heartland Brewery
Kicking off on June 15th, all Heartland Brewery locations will be tuning-in to the FIFA World Cup tournament.Heartland Brewery is renowned for brewing craft beers since 1995, so grab an award-winning pint of one of six classic brews while your cheer for your favorite team. Alongside the beer you'll find some seriously good grub. The beer-friendly menu specializes in steaks, salads, sandwiches, and burgers. Four convenient Manhattan locations include Empire State Building (350 5th Ave.); Midtown West (625 8th Ave.); Times Square, Heartland Brewery & Chophouse | HB Burger 127 W. 43rd St.), heartlandbrewery.com


Opry City Stage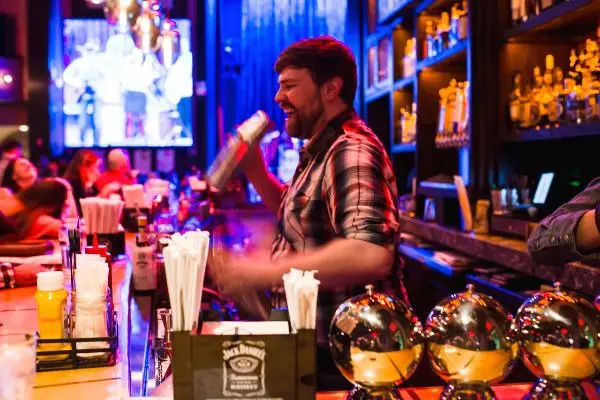 Opry City Stage, the Times Square satellite location of the famed Grand Old Opry, turns from country to countries for the World Cup this year. Enjoy the best of Southern cooking and live music on top of 19 wide-screen televisions and three jumbotrons (120"/7 ft. by 7 ft.) with stadium surround sound all dedicated to the nations of the World Cup! Doors open daily at 8am and Opry City Stage will honor fans wearing jerseys of their favorite World Cup team with special-priced food and drinks—including beers from all across the world. Look for additional World Cup promotions like Tuesdays' two-step dance salute to international soccer fans. 1604 Broadway, 212-388-5565, oprycitystage.com
Boulton & Watt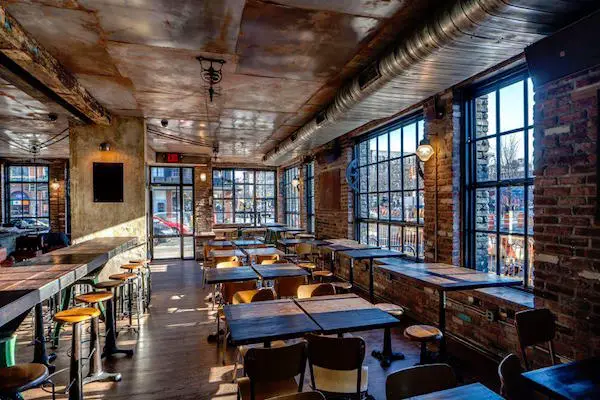 PHOTO CREDIT: Oleg March
Boulton & Watt is opening early for the kick off game at 11am on June 14. The venue will spotlight all games during normal business hours (excluding weekends). Take advantage of $10 Kelso Pilsner steins (34 oz.) and a $16 weekday Soccer Lunch Special, which includes Boulton & Watt's signature burger or veggie burger, a pint of beer, and a jar of homemade pickles. If your home country is playing, bring your passport and get your second drink free. For reservations, call 646-490-6004, 5 Ave. A, boultonandwattnyc.com
In Good Company Hospitality
In Good Company Hospitality is celebrating the World Cup by screening all matches during normal business hours at Parker & Quinn (64 W. 39th St.), Park Avenue Tavern (99 Park Ave.), and Libation (137 Ludlow St.). Choose your favorite venue or bounce between them to catch all the action while enjoying $4 Bud and Bud Lights, lunch, brunch, or whatever your soccer-loving heart desires. For reservations, contact reservations@ingoodcompany.com, ingoodcompany.com
INNSIDE Brasserie
Parker & Quinn. PHOTO CREDIT: Daniela Spector
Offering outside viewing on the front terrace, INNSIDE Brasserie will boast a giant projection screen showing all the games. During normal business hours, the sound will be turned on. Top off your al fresco viewing with one of three choices on the Soccer Spritz menu for just $10. Bud or Bud Light will be offered for $4. For reservations, contact 917-409-5171, 132 W. 27th St., melia.com
Smithfield Hall
Just a few blocks away from Madison Square Garden, Smithfield Hall always lures crowds of sports lovers. World Cup 2018 will be no exception, with 30 HD LED TV's and a state-of-the-art sound system providing prime coverage. 138 W. 25th St. 212-929-9677, smithfieldnyc.com
Industry City, Sunset Park, Brooklyn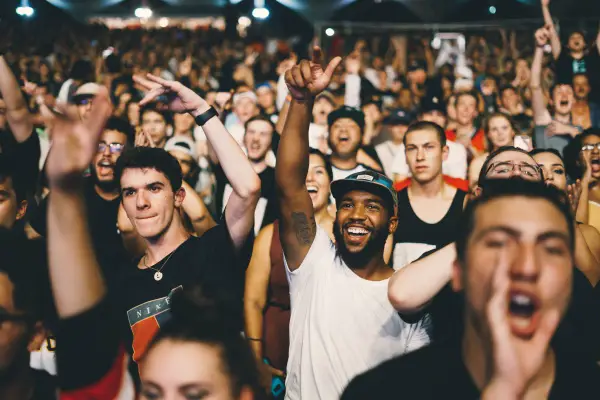 Photo: Nicholas Green
Giant screens will fill Courtyard 1/2 + 5/6 at the massive Industry City complex in Brooklyn. They'll be streaming live daily from June 14th to July 15th, with the Food Hall opening at 10am, plus additional refreshments available from the Frying Pan Helm Bar. See the full schedule here.
Tio Pepe
Since 1970, this Village locale has been successfully combining two surprisingly dissimilar cuisines—Spanish and Mexican. It will be spotlighting the afternoon games and will offer complimentary sangria shots every time Spain scores and free tequila shots when Mexico scores. 168 W. 4th St., 212-242-6480, tiopepenyc.com