New York rooftop bars are one of the best ways to take advantage of the vertical city. Skyline views are matched only by the sophistication of the modern city's bites and beverages. Get above ground level and enjoy that next happy hour or nightcap in serious style.
New York Rooftop Bars: Midtown East
Ophelia

Ophelia Lounge has settled into a historic space in a 1920s residence for women, the Beekman Tower. Perched up 26 stories high, the lounge beautifully decorated in a rich Art Deco style, retaining and restoring much of the original architecture. Craft cocktails call back to the glory of the lounge during its 1920s and '30s heyday while bar bites go contemporary, as in the seasonal crispy prawn tacos with yuzu-wasabi aioli. 3 Mitchell Pl., 26th Floor, 212-980-4796, opheliany.com
Upstairs at the Kimberly

Sit 30 stories high above the New York City streets at the Kimberly Hotel's breathtaking rooftop bar. Upstairs at the Kimberly offers 3,000 square feet of floor space divided up into three separate atmospheres. The interior design is stunning, the retractable glass ceilings are beautifully functional, and the view of the Chrysler Building is picture perfect. The Kimberly, 145 E. 50th St., 31st Fl., 212-888-1220, upstairsnyc.com
Broken Shaker
In Murray Hill you can find a rooftop oasis at Broken Shaker, atop the Freehand New York. Views here are ably matched by an eclectic menu of fresh bites and handcrafted cocktails employing fresh-pressed juices and exotic ingredients from around the world. 23 Lexington Ave., 212-475-1920, brokenshaker.com
New York Rooftop Bars: Midtown West
Life Rooftop 
at Le Meridien New York

Central Park views, along with the skylines that surround it, accent the chic scene at Life Rooftop. From 29 stories atop Le Meridien New York, you'll find both a lounge and outdoor terrace. New York native Anastacia Song brings creativity to a small plates menu that includes meat and cheese plates, beef sliders, shoestring fries, and Cajun-spice wings. Craft cocktails include picks like the Rita Hayworth, with pineapple- and sage-infused tequila, honey, and yellow chartreuse. There's a wide selection of wine and bottle service is available as well. 120 W. 57th St., 212-729-0161,  liferooftop.com 
Versa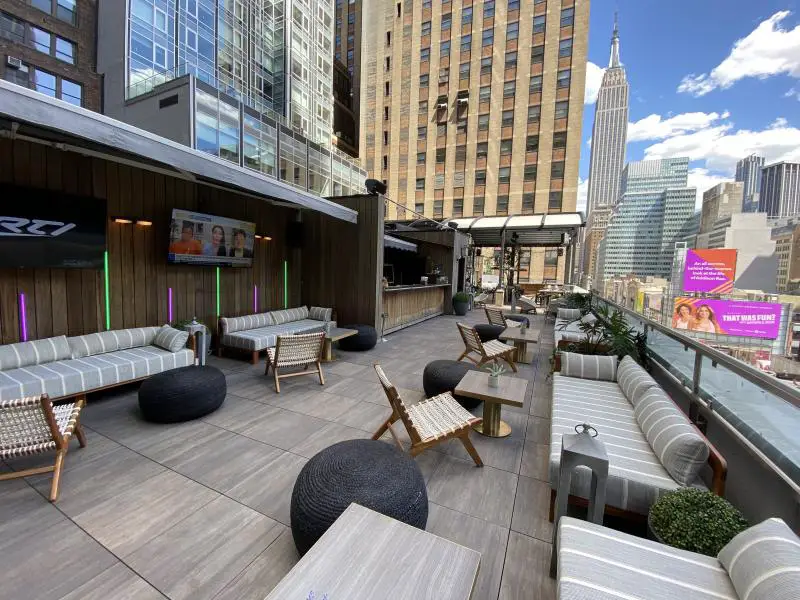 Near Madison Square Garden you'll find Versa, at the Renaissance New York Midtown Hotel, with a roomy spread well-situated for Empire State Building views. The kitchen turns out a sharable menu highlighted by flatbreads, chips 'n' Texas queso, and blistered shishito peppers. There's plenty of space up here, making this a great option for groups. 218 W. 35th St., 646-850-2850, versanyc.com
Monarch Rooftop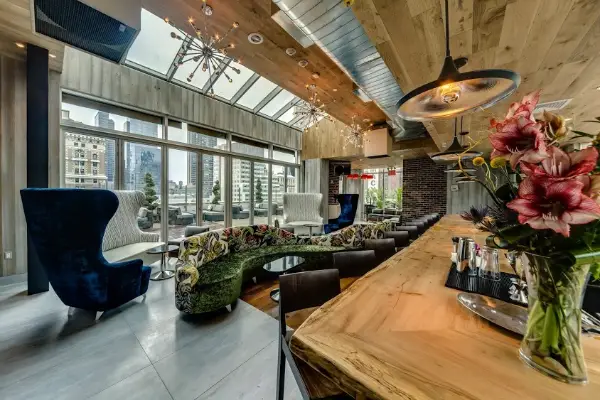 For incredible close up views of the Empire State Building (and the New York City skyline), head up 18 floors to the very expansive Monarch Rooftop. Amid stylish surrounds you'll find a fireplace, warm cocktails, and a transparent winter enclosure that ensures you can still take in all the sights no matter how low the thermometer plunges. 71 W. 35th St., 212-630-9993, monarchrooftop.com
Top of the Strand
Head up to Top of the Strand on the hotel's 21st floor to check out what Premier Traveler Magazine has named "one of the top 10 rooftop bars in the world." Guests can take in a dazzling view of the Empire State Building underneath the retractable glass roof that makes for an intimate and friendly rooftop atmosphere no matter the weather. The Strand, 33 W. 37th St., 646-368-6426, topofthestrand.com
Refinery Rooftop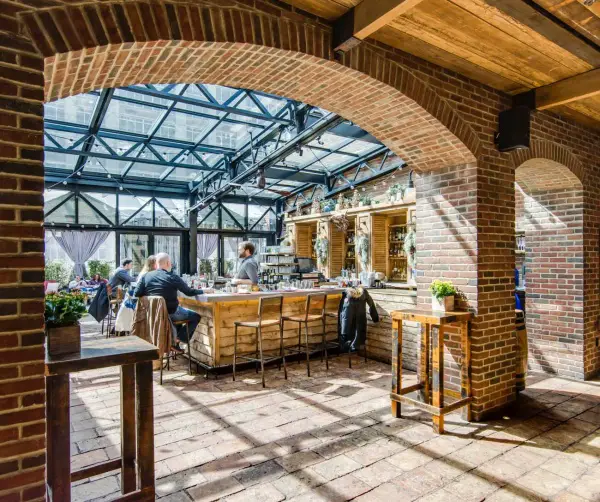 The Refinery Rooftop offers its guests that quintessential New York City experience that every New York visitor needs to have. An exposed brick interior and rustic wooden furniture make for a chic yet comfortable setting for guests to enjoy their beverages, along with the rotating mix of talent that frequents the lounge. And naturally, the Empire State Building view is one to write home about. The space works equally well for day and night. Faves like octopus salad, brick chicken, and the double-patty burger are complemented by signature cocktails focused on natural ingredients. Refinery Hotel, 63 W. 38th St., 646-664-0372, refineryhotelnewyork.com/dine-and-drink/refinery-rooftop/
Margaritaville New York

For a touch of the tropics in the middle of the concrete jungle, Margaritaville New York is your destination. While looking out over Times Square, be transported to a vacation state of mind with one bite of a Cheeseburger in Paradise or a signature margarita. There are multiple rooftop spaces here (including a pool deck), with the 5 o'Clock Somewhere Bar on the 31st and 32nd floors providing iconic perspectives on the New Year's Eve Ball, Hudson Yards, and the Hudson River. 560 Seventh Ave. (40th St.), 212-221-3007,
margaritavilleresorts.com
Magic Hour

Photo courtesy Tao Group.
In September, 2017, the chic hotel Moxy Times Square opened its doors in Midtown. Patrons, as well as locals, would be remiss not to check out its Magic Hour Rooftop Bar & Lounge; it's New York City's largest indoor/outdoor hotel rooftop bar. The entrance alone prepares you for some sort of Alice in Wonderland experience, as you walk down a hall that changes kaleidoscope colors before entering an elevator that takes you up 18 stories high. Highlights of the sprawling 10,000-square-foot rooftop bar and lounge include an "urban amusement park" concept with an adult sensibility and epic Empire State Building skyline views, plus a DJ, carousel seating, an oversized topiary garden, and Foreplay, a miniature putt-putt area, featuring lively looking animals engaging in naughty poses. There are multiple bar and seating areas, each with a distinct vibe and design. 485 Seventh Ave., 212-967-6699, moxytimessquare.com/dining/magic-hour-rooftop-bar-lounge/
Cantina Rooftop

Cantina Rooftop is Hell's Kitchen's colorful, swanky rooftop locale for sipping summery cocktails. Lush greenery surrounds the restaurant, which is flanked with festive, authentic Mexican décor. Executive Chef Saul Montiel offers a contemporary Mexican menu was inspired by old-world Mexican recipes. (He was previously executive chef at La Unica in Hidalgo, Mexico City.) Culinary creations focus on parrillada style bbq/grilling and include dishes such as chicken enchiladas, tacos with hand made corn tortillas, and guacamole made table-side. Mixologist Daniel Barragan is the talent behind the bar's expertly crafted cocktails. The cocktail menu boasts seasonal ingredients and incorporates premium tequilas and mezcals. 605 W. 48th St., 212-957-1700,  cantinarooftop.com
SkyLawn

Open-air seating leads provides a garden vibe at the SkyLawn, contrasting with the energy of urban skylines. Hand-crafted cocktails have been curated by Allen Katz, one of the nation's leading experts on distilled spirits, with signatures like Dorothy's Ruby Red (Dorothy Parker NY Gin, Maker's Mark bourbon, lemon, and grenadine) and The Thief's Mojito, made with Bacardi 8-Year Rum, lime, mint, bitters, and prosecco. For some bonus entertainment, SkyLawn is hosting "Movies on the Roof" in collaboration with Rooftop Cinema Club. Embassy Suites, 60 W. 37th St., 212-912-0111, nycskylawn.com
PHD Terrace 

The two level PHD Terrace at Dream Midtown is back in business, where it made a name for itself with its viral video of a 10-pound Moscow Mule. Enjoy rotating DJ sets, weekly parties, and special events. 210 W. 55th St., 646-756-2044, phdterrace.com
New York Rooftop Bars: Chelsea
The Lodge at Gallow Green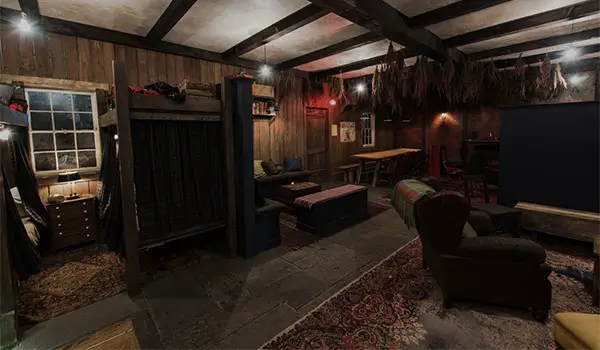 The Lodge at Gallow Green transports you from the middle of a metropolis to a quaint cabin in the middle of a forest…except you still have breathtaking views to drool over when you're not exploring campy bunkbeds, a writer's desk, and pile upon pile of animal furs. The McKittrick Hotel really does offer the best of both worlds for New Yorkers with their world-class bar. The McKittrick Hotel, 542 W. 27th St., 212-564-1662, mckittrickhotel.com
New York Rooftop Bars: Downtown
The Ready

In 2021 the Tao Group launched its latest, a year-round rooftop affair atop the Moxy East Village. The Ready takes inspiration from the casual backyard gardens of the neighborhood. A beer pong setup doubles as a communal table. Cans and coolers highlight the drink offerings, drawing on local favorites like Bronx Brewery and City Light Lager. A taco stand with made-to-order tacos is joined by a selection of classic bar snacks. 112 E. 11th St., 646-908-2125, moxyeastvillage.com/the-ready-rooftop-bar
Mr. Purple

Located 15 stories high at the Lower East Side's Hotel Indigo, Gerber Group's Mr. Purple offers a trio of spaces to take in stunning city views. Indoors is a massive bar with seating; outdoors you'll find two terraces, one of which is decked out with a swimming pool and another full bar. Enjoy tasty bites, too, like sliders and truffle waffle fries. 180 Orchard St., 212-237-1790, mrpurplenyc.com
Azul

Perched atop the renowned Hotel Hugo in Greenwich Village, Azul on the Rooftop transports guests to the streets of Old Havana. Its Cuban cantina vibe is set against a backdrop of spectacular panoramic Manhattan and Hudson River views. The rooftop's bright colors and twinkling festoon lights mingle to create the ideal setting for drinking under the stars. 525 Greenwich St., 212-608-4848, azulrooftop.com
New York Rooftop Bars: Brooklyn
Berry Park
Want to sip on a cold beer in a bar with Manhattan in the background? Berry Park is a good place for just that. Venture out of Manhattan to this Brooklyn bar located on the border of Williamsburg and Greenpoint. 4 Berry St., 718-782-2829, berryparkbk.com
Rooftop Happy Hours in NYC
Bar Hugo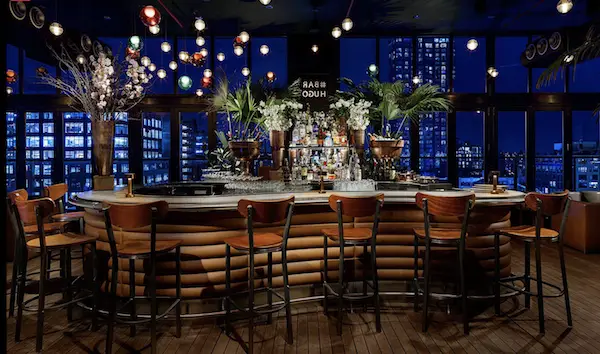 Monday-Friday 5-8pm. Walk west of SoHo to the lesser-known neighborhood of Hudson Square for an elevated experience. Bar Hugo, located on the 20th floor of Hotel Hugo, impresses with sleek interiors and retractable floor-to-ceiling windows that open out to the Hudson River during sunset. This crowded happy hour lasts until 8pm on weeknights and offers excellent drink deals for the downtown set. 525 Greenwich St., 212-608-4848, barhugorooftop.com
Tavern29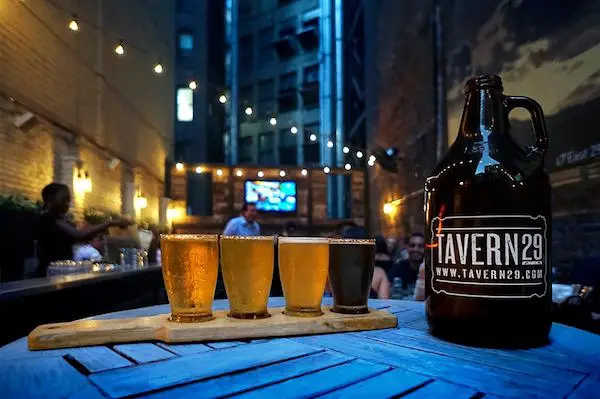 This Murray Hill rooftop attracts fun-loving groups to its picnic tables for both daytime and early evening happy hours on weekdays (they're in effect until 7pm). On the two floors inside, you'll find a polished pub with TVs behind the bars and chandeliers overhead. Happy hour deals include $7 select beer, wine, and cocktails. Bar food comes at happy hour prices as well, including $5 Kobe beef sliders on Hawaiian bread. 47 E. 29th St., 212-685-4422, tavern29.com
Haven Rooftop
Get a bird's eye view of Times Square at Haven Rooftop. This rooftop lounge, located atop the Sanctuary Hotel, draws those looking for sunshine, fresh air, and drinks for less at happy hour (Monday through Friday, 4:30-5:30pm). Haven offers $6 select beers, $9 wine and champagne, and $10 for a margarita or an Aperol spritz. A perfect pick before dinner and a show! 132 W. 47th St., 212-466-9000, havenrooftop.com
—Researched and written by Linda Sheridan, Chelsey Grasso, Regina Molaro, and Nina Furseth.
Read Next | 7 Unconventional Nightlife Options in NYC