Updated September 13th, 2021. Wondering what are the best rooftop bars in NYC? We've got a baker's dozen of them, perfect for those times when you want to change your attitude with altitude. Get above ground level and enjoy that next happy hour or nightcap in serious style.
roof at 66 park (Midtown East)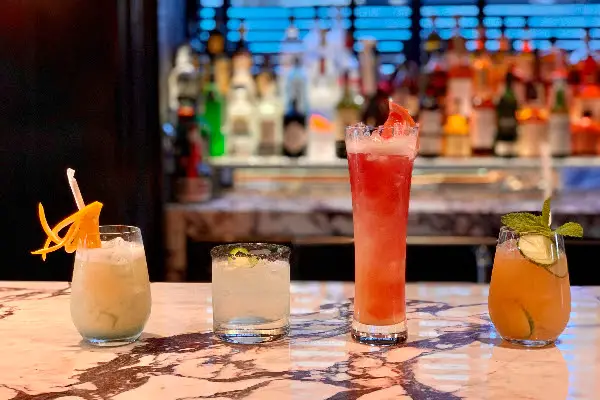 The new roof at 66 park atop The Kitano Hotel New York is now open for light bites and signature drinks, with both indoor and outdoor options. The east terrace offers views of the Empire State Building and the west terrace offers views of the Chrysler Building and other New York City wonders. Sophisticated classic cocktails will keep you coming back. Open Tuesday-Saturday, 5pm-midnight. 66 Park Ave., 212-885-7066, kitano.com/dining/roof-at-66-park
Magic Hour (Midtown West) 

In September, 2017, the chic hotel Moxy Times Square opened its doors in Midtown. Patrons, as well as locals, would be remiss not to check out its Magic Hour Rooftop Bar & Lounge; it's New York City's largest indoor/outdoor hotel rooftop bar. The entrance alone prepares you for some sort of Alice in Wonderland experience, as you walk down a hall that changes kaleidoscope colors before entering an elevator that takes you up 18 stories high. Highlights of the sprawling 10,000-square-foot rooftop bar and lounge include an "urban amusement park" concept with an adult sensibility and epic Empire State Building skyline views, plus a DJ, carousel seating, an oversized topiary garden, and Foreplay, a miniature putt-putt area, featuring lively looking animals engaging in naughty poses. There are multiple bar and seating areas, each with a distinct vibe and design. 485 Seventh Ave., 212-967-6699, moxytimessquare.com/dining/magic-hour-rooftop-bar-lounge/
The Ready (East Village)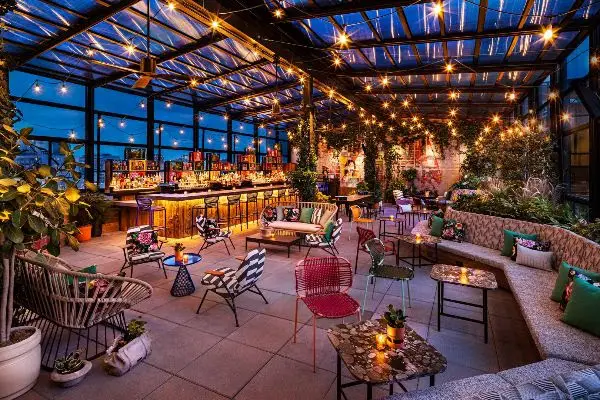 In 2021 the Tao Group launched its latest, a year-round rooftop affair atop the Moxy East Village. The Ready takes inspiration from the casual backyard gardens of the neighborhood. A beer pong setup doubles as a communal table. Cans and coolers highlight the drink offerings, drawing on local favorites like Bronx Brewery and City Light Lager. A taco stand with made-to-order tacos is joined by a selection of classic bar snacks. 112 E. 11th St., 646-908-2125, moxyeastvillage.com/the-ready-rooftop-bar/
PHD Terrace (Midtown West)

The two level PHD Terrace at Dream Midtown is back in business, where it made a name for itself with its viral video of a 10-pound Moscow Mule. Enjoy rotating DJ sets, weekly parties, and special events. 210 W. 55th St., 646-756-2044, phdterrace.com
The Roof/Viceroy Central Park (Midtown West)

Located on the 29th floor of Viceroy Central Park, The Roof by Gerber Group is a lovely outdoor lounge and terrace that offers elegant yacht decor, with unobstructed views of Central Park. It's a perfect place to grab a cocktail or small bites after work or shopping.  124 W. 57th St., 212-707-8008, theroofny.com
Refinery Rooftop (Midtown West)

An exposed brick interior and rustic wooden furniture make for a chic-yet-comfortable setting for guests to enjoy their beverages, along with the rotating mix of talent that frequents the lounge. Refinery Hotel, 63 W. 38th St., 646-664-0372, refineryhotelnewyork.com/dine-and-drink/refinery-rooftop/
Ophelia Lounge (Midtown East)

Ophelia Lounge recently opened in a historic 1920s residence for women, the Beekman Tower. Perched up 26 stories high, it's beautifully decorated in a rich Art Deco style, retaining/restoring much of the original architecture, with seating for 100. Drink to try: Ophelia's Ascension, with activated charcoal, bourbon, mezcal infused with smoked Jamaican peppers, aromatic bitters, and topped with cedar smoke. There are bites, too—classic hummus with pine nuts and naan; truffle potato wedges with Gruyère, truffle aioli, and herbs; french onion sliders with Gruyère, caramelized onions, and roasted garlic mayo; and beef fillet skewers with seasonal vegetables and truffle chimichurri. 3 Mitchell Pl., 26th Floor, 212-980-4796, opheliany.com
Mr. Purple (Lower East Side) 

Located 15 stories high at the Lower East Side's Hotel Indigo, Gerber Group's Mr. Purple offers a trio of spaces to take in stunning city views. Indoors is a massive bar with seating; outdoors you'll find two terraces, one of which is decked out with a swimming pool and another full bar. Enjoy tasty bites, too, including the Margherita flatbread and lobster roll. 180 Orchard St., 212-237-1790, mrpurplenyc.com
Azul (Greenwich Village)

Perched atop the renowned Hotel Hugo downtown, Azul on the Rooftop transports guests to the streets of Old Havana. Its Cuban cantina vibe is set against a backdrop of spectacular panoramic Manhattan and Hudson River views. The rooftop's bright colors and twinkling festoon lights mingle to create the ideal setting for drinking under the stars. 525 Greenwich St., 212-608-4848, azulrooftop.com
Read Next | 7 Unconventional Nightlife Options in NYC
Cantina Rooftop (Midtown West)

Cantina Rooftop is Hell's Kitchen's colorful, swanky rooftop locale for sipping summery cocktails. Lush greenery surrounds the restaurant, which is flanked with festive, authentic Mexican décor. Executive Chef Saul Montiel offers a contemporary Mexican menu was inspired by old-world Mexican recipes. (He was previously executive chef at La Unica in Hidalgo, Mexico City.) Culinary creations focus on parrillada style bbq/grilling and include dishes such as chicken enchiladas, tacos with hand made corn tortillas, and guacamole made table-side. Mixologist Daniel Barragan is the talent behind the bar's expertly crafted cocktails. The cocktail menu boasts seasonal ingredients and incorporates premium tequilas and mezcals. 605 W. 48th St., 212-957-1700,  cantinarooftop.com
SkyLawn (Midtown West)

Open-air seating leads provides a garden vibe at the SkyLawn, contrasting with the energy of urban skylines. Hand-crafted cocktails have been curated by Allen Katz, one of the nation's leading experts on distilled spirits, with signatures like Dorothy's Ruby Red (Dorothy Parker NY Gin, Maker's Mark bourbon, lemon, and grenadine) and The Thief's Mojito, made with Bacardi 8-Year Rum, lime, mint, bitters, and prosecco. Embassy Suites, 60 W. 37th St., 212-912-0111, embassysuites3.hilton.com
Haven (Midtown West)

Located atop Midtown's Sanctuary Hotel is Haven—a rooftop oasis that boasts splendid views and a seasonal menu that includes summery faves such as yellowfin tuna with sesame dressing, crab cakes, "Havenly" chicken, lobster rolls, and the house's sliders. The menu pairs well with Haven's playful drinks, which include star sangria, the Haven mojito, and the Up in the Sky cocktail-made with tequila, grapefruit, Campari, lime, and seltzer. On Saturdays and Sundays, Haven Rooftop offers brunch. Menu selections include crab Benedict, brunch pizza, and blueberry French toast. Bonus! There's a bottomless option that entices with mimosas, sangria, or Bloody Marys. 132 W. 47th St., 212-466-9000, havenrooftop.com
Upstairs at the Kimberly (Midtown East)

Sit 30 stories high above the New York City streets at the Kimberly Hotel's breathtaking rooftop bar. Upstairs at the Kimberly offers 3,000 square feet of floor space divided up into three separate atmospheres. The interior design is stunning, the retractable glass ceilings are beautifully functional, and the view of the Chrysler Building is picture perfect. The Kimberly, 145 E. 50th St. 31st Fl., 212-888-1220, upstairsnyc.com
—Researched and written by Linda Sheridan, Chelsey Grasso, Regina Molaro, and Nina Furseth.