New York's tourist attractions are attractions for a reason—they're grand or they're historic; they're exciting or they're nostalgic.
Or sometimes, they're all those things at once.
Ellis Island is both a historical monument as well as a monument to the perseverance of generations of immigrants looking for a better life for themselves and their families. It's also a huge, sprawling complex, with a lot to see and explore, and whether you're a New Yorker or a visitor, it's definitely a must-do, can't miss experience. Here's how to take it all in.
By Carol M. Highsmith - File:Aerial view of Ellis Island with New York City World Trade Center in the background taken in July 2001 LCCN2011630647.tif, CC BY-SA 4.0
What Is Ellis Island?
Ellis Island began receiving immigrants in 1892; the first one to arrive was Annie Moore, a teenager from Ireland, along with her two brothers. After an 11-day journey, she received a $10 gold piece, and she and her siblings were reunited with their parents, who were already living in New York. Over the next 62 years, more than 12 million immigrants arrived in the United States via Ellis Island. (Previously, immigrants arrived at Castle Garden, now called Castle Clinton; it operated from 1855-1890, and was an "emigrant depot" where immigrants passed through and exchanged currency, bought rail tickets, looked for work, and sought safe lodgings in New York.)
Ellis Island is located in New York Harbor between New York and New Jersey. Incredibly, it's thought that close to 40% of United States citizens can trace one ancestor to Ellis Island.
What Happened When Passengers Docked at Ellis Island?
By Bain News Service, publisher - Library of Congress Catalog, public domain.
First and second-class passengers were generally not sent to Ellis Island; only those traveling third class or who were deemed ill or had legal problems were sent there for further inspection. (The idea behind this process was that those who could afford a more expensive ticket were thought to be less likely to have legal or medical issues. Those traveling first and second class were given a brief inspection on the ship.) Third-class passengers were forced to travel in conditions that were largely crowded and unsanitary, and were thus thought more likely to have some kind of illness. After the ship docked, those passengers were sent to Ellis Island by ferry. One of the most unpleasant parts of the inspection? Officials known as Buttonhook Men turned the eyelid of an arriving passenger inside out to check for trachoma.
The inspection generally took between three and five hours—if the person's papers were in order and they were in good health. Despite stories to the contrary, only two percent of arriving immigrants were denied entry, mostly due to health or legal issues. Interesting fact: by 1916, doctors doing the inspections were said to be able to diagnose several medical conditions just by looking at someone.
The busiest year for immigration? 1907, when 1.25 million immigrants were processed. Due to restrictions in immigration, usage of Ellis Island dipped in the 1920s. U.S. embassies around the world were established after World War I; they took over the paperwork and medical inspections. The only people brought to Ellis Island after 1924 were those needing help with paperwork, war refugees, and displaced persons. Ellis Island remained open for 30 more years, although by then its function had changed; after the Second World War, it served as a detention center for enemy merchant seamen.
In November 1954, a Norwegian merchant seaman named Arne Peterssen became the last remaining detainee. (He was held for overstaying his shore leave.) When he was released, Ellis Island was officially closed by the United States government.
What Is There to See on Ellis Island?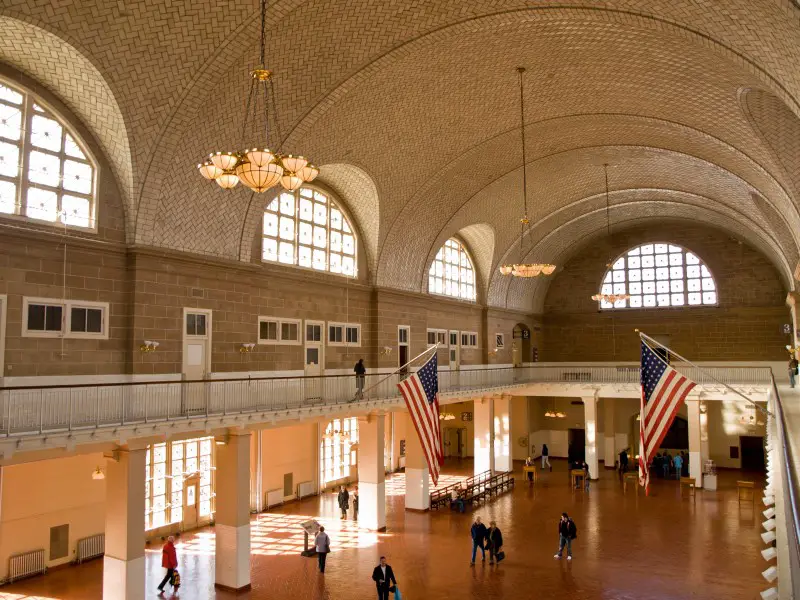 William Warby/Flickr
With more than 27 acres, there's a lot of ground to cover—literally. Housed inside the restored main building of the former immigration complex, the Ellis Island National Museum of Immigration is the place to start. Using records, heirlooms, and artifacts, visitors will gain an understanding of what the immigrants went though as they arrived in the United States. Don't miss the Great Hall, dormitories, and baggage room. The complex has many different entities, including:
Flag of Faces: A Snapshot of America: Visitors can submit photos online, and then view them in a digital installation at the museum. The interactive exhibit is ever changing and showcases Americans from many periods of history and many different backgrounds.
Peopling of American Center: This installation gives visitors a chance to explore immigration pre and post Ellis Island—before 1892 and after 1954. "Journeys: The Peopling of America—1550s-1890" includes first-hand accounts of immigrants' journeys using audio stories and graphics. It focuses on the stories of Native Americans, immigration during the Colonial and Victorian eras, and those who arrived in this country against their will.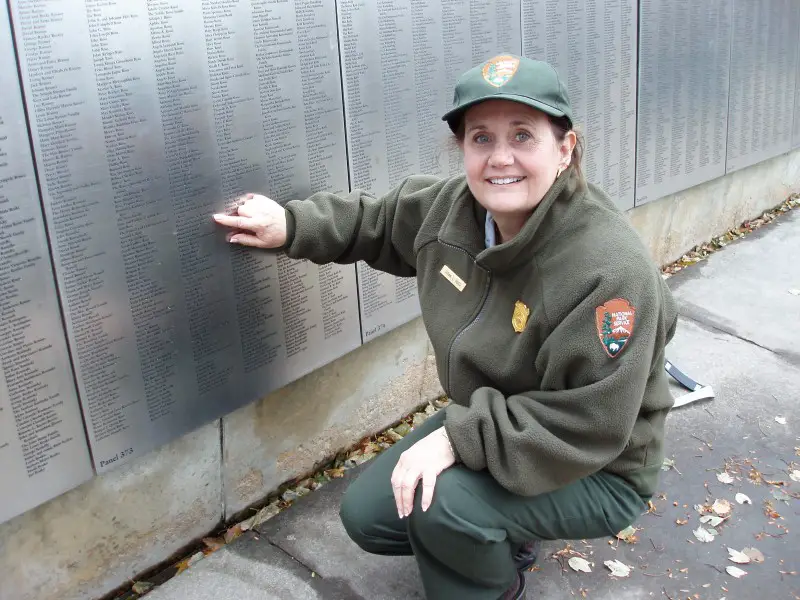 SandyResponseNPS/Flickr
Inscribe Your Name in History: Unveiled in 1990, The American Immigrant Wall of Honor explores all forms of immigration and lists the names of hundreds of immigrants; many people search for the names of friends and relatives on the wall.
Family History Center: With approximately 65 million searchable records, visitors can search through immigration documents to find connections to their history and their ancestors.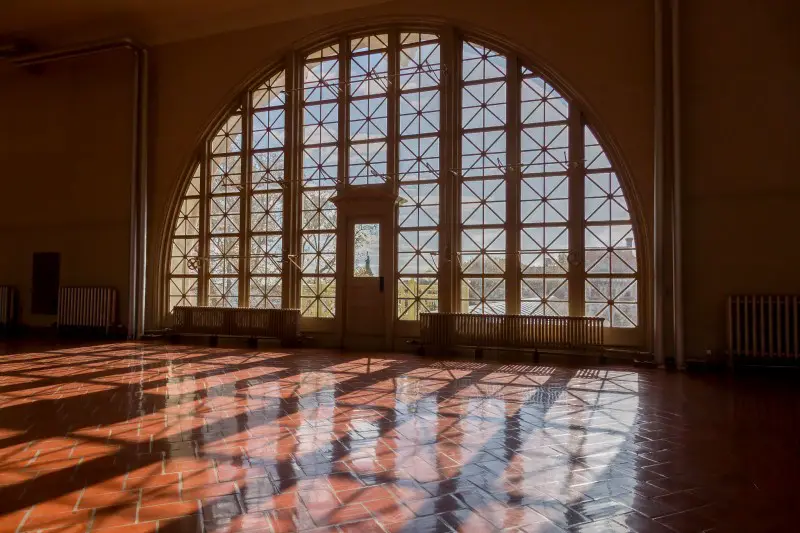 David Brossard/Flickr
Ellis Island's Hard Hat Tour

hodgepodge brigade/Flickr
You can get a behind-the-scenes look at the unrestored Ellis Island Immigrant Hospital Complex. If you opt for the Hard Hat Tour Ticket and its 90-minute guided tour of the hidden part of Ellis Island you'll get round-trip ferry service and audio Tours of Liberty and Ellis Islands. The art exhibition "Unframed—Ellis Island," by renowned French artist JR, is on display throughout the hospital complex. Tours run on Saturdays and Sundays. 
The Who's Who of Ellis Island
While you may be looking for relatives who came though Ellis Island, you may find some other surprisingly familiar names as well. Among the notable figures who came through there: Irving Berlin, the composer and lyricist, Russia (now Belarus); (White Christmas); Frank Capra, the film director, Italy (It's a Wonderful Life); actress Claudette Colbert, France (It Happened One Night); Bob Hope, England, (The Road to…movies) Knute Rockne, Norway, football coach; and Felix Frankfurter, Austria, Supreme Court Justice, to name just a few.
Getting There
Statue City Cruises is the authorized vendor for ferry tickets to both Elis Island and the Statue of Liberty. You can purchase tickets on their website: StatueCityCruises.com or by calling 1-877-523-9849. This is the only way of accessing Ellis Island.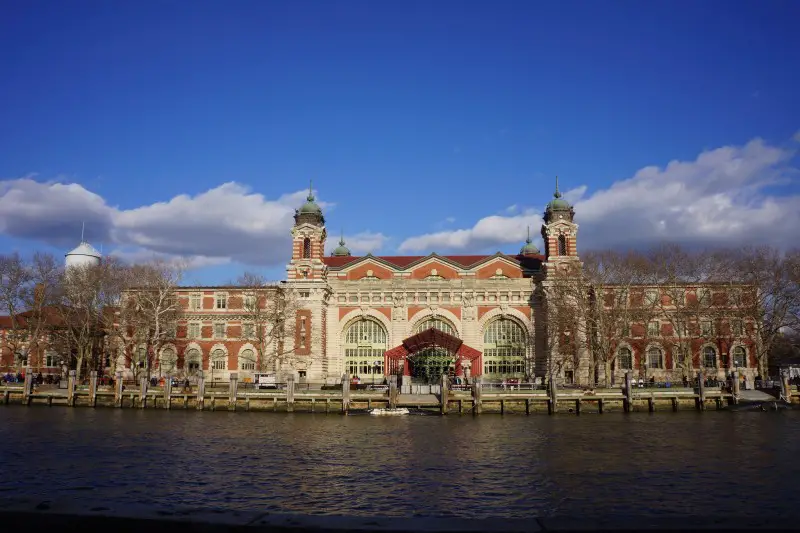 hodgepodge brigade/Flickr
Tips for Getting the Most Out of Your Visit:
Plan ahead. Check the ferry's schedule, and purchase tickets ahead of time. Leave time to go through security before you board the ferry, and make sure to check the list of prohibited items. Also check the museum's website so you know about any closures or construction on the day of your visit.
Go as early in the day as you can to avoid crowds, which build up as the day goes on.
Pack light. There's nowhere to store your belongings, so only take what you absolutely need and are prepared to carry. You're allowed to bring food and water with you.
Cell phone service there can be spotty. Arrange a meeting place and time for your group when you get there in case you don't stay together and can't reach each other by phone.
Wear sneakers or other comfortable footwear good for walking.
The experience is both moving and sobering—and a trip to New York wouldn't be complete without it.
Ellis Island, New York Harbor, 212-363-3200, nps.gov/elis/index.htm
An earlier version of this article mischaracterized the years of operation and function of Castle Garden.