Typically, the time from Thanksgiving to Christmas is one of New York's busiest travel seasons.
Now, in a world that's been turned upside down with COVID, what would a New York holiday trip look like?
Should you attempt to plan a trip to the Big Apple this year, or just wait?
While no one can ultimately make that decision for you, there are some things you know to help you along the way.
Outdoor Activities
Colin Miller for Bank of America Winter Village at Bryant Park, 2019
Whether you're interested in safely shopping during Black Friday or the days leading up to Christmas, or you prefer to do things outdoors right now because that seems to be a better way to avoid COVID transmission, you do have options.
First, it seems like some of New York's open-air holiday markets will be open this year, although, of course, things can change quickly, and there's no guarantee.
As it stands right now, one of the most popular outdoor holiday markets, The Winter Village at Bryant Park, does say they will open this year starting on Friday, October 30th.
The Winter Village includes ice skating, holiday shops, and food and drinks.
Again, much of it is outdoors, although the shops themselves are in detached, covered spaces, at least typically. The food and drinks and ice skating are primarily open air.
The Rink at Rockefeller Center is also set to open, although they haven't announced their hours yet.
This ice skating rink is one of the most compelling holiday attractions in New York, set under the Rockefeller Center tree.
In general, low-risk outdoor venues are allowed to be open right now, such as parks, outdoor museums, and other outdoor attractions.
Low-risk indoor activities have also been allowed to open if they follow social distancing protocols, so many of the museums in New York are open right now.
Retail
For indoor shopping, it may be hit or miss right now. Some stores may still be closed not only due to COVID but the social unrest that occurred in the summer.
Many of the well-known department stores have reopened, however. For example, this summer, Saks Fifth Avenue and Macy's reopened, albeit with some changes. For example, in Saks, escalators are purified with UV light systems.
At some of the stores in the city, you can make appointments if you'd like.
Restaurants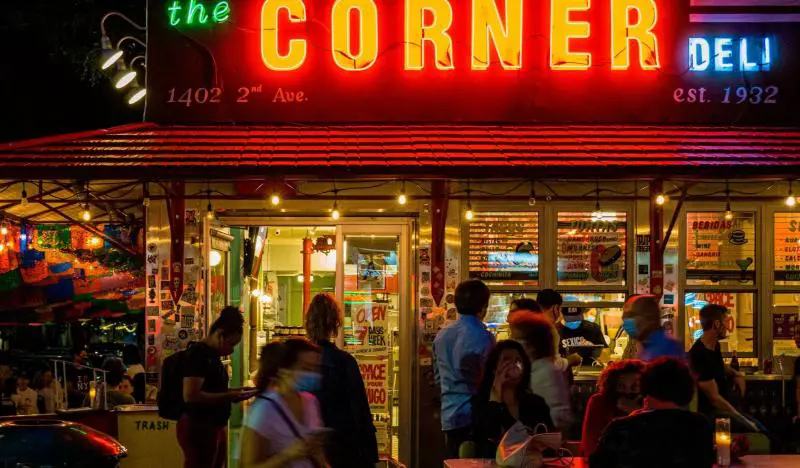 Photo by Clay LeConey on Unsplash.
Along with shopping and holiday-themed activities, many people go to New York for the restaurants.
Currently, restaurants are in Phase 2 of Governor Cuomo's plan to reopen New York. Indoor dining was altogether prohibited until a few weeks ago when indoor dining opened for 25% capacity.
Restaurants are offering outdoor dining when available, and many owners are working to secure heaters for the winter to continue that.
Shows
Unfortunately, Broadway and other live entertainment and shows have taken a massive hit during COVID.
Broadway is set to remain closed at least through May 2021.
The world-famous Christmas Spectacular Starring the Radio City Rockettes has also been canceled.
There is a hope it will return for 2021, and the tickets for that are on sale now.
Hotels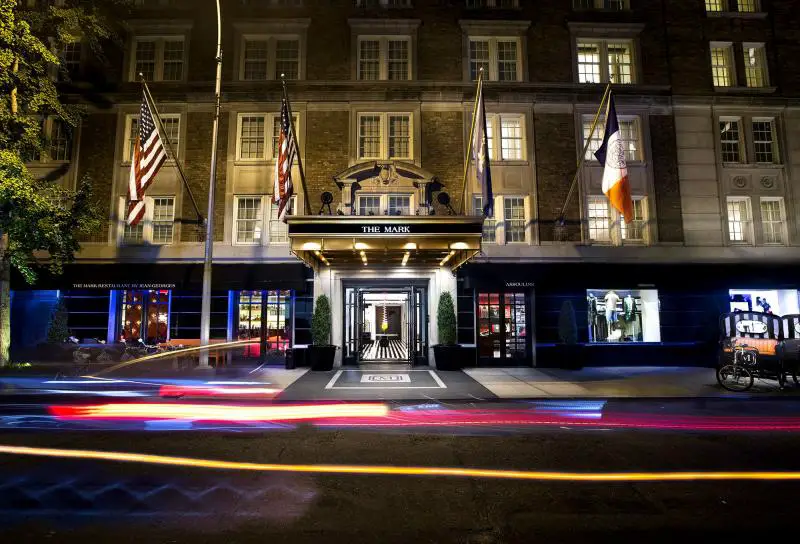 Many New York hotels have reopened or are in the process of opening, but it's a different scene than what you might be used to. There are not many business travelers in New York anymore, and of course, the leisure travel numbers are way down.
Each property might have its own particular set of health and safety guidelines in place, but most are likely going to be following state and local guidelines as well as industry best practices.
A few months ago, the Mark Hotel located on the Upper East Side was one of the first luxury venues to reopen after closing in March.
The manager of the Mark spoke with Town and Country after the reopening, saying that the hotel would follow guidelines from the American Hotel and Lodging Association and the CDC.
Quarantining
If you go to New York, the state has a 14-day quarantine in place if you're coming from somewhere with a high level of community spread. That in and of itself could lead you to rethink a trip to NYC this holiday season, depending on where you're coming from.
If you come from a designated state or country, you must complete a State Department of Health traveler form when you enter New York. There may be checkpoints on roadways.
Also, the Mayor of the city ordered that short-term rentals and hotels make their guests fill out a traveler health form before their stay begins.
Area airports, including JFK, LGA, and EWR, have implemented their own health and safety measures. You're required when traveling to wear a cloth face covering.
There are different protocols throughout the airport as well. For example, TSA officers are wearing PPE and individual airlines are also putting in place their own guidelines.
If you're taking taxis or car services, you have to wear a face-covering in New York. Group rides aren't allowed, and if you're taking the subway, you also have to wear a face covering.
Things like cash transactions at booths aren't happening right now, and the subway system doesn't currently run between 1am and 5am.
What About Personal Safety?
Another issue some travelers are worried about is whether or not personal safety is an issue in New York right now. Crime is up, but for the most part, New York isn't considered particularly dangerous.
You can check maps of the city to see where crime is highest neighborhood-wise in the city. Lower-crime areas that tend to be good for tourists include the Upper East Side of Manhattan.
When you're deciding on whether or not to travel to NYC this year, you have to think about your risk tolerance as far as coronavirus, and also what you're most interested in doing while you're there. Most insist the city is starting to come back to life, but undoubtedly there will be big changes over the holidays this year.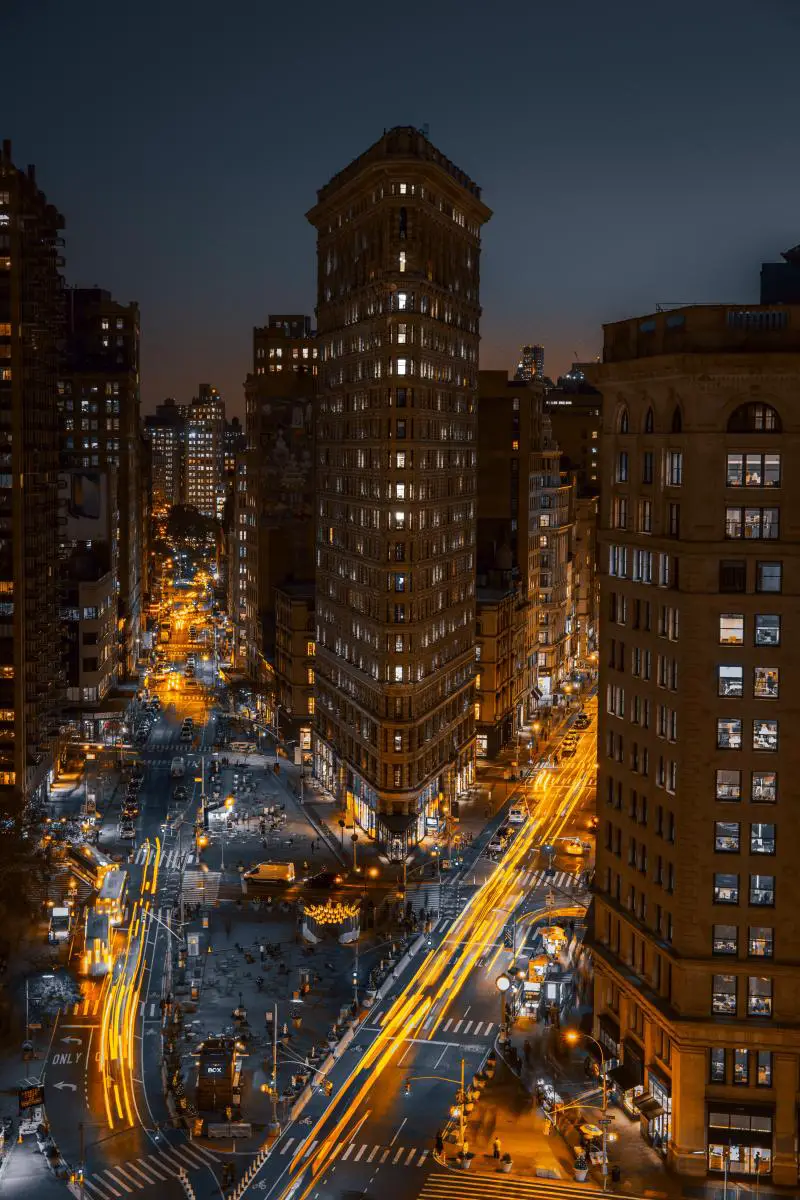 Photo by Andre Benz on Unsplash.