A highlight of a visit to New York is its world-class street art, much of which is ready to serve as a key souvenir with a selfie shot. Once an underground art form widely maligned for defacing the walls of city buildings, street art has garnered acclaim from the public as well as critics who can't help but love master street artists like TATS Cru, Tristan Eaton, and Banksy. Much of the street art detailed below is actually commissioned by private and public firms that welcome painted murals on their doors, walls, and under bridges. Find below some new and notable standouts among the countless pieces of street art in New York!
Best NYC Street Art for Selfies: 100 Gates Project

100 Gates Project, artist Ida Noelle /Instagram
When city businesses close down for the night, they often lower gates over their storefronts. These gates are protective, yes, but not especially beautiful. The 100 Gates Project seeks to change that, painting safety gates with unique murals to brighten up a dark street. Recent 100 Gates projects include Ida Noelle's ghostly succulents for the Lower East Side's The Sill. Another Lower East Side gate is a pretty striped design by Chamberlin Newsome. The Sill: 84 Hester St.; Striped gate: Envoy Enterprises Gallery at 87 Rivington St.
Best NYC Street Art for Selfies: Bowery Graffiti Wall
The Lower East Side is a hotbed of street art. Well-known artists get their shot at tagging the former site of a Keith Haring mural, the Bowery Graffiti Wall. Located at the corner of Bowery and East Houston Street, this large space makes quite a canvas for artists like Shepard Fairey and Lady Aiko. The pieces are commissioned by Goldman Properties. Now, Banksy has a mural up in this space. On a white background, there are a series of orderly tally marks. A woman's face and hands appear behind one set of lines, looking out through them like prison bars. The caption on the wall reads Free Zehra Dogan. Zehra Dogan is a Turkish artist who was given a nearly three-year jail sentence for painting a picture of a Turkish city visibly torn by war. Check this mural out soon before it's gone; we have a feeling a new artist is getting out their paint for a new Bowery mural!
Best NYC Street Art for Selfies: Banksy's Hammer Boy
The world's most famous street artist goes by the pseudonym Banksy, and he has graced New York with a few pieces of his signature work. One of them, Hammer Boy, shows the dark silhouette of a boy about to strike a water line (a real one) with a strongman hammer, as if he's playing the game at a carnival. Of course, the mural has come under threat of vandalism, but the plexiglass sheet drilled into the bricks over Hammer Boy have made attempts to deface it much more difficult. Find Hammer Boy at 233 W. 79th St.
Best NYC Street Art for Selfies: Bushwick Collective
Another rotating site of world-class street art fills the walls of Bushwick, Brooklyn, thanks to the Bushwick Collective. This organization commissions artists to design and paint murals as wild and diverse as Sipros Naberezny's big-eared girl wearing a cape and Pejac's covert tree painted like a pattern in the bricks on a building. These and many other murals can be found at and around the intersection of St. Nicholas Avenue and Troutman Street in Bushwick.
Best NYC Street Art for Selfies: 214 Lafayette
Walking Girl by Alex Senna/Instagram
The double doors at 214 Lafayette Street, a residential building in Nolita, host a never-ending series of murals. The series is part of the 214 Lafayette Project, bringing public art projects to the streets of New York and L.A. The doors of 214 Lafayette change often, so check them out soon before this image of a shadowed figure by Alex Senna is gone!
Best NYC Street Art for Selfies: Glossblack's NEW YORK
A new piece on Canal Street makes for a pretty self-explanatory selfie when you're traveling to the city on vacation. Glossblack's New York mural outside Twin Marquis Foods at 39 Canal Street spells the name of the city in semi distorted pink block letters on a sky-blue background. This eighties-inflected, supersaturated piece livens up an already bustling block. Glossblack is the Philadelphia-based street artist commissioned to paint this wall.
Best NYC Street Art for Selfies: Big City of Dreams
Photo: Linda Sheridan
On a busy block in Little Italy is the colorful image of a woman with one arm behind her head. The collage-like composition filling the form includes this text: Big City of Dreams. The mural, created by Tristan Eaton, is colorful and loud in all the right ways, perfect for the fashionable streets of downtown. You can find it on the side of a brownstone on Broome Street between Lafayette and Mulberry Streets.
Best NYC Street Art for Selfies: Graffiti Hall of Fame
The Jackie Robinson Education Complex schoolyard is no ordinary after-school hangout. The area's low concrete wall at East 106th Street and Park Avenue has been home to world-class street art since the 1980s. Harlem local Ray "Sting Ray" Rodriguez named the spot the Graffiti Hall of Fame. Though the murals there don't stick around forever, it's worth a look to find out what eye-catching design has taken over the space. FYI, the mural is currently the word Harlem in wide block letters, full of bright designs evoking the spirit of barrio surrounding it.
Best NYC Street Art for Selfies: I Lift My Lamp Beside the Golden Door at The High Line
The High Line Park in Chelsea rotates its display of sculptures and wall murals. From March 2018 to March 2019, see Dorothy Iannone's I Lift My Lamp Beside the Golden Door from the High Line at West 22nd Street. This bright mural depicts three Statues of Liberty and the words of the title in block letters between their torches. These words come from the final line of Emma Lazarus' famous poem, "The New Colossus," that honors the Statue of Liberty (its most famous lines are "Give me your tired, your poor…"). In addition to providing a whimsical take on this iconic New York statue, the mural also comments on the symbolic door of immigration in this country, an issue as relevant in Lazarus' era as it is today.
Best NYC Street Art for Selfies: OSGEMEOS Murals
Two jubilant new murals just went up on 14th Street between 6th and 7th Avenues. Facing each other on two sides of a vacant lot, the murals depict two groups of young people who look like they stepped out of the early days of hip-hop, carrying boomboxes and wearing wraparound sunglasses out of Star Trek. The murals were created by Brazilian duo OSGEMEOS, twin brothers Gustavo and Otavio Pandolfo (Os gemeos means "the twins" in Portuguese). This is not the first piece of OSGEMEOS street art in the city. Walk to 21st Street between 8th and 9th Avenues, and you'll find a giant pigeon-toed girl on the wall overlooking a school playground. In the East Village (Second Avenue and 1st Street, to be exact), find a b-boy climbing through a giant wall.
Best NYC Street Art for Selfies: yes! Murals
Another pair of murals might come as a surprise as you walk to or from DUMBO under the Manhattan Bridge. Two 80-foot-wide spaces spell the word yes! in wide script. One is spelled using the uber-long arm of a red-eyed octopus, accompanied by dynamic waves. The other mural is a simple back background with the loop-de-loop word in white, mirroring its neighbor. The octopus mural was designed by Yuko Shimizu in collaboration with Sagmeister & Walsh. Find both yes! murals on Jay Street between York and Prospect Streets.
Best NYC Street Art for Selfies: Love Walls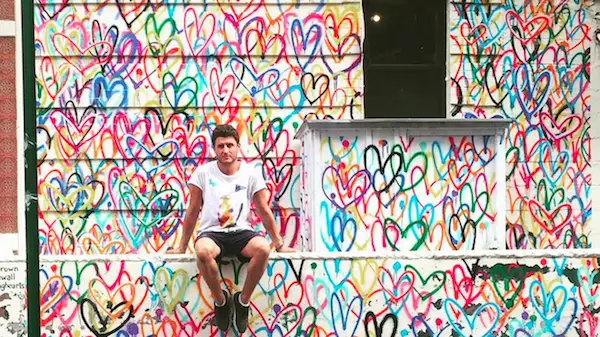 Kida, Mott Street Soho
An evergreen selfie spot is located in Freeman's Alley on the Lower East Side. That's where J. Goldcrown's well-known first Love Wall was created. It's a dense crowd of multicolored hearts that would also make a pretty amazing wallpaper for a room (just saying). Since the initial Love Wall, Goldcrown has recreated them at businesses elsewhere around downtown. Find one the next time you're in Soho, and snap away.