New York City luggage storage is the simple solution when your travel times don't match up with your check-in or check-out times. Who wants to be dragging around heavy suitcases and duffel bags when you're in between reservations? NYC is full of sights to see, events to attend, and activities to take part in, and luggage storage will give you the chance to hold onto just your essentials while you take advantage of every minute you've got in the city. These luggage storage companies are located in midtown for your convenience.
Best of NYC Luggage Storage: Bounce
City Guide has reviewed eight luggage storage services in NYC. We've found one service that stands out above the rest: Bounce. Bounce bills itself as New York's largest and best-rated bag storage service with over 100 locations all around the city. The price is just $5.90/bag and comes fully insured—with $5,000 worth of insurance—so you'll have peace of mind while you go about your day. Bounce maintains a 4.9/5 star rating from customers, the best we have seen. Locations can be found in midtown and most every other neighborhood and some are open 24/7. Bounce utilizes secure storage space in hotels and local shops, giving you access to drop your bags wherever you are. Here are some of the most popular locations where Bounce offers temporary bag storage:
Airports (limited availability):
The most popular spots fill up quickly so you may need to book ahead. Cancellation is free in case your plans change. Bookings must be made on Bounce's website or mobile app. usebounce.com
Best of NYC Luggage Storage: Stasher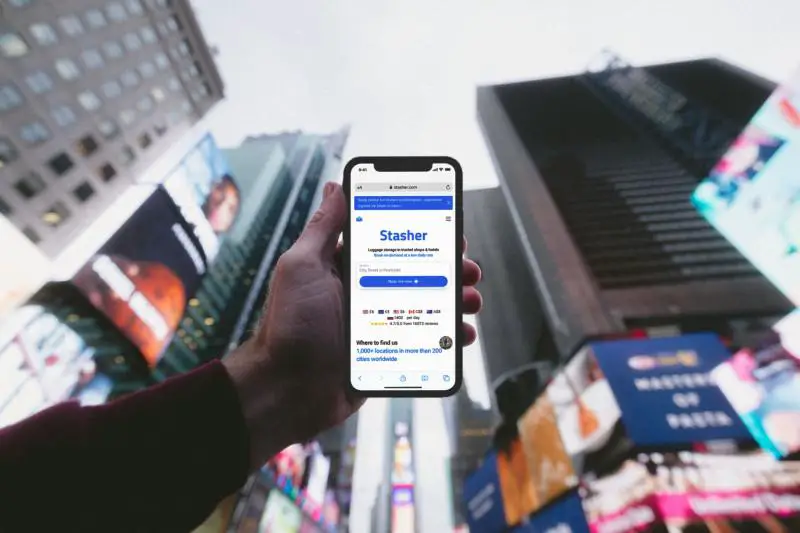 More convenient than just one location, the phone-based app Stasher opens up spots all over midtown for luggage storage. Their locations ("StashPoints") are within easy walks of major landmarks and transport hubs like Penn Station, Grand Central Terminal, Port Authority, and Times Square. The price is pretty convenient, too—just $6 per day. Book online and store securely: all locations have been vetted for security, and each item is insured up to $1,000.
Best of NYC Luggage Storage: Nannybag
Nannybag covers a lot more than midtown: they help travelers drop off luggage and belongings at partners stores and hotels in 250+ cities across 26 countries. You can opt for a few hours or a few days, working around check-ins and check-outs. In NYC alone they have 100 "Nannies" (luggage points), with more than a dozen options in midtown alone, running from the east side to the west. The price is just $6 for the first 24 hours, and then $4 for any extra day; all luggage is insured by AXA.
Best of NYC Luggage Storage: Schwartz Luggage Storage

Schwartz Luggage Storage is a great alternative to expensive airport prices at only $10 a bag. The establishment is cash-only, and you trade your bag in for a paper ticket that you'll use to collect your luggage. Once you've finished gallivanting around town, you can return here, grab your stuff, and get on your way—as simple as that. It's no-hassle, only a few blocks from Penn Station, and everything you leave will be in safe hands. What more could you ask for? Additional location in midtown. 357 W. 37th St., 212-290-2626
Best of NYC Luggage Storage: StoreMe
StoreMe's luggage storage service
makes use of dozens of small businesses in the city to provide safe, short-term space for your belongings. You can reserve on-demand or in advance through the StoreMe website or mobile app in minutes. There are affordable hourly or daily rates and your items are insured up to $3,000. Locations all around NYC.
Best of NYC Luggage Storage: City CoPilot

You can store your luggage at City CoPilot for $10 an item during the day, and if you need to leave your things past 7pm, there's an additional day rate that can accommodate you. They also offer a luggage delivery service. Not to mention, they sell other necessities for a day in the city like drinks and snacks, in case you're in need of a quick pick-me-up. If it's raining, you can even purchase an umbrella. Service is smooth and friendly, and you'll feel confident that your possessions are in trustworthy hands. Additional locations on the Lower East Side and in Brooklyn. 777 Eighth Ave., 866-340-4399, citycopilot.com