Luggage storage in NYC is the perfect solution for when your travel times don't match up with your check-in or check-out times. Who wants to be dragging around heavy suitcases and duffel bags when you're in between reservations? NYC is full of sights to see, events to attend, and activities to take part in, and luggage storage will give you the chance to hold onto just your essentials while you take advantage of every minute you've got in the city.
With so many different luggage storage New York options available, here we feature companies with convenient locations for when it's time to stash a bag. First, we'll tell you about our favorite option and then we'll share a few other ideas for luggage storage in NYC.
Where Can I Store My Luggage in New York? 
There are plenty of places to store luggage in New York. Whether you're near Penn Station, Washington Square, or the Museum of Natural History, luggage storage companies in NYC are never more than a short walk away. With so many options available, it's less about where you can store your belongings in New York City, and more about where you should store luggage. With that in mind, we've put together a city guide to where you can store your bags in New York, so that you can choose the best option for you.
Best of New York Luggage Storage: Bounce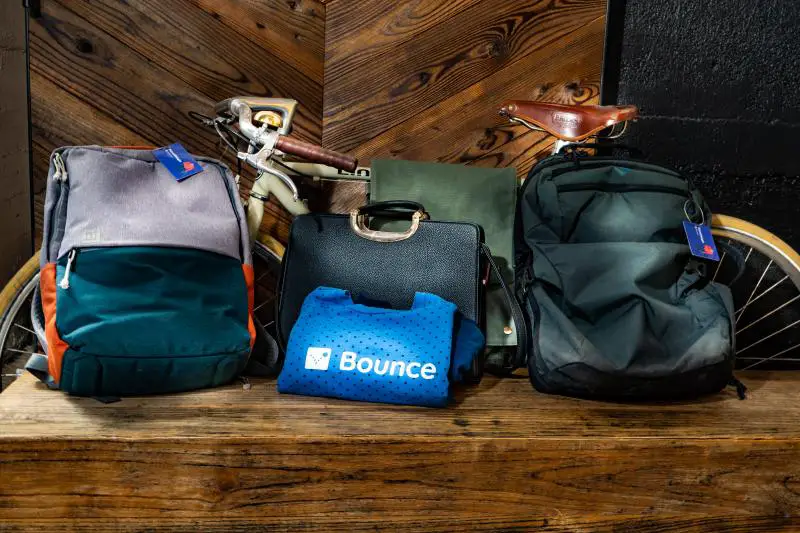 When it comes to luggage storage in New York City, City Guide has found one service that stands out above the rest: Bounce. 
Bounce bills itself as New York's largest and best-rated luggage storage service with over 300 luggage storage locations across NYC. Through their website or their luggage storage app, Bounce will connect you with secure storage space in hotels and local shops, which means you can store luggage or bags wherever you are, whenever you need to. All you need to do is book your chosen storage spot via their platform, show the booking confirmation when you check your bags in and enjoy the rest of your day without the hassle of dragging around your things.
How Much Does It Cost?
Luggage storage (NYC) with Bounce is an affordable $5.90 per bag for an entire 24 hours. You'll also benefit from their $10,000 worth of insurance, so you'll have peace of mind while you go about your day.
Is It Safe?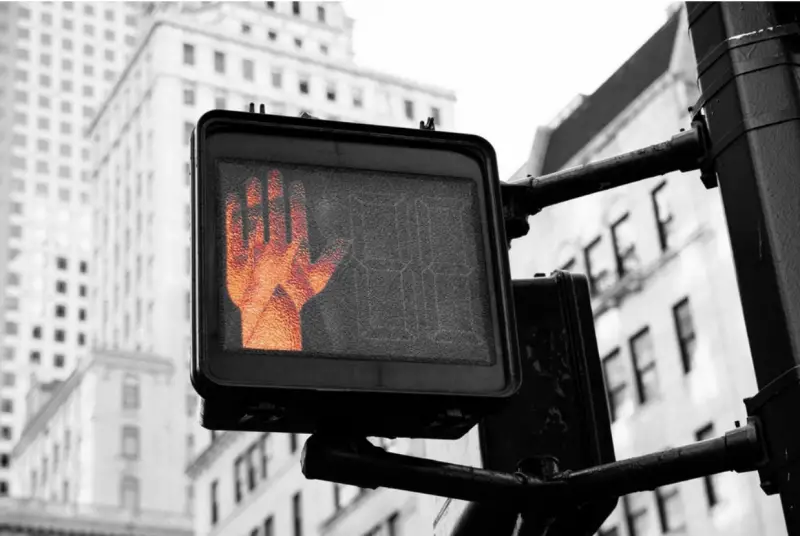 Photo by Kai Pilger on Unsplash.
When it comes to storing your luggage with luggage storage companies, it's natural to worry about the safety of your things. We all want to know our belongings are in good hands. With Bounce, you're guaranteed to only find vetted local businesses on their platform. Plus, because every booking you make with them is insured by Bounce's $10,000 guarantee and security seals are provided, you can enjoy your day knowing that your belongings are well looked after. Bounce maintains a 4.8/5 star rating from customers, with many of their individual locations in New York receiving a 5/5 star rating from users.
Where Can You Store Luggage in NYC?
With more than 300 luggage storage locations in New York, if you need to store luggage while you're in the Big Apple, you can find Bounce store partners all across Midtown Manhattan, as well as in almost every other neighborhood. Some are even open around the clock, so it's easy to find a time and place that suits you. Whether you're arriving at Grand Central Terminal or Newark Airport, whether you want to visit the Statue of Liberty or the MoMA, drop off your luggage at one of these New York City locations to make the most of your experience. There are also no size limits on Bounce's luggage storage, so if you're able to carry it, Bounce will store it for you.
Photo by Harry Gillen on Unsplash.
Whether you're catching a plane or a train, many transport hubs in New York either don't have their own or have very limited luggage storage facilities. JFK Airport luggage storage is available at three locations, for example, while there's no LaGuardia Airport luggage storage, and you'll need to contact your airline to find out more details for bag storage at Newark Airport.
To avoid the hassle and put your journey behind you, book your bags into a Bounce luggage storage spot instead and make the most of some of New York's most iconic sights. Whether you're in the city for a layover, a day trip, or just waiting for your hotel check-in, using luggage storage is a great way to keep your belongings safe and still enjoy yourself!
If you're arriving into New York City by train, Bounce's Penn Station luggage storage is just a short walk from the Empire State Building and right by Madison Square Garden, while their luggage storage at Grand Central Terminal is a 15-minute walk from Rockefeller Center, and their Port Authority Bus Terminal luggage storage locations are only one block away from Times Square.
Photo by Andreas Kruck on Unsplash.
Or, if you're already in the city, you can find a spot to store your bags near the famous sights too!
 Want to Explore New York City Neighborhoods? 
Photo by Lerone Pieters on Unsplash.
Do you want to explore the shops on Madison Avenue or in the West Village without dragging around your things (or store your new purchases somewhere safe while you enjoy a meal at a nearby restaurant)? Perhaps you want to explore the Museum of Natural History on the Upper West Side and need somewhere to store your luggage. Or maybe you want to take a walk around Battery Park City after storing your bags in the Financial District or make use of their Lower East Side luggage storage as a place to drop your bags after shopping in the local boutiques.
Whatever you choose, Bounce has luggage storage in New York City for each of these areas:
The most popular luggage storage facilities fill up fast (it is New York, after all), so you may need to book ahead to make sure you get the best luggage storage spot for you. Cancellation is free in case your plans change. Bookings must be made on Bounce's website or mobile app. Visit usebounce.com to find the best New York luggage storage locations for you.
Why Is Bounce the Best Option for Luggage Storage?
If you're new to storing luggage while you go about your day, here's why Bounce is a great idea:
Only $5.90 per bag, per day—it doesn't matter what size your bag is. If you can carry it, Bounce will store it.

$10,000 insurance for each booking you make.

Many of their locations are open 24/7, so you'll have plenty of luggage storage options in NYC and will always be able to find a spot that works for you. You'll be able to drop off your luggage at one of their locations no matter where you are in the city.

Bounce vets every location on their platform, so you can be sure that your bags are in good hands.

You can book through their luggage storage app, as well as via their website.

If you change your mind before you check your bags in, you can cancel completely free of charge, and their customer service team is always on hand in case you have any questions.
Check out Bounce's New York city guide for inspiration!
Alternative Luggage Storage Options
For those looking for alternatives to luggage storage companies in New York, there are a couple of different luggage storage tips and services that you can make use of.
If you're waiting on a late flight out of NYC but your hotel check-out is earlier in the day, ask whether your hotel can store your bag for you while you make the most of your day.

Depending on the size of your bags, you might be able to take advantage of baggage storage spaces or lockers at the museums and galleries you visit. Keep in mind that each location has its own bag policy (for example, at Madison Square Garden you can only bring in bags under 22" x 14" x 9", and there's no bag or coat check available on site), so it's advisable to check what that policy is before your visit.

If you're thinking of using bag storage lockers instead of luggage storage companies, keep in mind that luggage lockers might not be monitored as closely by staff as storage facilities are. For peace of mind, make sure you've researched the security of whatever option you choose before you store luggage there.
Luggage Storage in NYC Museums and Galleries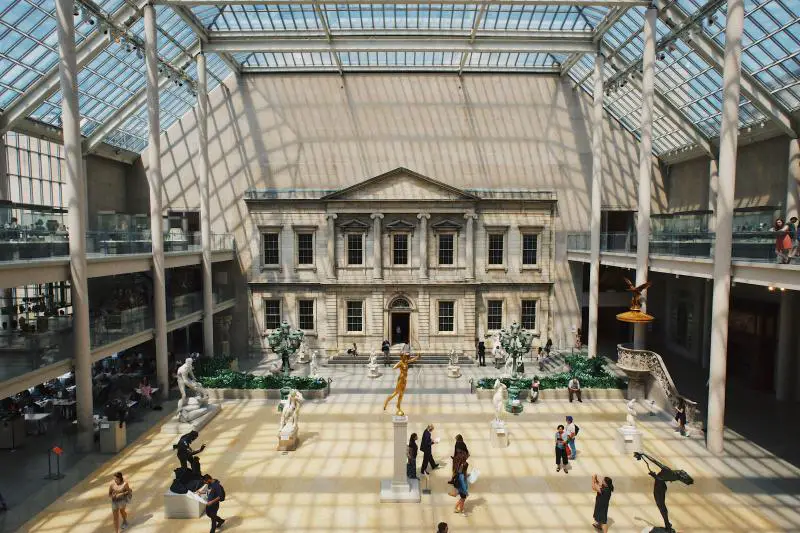 Photo by Robert Bye on Unsplash.
While some bags are permitted inside museums and galleries around New York, there are often restrictions on the size and positioning of them.
Before your visit, it's advisable to check the following:
Does the attraction have a cloakroom or any other kind of luggage storage option?

What size bag are you allowed to bring in? Many will only allow small, personal bags to be kept on you.

Are there restrictions on the kind of bag you can keep with you? For example, are you allowed to keep your backpack for the duration of your visit? It's not uncommon for museums and galleries to only allow you to bring in a backpack if you either hold it in your hand or wear it on your front.

If there are restrictions placed on what belongings you can bring inside, where are the nearest places to store your luggage before you arrive? Be aware of where the most convenient luggage storage service is, just in case.
Best of Luggage Storage NYC: Schwartz Luggage Storage
If you need luggage storage in NYC, Schwartz Luggage Storage is a great alternative to expensive airport prices at only $5-$10 a bag (depending on the size). The establishment is cash-only, and you trade your bag in for a paper ticket that you'll use to collect your luggage. Once you've finished gallivanting around town, you can return here, grab your stuff, and get on your way—as simple as that. It's no-hassle, only a few blocks from Penn Station and Port Authority Bus Terminal and everything you leave will be in safe hands. What more could you ask for if you need storage in New York? Additional location in midtown. 357 W. 37th St., 212-290-2626
Best of Luggage Storage NYC: CBH Luggage Storage
Located in Midtown Manhattan, a 20-minute walk from Penn Station and less than 10 minutes from the Rockefeller Center, CBH Luggage Storage offers luggage pick-up and delivery options as well as luggage storage. Bags are kept under surveillance in their storage lockers—prices start at $10-$15 per day for luggage storage ($20+ for oversized bags), and they waive their additional after-hours fee on New Year's Eve, so you can enjoy all the festivities that New York has to offer without any extra worry about your belongings.
Best of Luggage Storage NYC: StoreMe
StoreMe's luggage storage service makes use of dozens of small businesses across New York to provide safe, short-term luggage storage locations for your belongings. You can store your luggage in New York with StoreMe by reserving on-demand or in advance through the StoreMe website or mobile app. There are hourly or daily rates and they insure your items up to $3,000. Small bags start at $2 for the first hour and $1 every hour after that, up to 24 hours. Large bags start at $3 for the first hour and cost $2 every hour after that, up to 24 hours. Flat day fees for small bags are $7.50 and $14 for large bags.