Raise a Glass for 8 Great Wine Classes in NYC
February 13, 2019 - by Merrill Lee Girardeau
If you're like us, any interaction with a wine list is like walking the West Village without a map: completely disorienting unless we're near a familiar landmark. If you'd like to up your game on Chablis, Chardonnay, and Chianti, check out New York's best wine classes. The selections below are offered by seasoned sommeliers throughout the city at wine bars and culinary education centers. Take a Valentine's Day date or a friend, and soon you'll navigate the wine list with ease.
Best Wine Classes in NYC: Corkbuzz
The wine bar Corkbuzz, which has locations in Chelsea Market and near Union Square, hosts classes on any and every oeno-centric topic you can imagine. Sure, there's Wine 101, but more experienced palates can explore the depths of favorite varietals like Syrah and Riesling. Other upcoming classes, held at both Corkbuzz locations, include Chocolate and Wine Pairing on February 6; a series of 6 Blind Tasting Classes starting February 12; and a Tour of Austria & Germany on February 27. Invest in a 3- or 5-class package at Corkbuzz for a deal on these exciting events, all hosted by Master Sommelier Laura Fiorvanti, co-founder of Corkbuzz. Union Square: 13 E. 13th St.; Chelsea: 75 Ninth Ave.; corkbuzz.com
Best Wine Classes in NYC: Murray's Cheese
West Village icon Murray's Cheese is an authority not only on impeccable cheeses but also the beverages that pair well with them. The shop was founded in 1940 and specializes in the world's finest cheese imports, in addition to meats and other specialty food items. Murray's hosts cheese-making and pairing classes every night of the week. Look forward to the following recurring events, all featuring flights of wine. This winter and spring, Murray's will host several iterations of Pairing Perfection, Wine & Cheese Pairing, Big Red: Red Wine & Cheese, and Bubbles & Cheese. 254 Bleecker St., 888-MY-CHEEZ, murrayscheese.com/classes
Best Wine Classes in NYC: Wine Bootcamp at La Compagnie des Vins Surnaturels
Hosted at the lovely wine bar La Compagnie des Vins Surnaturels, Wine Bootcamp promises High Intensity Interval Drinking at its suite of eclectic intensives. For 50 minutes, you'll explore the wines of Hungary, solve the "Champagne Riddle" (your guess is as good as ours), pet-nat wines, orange wines, and a series of underrated wine regions like Alsace and the Sierra Foothills. You'll blind-taste a series of wines and eat some snacks as a sommelier leads you through the topic. There are multiple classes a week; check out the schedule at the link below! 249 Centre St., 212-343-3660, compagnienyc.com
Best Wine Classes in NYC: De Gustibus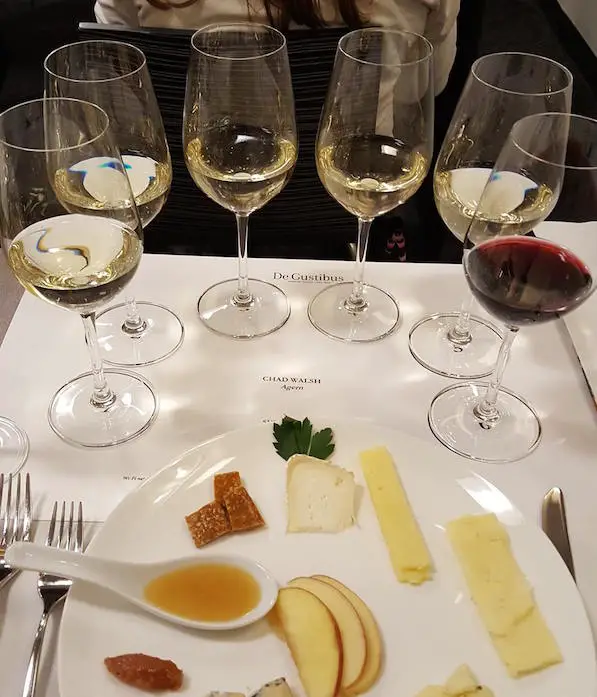 Conveniently located on the 8th floor of Macy's Herald Square, De Gustibus invites celebrated chefs and other prominent figures of the restaurant industry to hold classes and demonstrations for all. They hold classes about wine about once a month; look forward to three wine tastings coming up this spring. March 9, Anthony Giglio & Michele Buster will host a wine and cheese tasting featuring Spanish flavors. Giglio, wine editor at Food & Wine magazine, and Buster, co-founder of Forever Cheese, will send you the Spanish countryside with riojas and manchegos during this 3-hour event. March 23, sommelier Evan Clagnaz of Del Posto will lead a wine tasting. Clagnaz will pull Chiantis from his celebrated list, accompanied by small bites from Del Posto's kitchen. May 18, Anthony Giglio returns with Gary Portuesi, managing director of Authentic Italy. 151 W. 34th St., 212-239-1652, degustibusnyc.com
Best Wine Classes in NYC: Institute of Culinary Education
A preeminent training ground for chefs and others in the hospitality industry, ICE also opens its doors to casual culinary learners. Like its cooking classes, the many beverage classes at ICE are arranged according to four levels from basic to professional. Coming up on January 30 is a basic intro to the wines of South America, run by ICE's resident sommelier Richard Vayda. For a deeper dive, Vayda also runs the six-week course Wine Essentials: Classic World Wine Tour. You'll come to understand what differentiates French wine from Californian from Italian in this thorough set of classes. Anyone looking for a unique V-Day date can sign up for the Valentine's Day Champagne Gala, offering fine food and a tour of sparkling wines, plus a taste of special cuvee Champagne. Other upcoming classes include Introduction to Wine, Robust Reds & Stinky Cheese, and Wine for Couples, all run by Vayda. 225 Liberty St., 3rd Floor, 800-522-4610, recreational.ice.edu
Best Wine Classes in NYC: Haven's Kitchen
Classes at Haven's Kitchen focus on healthful eating through sustainability and seasonal eating. Their Wine Club classes occur the first Friday of every month. Incorporating cooking with wine tasting, each class highlights the cuisine and vino of a specific world region with a facilitator guiding students through the differences in wine varietals, growers, and producers. Friday, February 1, learn about food from the Alps in a hands-on class as you sample Swiss wines. Friday, March 1, get into Asado! Argentine Wines & BBQ. 109 W. 17th St., 212-929-7900, havenskitchen.com
Best Wine Classes in NYC: The Brooklyn Kitchen
Brooklyn Kitchen's cooking classes and wine tastings invite newbies to the table for a new lease on kitchen skills. Coming up are several Wine Dinners with the Moore Brothers. These classes, combining cooking and drinking, will orient you to several wines from the Industry City wine shop Moore Wine, which sources artisanal, small-batch producers. Brooklyn Kitchen's Chef Lizzy will lead the cooking portion of the evening. Classes scheduled for March 8, March 22, April 5, and April 19. 100 Frost St., 718-389-2932, thebrooklynkitchen.com
Best Wine Classes in NYC: NYC Wine Company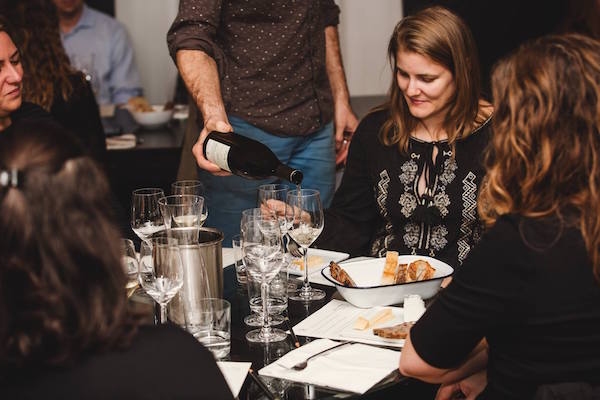 Andrew Harwood founded NYC Wine Company as a passion project to tell others about wine. His diverse suite of classes, held in the West Village, display his wide-ranging knowledge of varietals from around the world. Novices should take Wine 101, which promises to show you why you like the wine you like (and give you some Murray's Cheese to go along with it). Other classes include Big Bold Reds, France: Making Sense of It All, and classics from Spain and Portugal. Other sessions investigate more niche interests like the wines of Tuscany, wines produced on Islands & Volcanoes, and the up-and-coming world of Organic, Natural, and Biodynamic wines. These classes are also more affordable than many others in the city at $79 for all. 330 W. 11th St., 212-647-1875, nycwinecompany.com
Looking for Free Group Planning Services?
Get free advice on planning your group's trip to New York.
RESTAURANTS

Multi-concept restaurant offering modern Japanese cuisine, a...

THEATER

Gaston Leroux's famous period thriller is now one of Broadwa...

SHOPPING

The world's largest source of cameras, camcorders, and more ...

SIGHTSEEING

This renovated museum complex includes the 900-foot-long air...