Winter in NYC is a great time for city activities. The holiday crowds have diminished, but there's still plenty to do, both indoors and out. With some input from the Everything to Do NYC Facebook Group, here are six great winter activities to do in New York.
Bryant Park

Bryant Park. Photo: Colin Miller.
While summer offers chances to sit and read on its leafy lawn, winter is really when Bryant Park comes alive. First off, there's the Bank of America Winter Village at Bryant Park, featuring the 17,000-foot ice rink, with ice skating (free admission!), lessons, events, and shows. Plus, the hugely popular bumper cars on ice. There's a curling café and bar, and "igloos" for enjoying food and drink, right near the skating rink—packages come with such edible amenities as gourmet popcorn, hot chocolate, apple cider, and chicken fingers or Bavarian pretzels. Le Carrousel, the carousel created to fit into the park's French classical style, also remains open during the winter months, weather permitting. With its cabaret music and 14 charming animals, it's a welcome diversion for kids. Add in the Lodge Bar+ Food Hall for cocktails, sandwiches, cheesecake, and more, and you've got yourself a day—or night.
Between 40th and 42nd Streets and Fifth and Sixth Avenues, bryantpark.org
The Bronx Zoo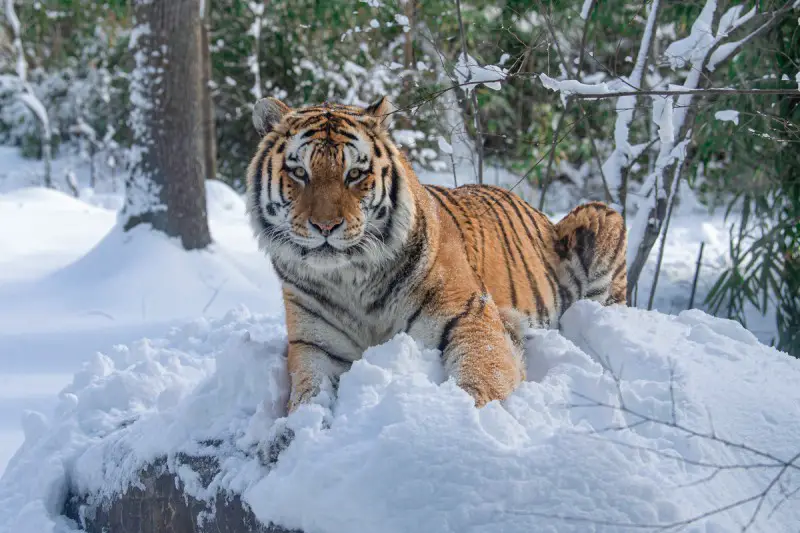 Julie Larsen Maher/Wildlife Conservation Society.
Many people tend to avoid the zoo during the winter, assuming that most of the animals will be hard to spot or simply huddling inside. But the Bronx Zoo offers an all-year experience with plenty to see and do in the colder months. You can easily enjoy an all-outdoor visit, but if you start to shiver, just duck inside and visit favorites like the World of Reptiles and the Mouse House.


Outdoor exhibits including the Himalayan Highlands, Big Bears, the Sea Lion Pool, Tiger Mountain, and the Sea Bird Aviary are open all year round. What's the advantage of visiting during the winter? Animals including tigers, sea lions, grizzlies, and snow leopards, to name just a few, are more active during the colder months. (Sea lion feeding and training sessions are held daily at 3pm.)
Plenty of snack bars are open during the winter as well, so you can easily fuel up and keep going. The interactive map on your smart phone will give you real time info: bronxzoo.com/today.
2300 Southern Blvd., The Bronx, bronxzoo.com
New York Botanical Garden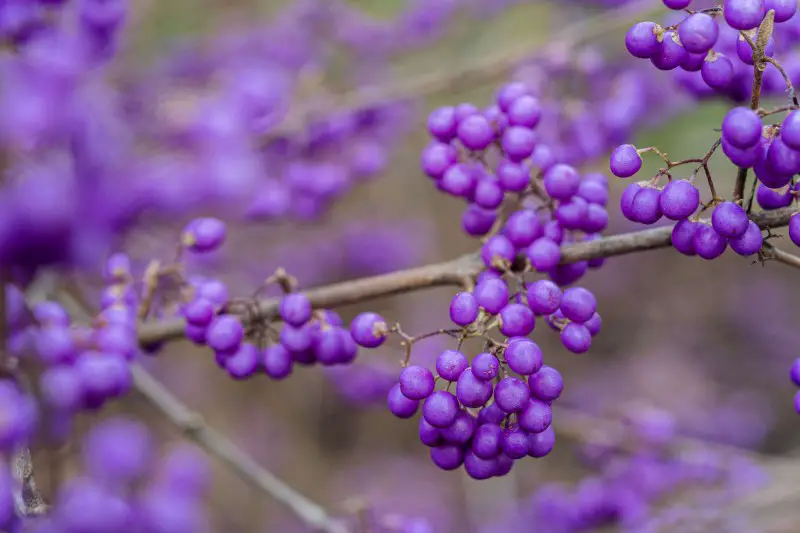 Japanese beautyberry (Callicarpa japonica), Garden Way, courtesy New York Botanical Garden.
While the Bronx botanical garden may be known for its holiday train show and its June rose garden, it's also a wonderful place to visit all during the winter. Their website has a "What's Beautiful Now" feature with a detailed outline with what's worth visiting even during the colder months; it includes the Conifer Arboretum, with pines and spruces planted over 37 acres, as well as the Maple Collection. Many of the holiday activities extend though much of January, such as "All Aboard with Thomas & Friends" with Thomas the Tank Engine.
The New York Botanical Garden also offers year-round lectures and classes, with topics ranging from Botanical Art to Landscape Design and classes centered on food and drink. Fewer people mean more space to roam and enjoy, so consider a trip to enjoy nature just a short ride away.
2900 Southern Blvd., nybg.org
Prospect Park

Photograph by Adrian Cabrero/Flickr. photo.adriancabrero.nyc | Instagram.
For outdoor winter fun, Prospect Park offers just about everything you can imagine—with 585 acres, it's easy to find something that speaks to you during the colder months. Winter walks? Of course. Running trails? Yep. Ice skating? Check. For skating, head over to the LeFrak Center at Lakeside—they also have hockey leagues and curling, and, in addition, they also host birthday parties. If there's enough snow you can sled down one of the many hills; if not, maybe head indoors to the Prospect Park Tennis Center and improve your game under the bubble. You can even volunteer—or bring your holiday tree to the park—to take part in the annual Mulchfest in early January; the trees will be turned into garden-friendly mulch. You can even take some home to get started on your garden, and then return to the park later for some great spring activities.
Ice Skating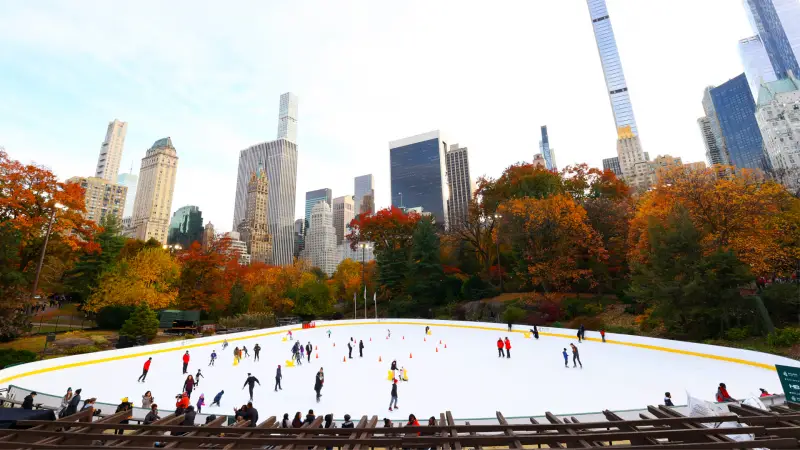 What's winter without ice skating? New York has a surprisingly large number of skating rinks, both indoors and out, so it's easy to pick the one--or ones--that work for you.
For starters there's the Wollman Rink (above) in Central Park, for a classic New York experience, it's the place to go for extraordinary views, of the park and city skyline, and a "Now I'm really in New York" feeling. A café lets you warm up with offerings like grilled cheese sandwiches and burgers.          
If you're looking for something more offbeat, check out the Abe Stark Rink on the Coney Island Boardwalk; while you're there, a walk along the boardwalk is peaceful (though potentially quite cold, as you're next to the water).
And Denny Farrell Riverbank State Park, which rises 69 feet above the Hudson River and is one of the city's only uptown skating rinks, offers a covered skating rink during the winter for free skate, lessons, and a figure-skating club.
The Museum of Broadway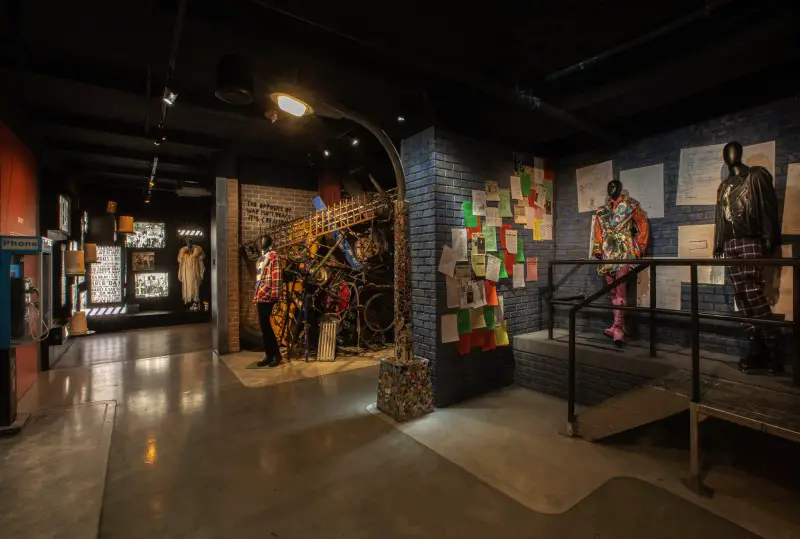 Rent and Bring in 'da Noise, Bring in 'da Funk. Photo by Monique Carboni.
When an "Inside day" is called for, head over to the newish Museum of Broadway; it offers an interactive experience that showcases seminal moments in Broadway history. It's also the first museum dedicated solely to Broadway theater and its influence on Times Square in New York.
The museum is divided into three sections: in the Map Room, visitors can explore the history of Broadway theaters through video projections, and see where all the current Broadway theaters are located. There's also a timeline over two floors showing Broadway's most groundbreaking moments. And in the third section, learn about what goes into the making of a Broadway show. Visitors can browse more than 300 years of theater history, including props, Playbills, and costumes, and learn more about musicals such as Hello, Dolly, Oklahoma. Company, Hair, and Rent (with accompanying music.)
You can even rent a studio for rehearsals—and who knows; perhaps one day you'll be included on that wall as well.
145 W. 45th St., themuseumofbroadway.com