Split Brick Bill: Floodpants and The Pickle Twins
Looking for things to do in NYC? Get our free email with 8 can't-miss city events every week
Sign-up Here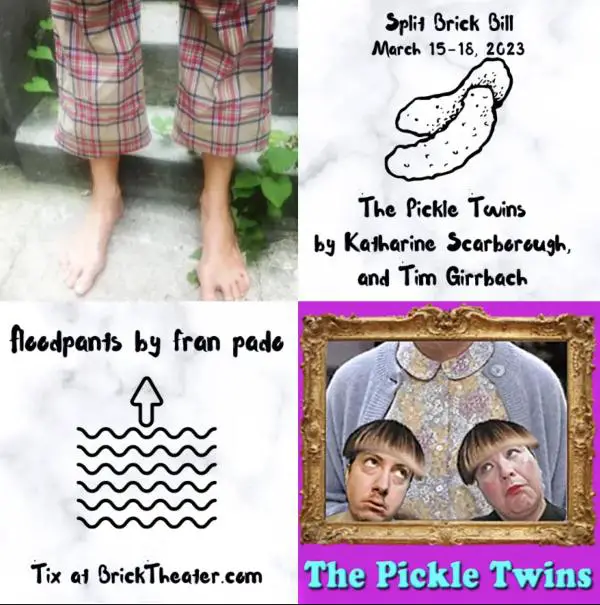 Floodpants
by Fran Pado
directed by Laia Comas
Floodpants is a dark musical fairytale for grownups, written and performed by Fran Pado, that borrows from the children's book Grinny by Nicholas Fisk. It's the story of the Girl, a 9yr. old eeking it out in a crumbling blue-collar New Jersey town in the 70's, and the haunted, horrifying old lady who comes to visit and refuses to leave. Grinny:- kind've like a granny, but.. she hypnotizes the Girl's hippie mother, and proceeds to set about her evil, stellar-sational plot. It's up to the the Girl and her psychic younger brother to save, well, everything.
Featuring pot-smoking dads, 3rd grade meditation circles, and all that made N.J.in a twisted place in a twisted time.
Music by Goddess: a homemade one-string fiddle, Casio picked off a junk pile, and perhaps the world's greatest guitarist.
Bob Bannister– guitar
Tamalyn Miller– fiddle
Andy Newman– Keyboard and percussion
Follow them: @franpado @floodpantsthemusical
The Pickle Twins
by Katharine Scarborough and Tim Girrbach
Alana and Alamo Pickle, heirs to a condiment conglomerate, are fully grown, adult twins who should be able to take care of themselves. Their governess for the last 34 years, Didi, has passed away and they desperately need a new nanny. Is it YOU? Watch these heirs to the Cornichon Fortune put on a talent show as they try to lure you into taking on the impossible task of saving these perverted recluses from themselves. Featuring some of their self-proclaimed hits like "Didi Says No!" and "Wash Your Own Back." Part variety hour, part job interview, where you, the audience will compete to meet their bizarre demands. You should be honored, The Pickle Twins are kind of a big dill. Grey Gardens meets Whatever Happened To Baby Jane, 100% Demented.
***
Katharine Scarborough is an award-winning New York City based actress and writer. She received her MFA in Acting from the New School for Drama, and trained with the Moscow Art Theater and The People's Improv Theater. She held an Artist Residency with Mabou Mines where, under the mentorship of JoAnne Akalaitis, she developed her show Myth Keeper, which she then produced in Residency at the Brick Theater in Williamsburg. She recently launched her award-winning original web series, Big Girl, with Brazen NYC. Katharine takes her scotch on the rocks, does funny voices, and one time she accidentally pepper sprayed herself in the face. You can learn more at https://www.katharinescarborough.com/ @ksscarborough
Tim Girrbach has trained extensively in improvisation and sketch comedy at The Upright Citizens Brigade Theater NY where he was an actor on the house Maude Teams, Glamour College and Peach. He's also performed and created original character work with Birthday Sax and Squirm & Germ at Joe's Pub at The Public,  SF Sketchfest, Norfolk, Charleston & Savannah Comedy Fests, and at The Apollo. Tim was featured in the short-lived A&E Comedy TV Series " Black and White." He has also worked in a number of national and web commercials. Most notably, he played Danny McBride's cockney sidekick with David Gordon Green directing a series of spots for the UK company Coral. Tim has been featured in a number of web series including "Amazon Product Reviews Set To Music" that was named one of Indiewire's Top 10 Web Series.  For more info check out timgirrbach.com @timgirrbach
Venue: The Brick
579 Metropolitan Ave Map
917-593-3843