You're invited to a family dinner at Spoonfed NYC! This Theatre District restaurant serves hearty South Carolina cuisine, inspired by Randy Strickland-Witherspoon's family recipes. The owner, whose nickname was Lil' Spoon as a child, is a theatre industry dresser turned caterer turned restaurateur. Come for brunch, lunch, or dinner at Spoonfed, where you'll enjoy bacon-wrapped meatloaf, biscuits, and lots of gravy.

Broadway Beginnings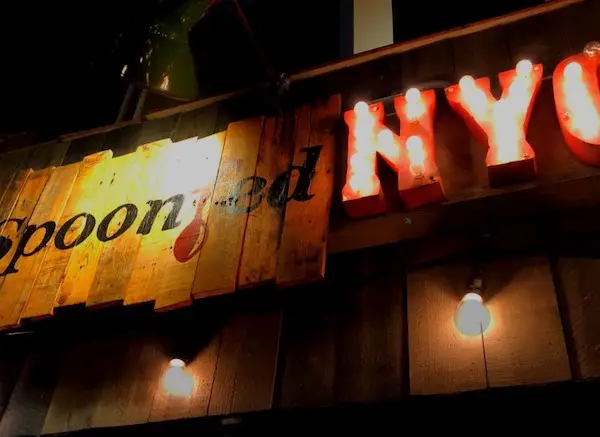 As a Broadway dresser for many years, Randy Strickland-Witherspoon used to cook his Southern specialties for cast and crew members on shows like Hamilton. He developed this into a catering business, which turned into a brick-and-mortar location at Spoonfed NYC (that stands for New York Country, btw).
As the restaurant neared completion in early 2017, Randy lost his construction crew, and he asked the Broadway industry to help out. Not only did the theatre pros come put the finishing touches on the restaurant, but they also helped Randy raise funds to ensure a strong opening for Spoonfed. Now other Broadway stars like Norm Lewis come to Spoonfed to visit Randy and eat some fantastic food near the theatres where they work.
Home-Cooked Favorites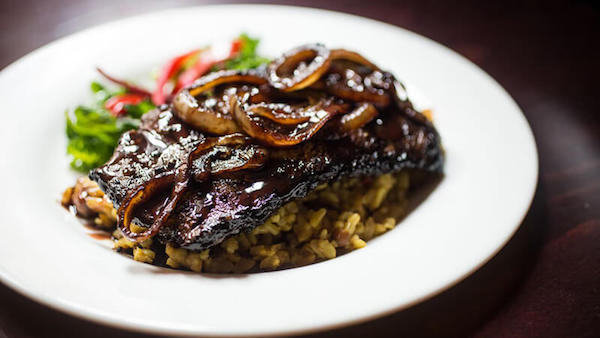 Randy Strickland-Witherspoon and his husband Mark have put their hearts and souls into every dish at Spoonfed. The dinner menu lists the important figures in Randy's South Carolina upbringing, from his grandma Miss Vie to his Uncle Boo, who shaped his approach to food. You'll see references to Randy's story woven throughout the menu: for example, the seafood menu is called Kendall Lake, the dam where Randy fished as a child.
Get ready for huge helpings of classics like the Smothered Chicken Dinner, if you like your fried chicken with plenty of gravy, a biscuit, and collard greens. Beef options include oxtail braised in red wine with a side of cheddar grits. The "Cacky Lacky" BBQ Ribs come with molasses cornbread and an optional side of Chef Mark's $1,000,000 Sweet & Sticky BBQ Sauce for even more goodness. Shrimp and Grits, fried pork chops, and Randy's undeniable Mac and Alotta Cheese also deserve consideration on this awesome menu.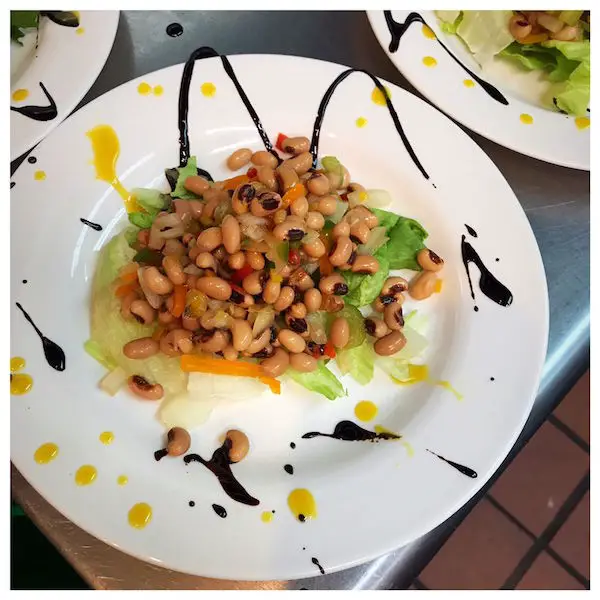 Those with dietary restrictions can rest easy coming to Spoonfed; Randy and Mark will take care of you too! Vegetarian, vegan, and gluten-free dishes are labeled as such on the menu, and there are plenty of options for all. Dishes like the vegetarian barbecue jackfruit use this yummy fruit on pasta and cover it in barbecue sauce. Vegan dishes include Cranberry Brussels Sprouts, the kale salad, and Fried Corn and Butternut Squash. One of the gluten-free entrees is the Blackened Red Snapper with zucchini pasta, grits, and crawfish cream sauce.
No matter what you order, you can't help but follow the wisdom of the restaurant's slogan: "Eat like you mean it, honey!"
Musical Meals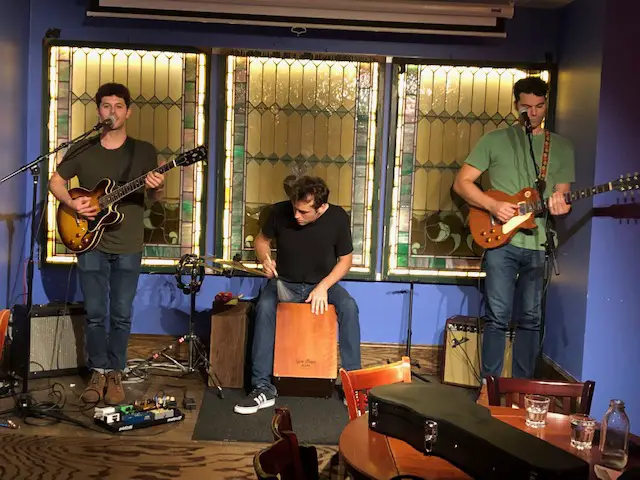 At brunch and on select evenings, enjoy live music at Spoonfed NYC! Brunch offers an affordable pre fixe menu for $27, with three courses and a beverage like a Bloody Mary. You'll see favorites from the lunch and dinner menus like Cadillac Fried Catfish, as well as brunch-specific dishes like Gospel Bird and Waffles and a veggie omelet. Come for your Saturday feast or before your Sunday matinee, and remember the music will last from noon to 3pm!

Spoonfed NYC is located at 331 W 51st Street. For reservations and more, call 646-368-1854 or visit spoonfednyc.com.