Art meets tech at Hall des Lumières. Set in Lower Manhattan's former Emigrant Industrial Savings Bank, Hall des Lumières brings the Beaux-Arts landmark back to life with visuals that complement the ornate interior. 
On view now is Chagall, Paris – New York, devoted to the unclassifiable artist Marc Chagall (1887-1985). The exhibition showcases Chagall's full career while drawing on modern art capitals Paris and New York, which represented two crucial stages in his artistic life. Beyond painting, Chagall's work in theater, costumes, sculpture, ceramics, stained glass, mosaics, and collage are all part of the digital immersion here. The projections are complemented by inspirations like klezmer, jazz, and classical music. Also on view: Kandinsky, The Odyssey of Abstraction, with art by Wassily Kandinsky (1866–1944), and Infinite Horizons, an artistic journey through landscape co-created by Parisian creative company HKI-Hellohikimori.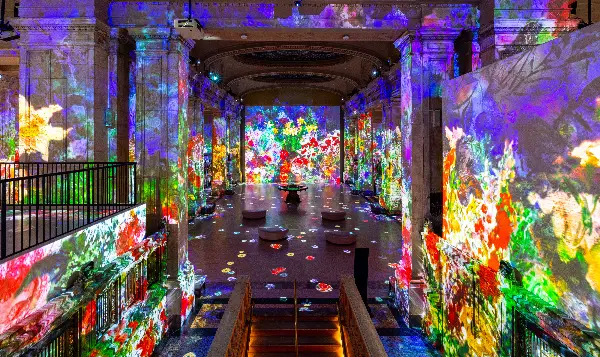 Get tickets today at halldeslumieres.com.