What to Do on Father's Day in New York City
May 27, 2014 - by CG News Desk
Father's Day is Sunday, June 15. Take some time to thank Dad for all he has done with a great afternoon together. Here are some ideas for how to spend the day in New York City. For a guide to restaurants offering special Father's Day menus, click here. Need a gift idea? Click here.
---
06/14
Family Film Screening and Workshop: Father's Day Heroes - First, enjoy a screening of Sesame Street: Iron Monster and Sesame Heroes. Then, have your child's picture taken and create a unique Father's Day mug fit for a superhero. Space is limited. 11am. Sony Wonder Technology Lab, 550 Madison Ave., 212-833-8100; sonywondertechlab.com
---
06/14-15
What better way to spend Father's Day than to spend it enjoying the great outdoors? Bike and Roll NYC, the city's premier bike rental tour company, will offer FREE bike rentals to fathers with their child BOTH 6/14 & 6/15 at the following locations: Riverside Park, Tavern on the Green, and Brooklyn Bridge Park. Complimentary water bottles will be provided. For more information regarding locations and more, visit bikenewyorkcity.com.
6/15
Father's Day at The Intrepid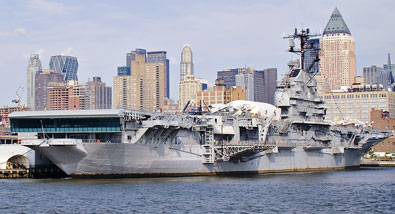 The Intrepid Celebrates Father's Day by extending the same price as kids! Bring Dad, and Grandpa too, for a fun-filled day. Click on the link for the coupon. Pier 86, W. 46th St. and 12th Ave., 212-245-0072; intrepidmuseum.org
___________________________________________________________________________
Free Admission "Fore" Dads at Ripley's Believe It Or Not! Times Square
By making a hole-in-one shot on the Ripley's Father's Day putting green, Dads will receive free admission to the museum that day. From there, families can spend the rest of the day making memories among the artifacts and interactive exhibits spanning the 18,000 square feet of the museum. Guests can take fun photos hanging like King Kong from the Empire State Building in the new interactive exhibit "Little Apple;" search for autographs of Dad's favorite players among the 70-bat Hall of Fame collection in the Baseball room; race the clock – and each other – in the Impossible LaseRace, and more.
In order to redeem free admission, all fathers must be accompanied by at least one paid full-price child admission on Sunday, June 15, 2014. Only one shot per person allowed. ripleysnewyork.com
___________________________________________________________________________
Father's Day at Citi Field Mets vs. Padres
Bring Dad out to a ball game! Dads and kids under 12 will receive a free Mets cap. 1:10pm. Citi Field, 126th Street and Roosevelt Aven., Flushing, NY 718-507-8499, mets.com
___________________________________________________________________________
Yankee Stadium Tours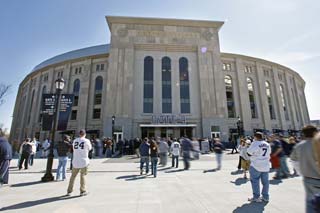 The Yankees are on the road this week, but Dad would love to check out a Yankee Stadium Classic Individual Tour. Tours commence from 12pm to 1:40pm. Bilingual tours are also available. Call the Tours Department at 646-977-8687. Tickets online, adults, $20, at window, $25. Watch this space for details about a special Father's Day option. You can purchase tickets at any Yankee Clubhouse Shop.
___________________________________________________________________________
Red Hook Jazz Festival
Join Brooklyn's Urban Meadow Community Garden for the 7th annual Red Hook Jazz Festival, 1pm-6pm. The grassroots event is dedicated to the support of the great music of jazz, the musicians who perform it and to bringing new individuals to the singular community-run resource that is the Urban Meadow Community Garden. Admission is $10 (children FREE.) Music acts lined up include:
The Museum Band of Teeth and Respect: Josh Rutner - tenor saxophone, Red Wierenga - keyboard, Dan Loomis - bass, Jared Schonig - drums
Welf Dorr Unit: Welf Dorr - alto saxophone, bass clarinet, Dave Ross - guitar, Dmitry Ishenko - bass, Joe Hertenstein - drums
George Coleman and The Rivington Project: George Coleman - drums, Brian Charette - organ, Mike DiRubbo - alto saxophone
Gene Ess & Fractal Attraction: Gene Ess - guitar, Thana Alexa - voice, Gabriel Guerrero - keyboard, Thomson Kneeland - bass, Chris Beck - drums
DECAY: Tim Berne - alto saxophone, Ryan Ferreira - guitar, Michael Formanek - bass, Ches Smith - drums
http://www.nycgovparks.org/events/2014/06/15/7th-annual-red-hook-jazz-festival
___________________________________________________________________________
Music in the Garden: Quintet of the Americas at Queens Botanical Garden
Enjoy Father's Day with a selection of music that celebrates the colors of the Garden. Seating is extremely limited; first come, first served. 2:30pm-4:30pm. Free with Garden admission, ($4 adults, $3 seniors, $2 students and children 3-12). Queens Botanical Garden, 43-50 Main Street, 718-886-3800, queensbotanical.org.
________________________________________________________________
Attractions
Dinosaur Safari - The new attraction will include a ride through the Cretaceous and Jurassic periods with more than two-dozen animatronic dinosaurs up to 40 feet long which move, snarl, roar, and spit. Bronx Zoo, 2300 Southern Blvd.Bronx, NY, 718-367-1010, bronxzoo.com
Reader Feedback