Inside Scoop: Monte's Trattoria
Monte's Trattoria has been serving classic Italian Cuisine in Greenwich Village since 1918. Chef Pietro Mosconi makes your visit a most memorable one. Order from the menu or, even better, choose one of Chef Pietro's signature "specials of the evening" and the wine to go with it. The service is superior, and the staff will make you feel as if you are part of the family. The food is moderately priced, but appears and tastes elegant. Evening entertainment.
Pietro Mosconi and his father Paolo emigrated from Piacenza in the Emilia-Romagna region of Northern Italy. They arrived in New York City in 1966 on the SS Michelangelo, with the rest of their family following later. Pietro worked in several New York restaurants before his family established Villa Mosconi in 1976. A few years later, they took over Monte's Trattoria, a longtime Greenwich Village restaurant just a few doors down on MacDougal Street.
These restaurants have become essential Village destinations that have outlived the many other Italian spots that once surrounded them. Visit either Villa Mosconi or Monte's and you'll see why: the food is fresh and flavorful, and both dining rooms boast old-New York appeal and warm, inviting atmosphere for regulars and newcomers alike. 
Monte's Trattoria, located on MacDougal Street between West 3rd and Bleecker, is the subterranean spot where Chef Pietro still hand-makes pasta daily. Affordable, delectable dishes and chef's specials will make you a regular in no time. Read more about Monte's Trattoria here. 
Open Wednesdays through Mondays (closed Tuesdays).
Monte's Trattoria Photos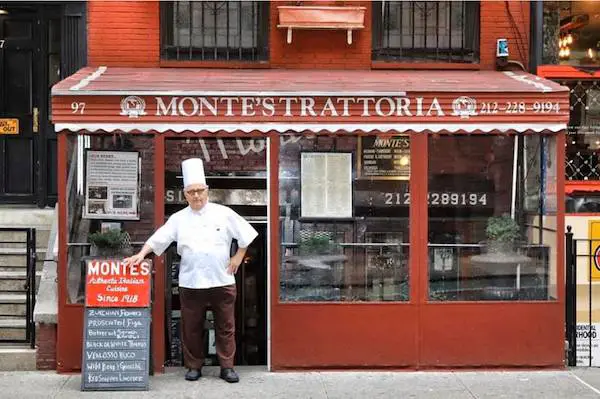 Image: Billie Grace Ward/Flickr
Monte's Trattoria Video