Washington Square might be the only Greenwich Village landmark older than Monte's, a traditional Italian trattoria on MacDougal Street. This quintessential Village walk-down spot has been around for 97 years. Its owner and chef, Pietro Mosconi, now getting up in his 60s, is himself a legend of sorts in the Village. (His dapper son, Peter, now runs the front of the house.)
Image: Billie Grace Ward/Flickr
There are reasons for this longevity. Monte's serves bold, spirited, robust Italian classics—Italian Mama cooking, a bit better than Mama made it. It's a restaurant that knows what it's about, that never tries to be trendy or cutting edge or to stretch and exceed its abilities. This is a place that unashamedly serves Italian favorites for people who know and love this cuisine.
Lasagna leads the parade, as it should. (Pietro's version layers homemade spinach and egg noodle with bolognese and bechamel, true to his native region of Emilia-Romagna.) But there's more, much more for diners who crave the hearty, earthy flavors of conventional Italian cooking: cannelloni, manicotti, spaghetti and meatballs, gnocchi among the pastas; minestrone, stracciatella, tortellini in brodo are a few of the soups; an assortment of salumi, mozzarella, oreganatas and rolatinis dot the antipasti choices; while scarpariellos, cacciatoras, parmigianas, and marsalas can be found among the entrée choices. Popular and authentic desserts made on premise include a gutsy cheesecake, a feathery tiramisu, canoli, and strawberries with rich, creamy zabaglione.
More creative but no less genuine Italian mainstay specials we sampled included tender, tasty, vitello valdostana (stuffed veal chop) and veal osso bucco on slabs of brown-gravy-covered polenta (or risotto). A more conservative diner opted for quite decent, sauteed dry sea scallops while an Italian tablemate targeted the frutta di mare enhanced by a vibrant assortement of shell fish and seafood over linguini. Memorable starters included a powerful fettuccine verde Bolognese, a bountiful cold mixed antipasti, and a noteworthy Caesar salad with a classically prepared dressing.
The ambiance and surroundings at Monte's ring as true as the food. There's Italian opera in the air, and mostly Italian celebrity pictures on the walls, including everybody from Frank Sinatra to Rudolph Giuliani. At the bar is a picturesque scene with a legion of neighborhood regulars. This is a welcoming, neat, cozy nook of a restaurant that happily continues to stick to the traditional fare of Italy rather than what's trendy and temporary.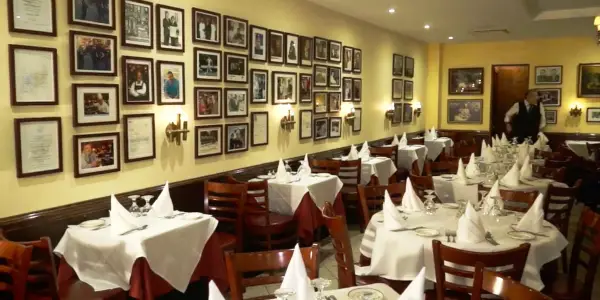 97 MacDougal St. (Bleecker-W. 3rd Sts.), 212-228-9194; montestrattorianyc.com
Richard Jay Scholem was a restaurant critic for the New York Times Long Island Section for 14 years. His A La Carte Column appeared from 1990 to 2004. For more "Taste of the Town" reviews, click here.