The near-perfect sitcom 30 Rock follows grumpy, sweatshirt-prone TV writer Liz Lemon and her colleagues who make a weekly live comedy show at 30 Rockefeller Plaza. Use this guide and you'll find the New York of your 30 Rock-inspired dreams. 
Go to the Source

It's all in the name, people: start your tour at 30 Rockefeller Plaza. You can tour the studios of NBC where the show is set (though most of 30 Rock was filmed in Queens at Silvercup Studios, which aren't open to the public). A cheery page like the immortal Georgian Kenneth Parcell will guide you through studios where shows like The Tonight Show and Late Night are filmed, and—if you're lucky—Studio 8H. This is the legendary filming location of Saturday Night Live, the show on which the fictional TGS is based. 8H is also the location where they filmed both live episodes of 30 Rock! Then tour Top of the Rock, where Kenneth nearly shot Tracy Jordan while under the influence of noxious gas and Alec Baldwin gave the best meta-monologue of all time during the 100th episode. Once your tours are over, walk around the plaza and try to find a hot dog cart, so you can recreate Liz Lemon's freak-out from the pilot of the show. (Note: if you really want to commit to this bit, you have to buy all the hot dogs).


Visit Liz Lemon's Neighborhood
Throughout the show, the awning of Liz Lemon's building in exterior shots sometimes reads "160" and other times reads "168." In fact, 160 Riverside Drive at the corner of West 88th Street is the site of Liz's bilevel apartment, the second level of which she buys with a bottle of Sun Tea. Walk the streets of the Upper West Side where Calvin Klein offers Jon Hamm a modeling job on the sidewalk and Liz commits a hate crime against a Jewish tree. Finally, visit nearby Riverside Park, where you can see the Eleanor Roosevelt monument Liz uses to confront female comic Abby Flynn about her "sexy baby" persona.
Enjoy the City!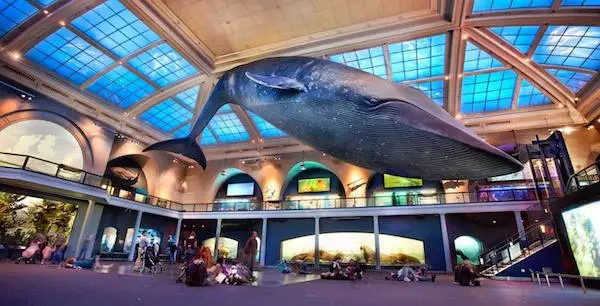 30 Rock depicts New York City as alternately magical, exasperating, dirty, spectacular, and silly. With that in mind, find a Barnes & Noble bathroom and meet your new Liz Lemon-y best friend. Visit the wondrous Hall of Ocean Life at the Museum of Natural History, which reawakens Jack's love of marine biology. Then take a horse-drawn carriage through Central Park like Jack and Colleen Donaghy toward the end of Season 7 (though we hope the results are much less tragic!). And if you see any bucket drummers in the subway, give them a hearty tip on behalf of their former colleague Tracy Jordan.
Eat Like Liz (If You Dare)
Although you won't find any Sabor de Soledad or Cheesy Blasters at your local supermarket, you can find some other key foods from the show around town. Grab a McFlurry and a Señor Macho Solo (a.k.a. Big Mac) at McDonald's in honor of Jack and Elisa's reconciliation at the fast-food emporium. Make sure you're in Darrell's section at Outback Steakhouse, where Liz and Jenna Maroney eat a whopping seven Bloomin' Onions. Celebrate Lutz (someone has to) at Blimpie's, where he forces the cast to eat during the last episode of TGS. If you'd rather pay homage to the final episode with a little more class, eat some of the city's finest sushi at the posh Nobu Fifty Seven and dessert at Make My Cake in Harlem, both of which Liz orders food from before Lutz ruins the spread.
See the Stars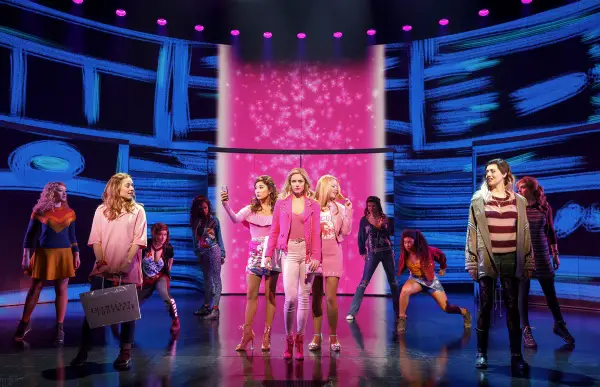 Erika Henningsen, Ashley Park, Taylor Louderman, Kate Rockwell, Barrett Wilbert Weed, and the company of Mean Girls. Credit: © 2018, Joan Marcus.
Even with Tina-Fey-produced shows like Unbreakable Kimmy Schmidt and Great News on the air, sometimes you need a little more than that to refuel your 30 Rock tank. The show's cast and crew are still at work, and many of them still live and perform in New York! We recommend you check the schedules of actors you love from the show. You never know if you can catch an appearance while you're in town. While Fey doesn't perform live very often, you can see her Broadway musical adaptation of the film she wrote, Mean Girls, which continues to knock em dead at the box office. Enter the lottery or wait in the epic stand-by line for Saturday Night Live tickets, and you have a good chance of seeing Alec Baldwin play the president on the show. See the real-life Lutz and Pete at John Lutz and Scott Adsit's hilarious show John and Scott, which they improvise as a two-man team, at the Upright Citizens Brigade. Judah Friedlander (Frank Rossitano) also frequents comedy venues around the city, performing standup in his signature trucker hats, as does the one and only Tracy Jordan—er, Morgan.