The Secret Treasures of Central Park
August 12, 2016 - by Irene Silber
Central Park is the most popular attraction in all of New York City, drawing more than 42 million visitors every year. Most out-of-towners can't spare the time to really explore the park so they miss the secrets and stick to the "greatest hits." And while The Pond, the Zoo, the Reservoir, the Sheep Meadow, and Strawberry Fields are lovely, there's much more to discover. To help you make the most of your foray into Central Park, we've compiled a list of hidden treasures organized by areas of interest.
Central Park for Nature Lovers
Far fewer tourists visit the northern (or uptown in NYC-speak) half of the park, which contains dramatic rock outcroppings, shady glades, streams, and waterfalls. The North Woods (pictured), which runs from 101st to 110th Sts. on the west side of the park is a serene escape from the hubbub of the city. Traffic noise recedes as you step back into time among the majestic trees and running water.
The Ramble, a 36-acre refuge in the center of the park between 73rd and 79th Sts. is a mecca for birdwatchers. More than 270 species have been spotted there amid the trees, some of which are 150 years old.
Millions of people look over The Pond on the Southeast corner of the park without knowing that behind it lies the Hallett Nature Sanctuary. You may be lucky enough to visit NYC when one of the periodic guided tours of this 4-acre wildlife haven are being offered.
Central Park for Art Aficionados
Every summer, temporary art installations are introduced to Central Park, but there's plenty to see all year round. Some of the sculptures in the park—like Alice in Wonderland and Cleopatra's Needle—are well known, but others less appreciated.
King Jagiello: Mike Steele/Flickr
You may ask, what is the statue of a 15th Century Polish Grand Duke doing in Central Park? Well, the bronze of King Jagiello was marooned here after the 1939 World's Fair when the Nazis invaded Poland. Today, he and his steed watch over folk dancers every summer Sunday afternoon in the middle of the park near the Turtle Pond.
Beyond turtles, there are a surprising number of animals represented in Central Park, both fanciful and realistic. The Delacorte Musical Clock alone has monkeys, a penguin, a hippo, an elephant, a goat, and a kangaroo. Paul Manship's trio of bears cavort in a playground at 79th St. and Fifth Ave. Balto, the sled dog who helped stop a diphtheria epidemic, is commemorated with a statue near the Tisch Children's Zoo.
More menacing is Still Hunt, the lifelike bronze of a cougar waiting to pounce, placed on an outcropping over the East Drive. Indian Hunt portrays a human and his snarling dog stalking their quarry near West 66th St. The aptly named Eagles and Prey on Center Drive literally shows raptors tearing apart a mountain goat.
Central Park for History Buffs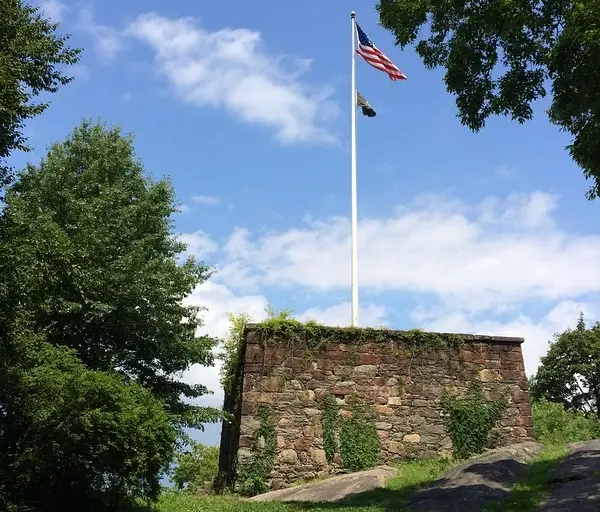 Virtually every work of art in Central Park commemorates a moment in history, from victories in battles to achievements of great Americans. But long before Central Park existed, high ground called McGown's Pass was a strategic pawn in the Revolutionary War. You can climb up there today and look down at the Harlem Meer on the north end of the park. The Blockhouse, the oldest structure (excepting Cleopatra's Needle) in the park, is nearby—built to help defend New York from the British in the War of 1812.
Reenact more recent history by visiting the Central Park locations from famous movies and television shows. On Location Tours will take you on a stroll through Glee, When Harry Met Sally, Home Alone 2, and Breakfast at Tiffany's, all within the bounds of the park.
Central Park for Gardeners
Hidden behind majestic gates on Fifth Avenue, the Conservatory Garden is a horticultural masterpiece, paying homage to classical English, French, and Italian landscapes. Hop-on hop-off bus tours like City Sights and Gray Line stop at the nearby Museum of the City of New York, and you should definitely cross the street to enter the garden. Every season has its charm thanks to the sculptures, massive pergola, and crabapple allées. Keen gardeners will appreciate that the Conservatory Garden has access to the newest cultivars of annuals and bulbs. Each planting is carefully marked so you can track down the new releases for your own property.
Even if your visit doesn't coincide with Shakespeare in the Park, you can still see the plants and flowers mentioned in the Bard's plays. The Shakespeare Garden on the West side of the park near 79th St. is studded with herbs and flowers and even a mulberry tree supposedly grown from one that Shakespeare himself planted in Stratford-upon-Avon.
The Arthur Ross Pinetum is an especially beautiful sight in winter, when the vivid evergreens stand out from the bare deciduous trees that populate most of the park. You can see species from around the world as you traverse the park between 84th and 86th Sts. on foot.
Central Park for Athletes
If you're into fitness, it would be a shame to pass up a chance to exercise in Central Park. Opportunities abound to run, skate, or join pickup games of organized sports (including ice hockey in the winter). You can cover lot of ground by renting a bicycle from Central Park Bike Tours. Be aware that riding on sidewalks and pedestrian paths could result in an unwanted souvenir—a ticket from Central Park police—so be sure to dismount when leaving designated vehicular routes.
Lesser-known athletic pastimes in Central Park include 90 years of lawn bowling and 49 of croquet. Riding horses in Central Park is no longer a means of commuting, so the park's bridal path circulation system has been taken over by joggers. But a private company (Central Park Horseback Rides) can arrange for you to get your exercise the equestrian way.
Central Park for Kids of All Ages
Twenty playgrounds dot Central Park providing opportunities to swing, climb, and splash. The W. 110th St. Playground near the Harlem Meer has a water feature with random vertical jets beloved by local kids. Across the path is the Charles A. Dana Discovery Center, where you can check out fishing gear (catch and release only) and learn about park wildlife. It's also the HQ for the Halloween Parade and Pumpkin Flotilla, when families bring their carved jack o' lanterns for a candlit float.
The Swedish Cottage Marionette Theater on the west side of the park near 70th St. has been presenting puppet shows continuously since 1939. The cottage itself was recycled from the 1876 Centennial Exposition in Philadelphia. Shows are held nearly every day with advance ticketing available.
Looking for Free Group Planning Services?
Get free advice on planning your group's trip to New York.
RESTAURANTS

Multi-concept restaurant offering modern Japanese cuisine, a...

THEATER

Kander and Ebb's "musical vaudeville" in which Roxie Hart ga...

SHOPPING

A premier destination for family entertainment....

SIGHTSEEING

Hop aboard these environmentally friendly twin-hulled catama...
SAVINGS OPPORTUNITIES
Carmel Limo - $4 off any trip over $20. Not valid 3pm-7pm. -03/31/2019