Don't lament the end of New Year festivities—celebrate all over again with the turn of the lunar new year this February! Chinese cultures mark time by the lunar calendar, and each year is symbolized by an animal from the Chinese zodiac. This coming year will be The Year of the Pig, starting February 5. New York City will erupt in parades, fireworks, dancing, and music. Find below a range of events in Manhattan and Queens during the first half of February. Bring your family along for lion dances, crafts, martial arts, music, and cuddling with teacup pigs.
Under each category, events are arranged in order of occurrence.
Chinese New Year 2019 in NYC: Parades
On February 9, the Lunar New Year Parade in Flushing, Queens, will begin at 11am. This neighborhood boasts a vibrant community of Chinese American residents, and this parade is sure to impress with bursts of color for the new year. Come early for coffee and donuts at the Greater Flushing Chamber of Commerce, and watch the floats and other participants from Union Street and 37th Avenue.
Chinatown NYC Lunar Parade 2017 from Anonymous Motion on Vimeo.
The best-known (and most crowded) Lunar New Year Parade will wind through Manhattan's Chinatown and Little Italy neighborhoods, beginning at 1pm on Sunday, February 17. You'll get to watch beautiful floats, big dragon puppets, and confetti everywhere at this enormous celebration. If you only do one thing for the new year, come see this singular New York spectacle!
Chinese New Year 2019 in NYC: Chinese New Year Fireworks
New Year's Day of the lunar calendar falls on Tuesday, February 5 this year. Toast to the Year of the Pig at Sara D. Roosevelt Park in Chinatown for the Firecracker Ceremony and Cultural Festival. The dazzling 600,000 fireworks, happening at noon, attracts huge crowds for this annual event. The festivities also include lion dances, craft vendors, and food. The event lasts from 11am to 3:30pm.


Chinese New Year 2019 in NYC: Family Events
Join the Queens Botanical Garden in their Year of the Pig Community Art Project, happening every Saturday from January 12 to February 2. Families will make papier mache sculptures to be displayed in the gardens at this drop-in activity.
The Museum of the Chinese in America (MOCA) will host a wide variety of events for the Lunar New Year season, many of them ideal for children. Kids can help decorate the museum for the new year during the Lunar New Year Museum Makeover, happening February 2 and 5.
Also at MOCA, kids can greet the Year of the Pig quite literally at the Piggy Party! on February 20. NY Teacup Piggies is bringing real teacup pigs to the museum for children to safely hold and play with. The same day, kids can also dress up like their new porcine pals during Ham It Up! Pig Accessories craft hour.
Lunar New Year Storytime will occur February 14 and 28 at MOCA.
Queens Museum welcomes all to its Annual Lunar New Year Celebration for Families the afternoon of February 3. The New York Chinese Cultural Center (NYCCC) will present live performances and traditional crafts, plus a storytelling hour about the Chinese zodiac.
Send your kids to a day full of fun at Chinese New Year Day Camp at China Institute. February 5, your kids can experiment with Chinese calligraphy, play a game of go, and cook a tasty treat. China Institute invites ages 2-14 to register.
Brooklyn's largest park invites families for a Lunar New Year in Prospect Park during the afternoon of February 5. An open day of paper lantern crafts and tasty treats will be available at Lefferts Historic House, while the Prospect Park Audubon Center will host nature-themed activities. These include an exploration of the park, Bird Nerds Game Hour, and interactions with live animals.
Saturday, February 7, celebrate Lunar New Year at the Queens Botanical Garden in Flushing for crafts, a plant sale, lion dances, and more.
Enjoy a family day at the Asia Society during Moon Over Manhattan! on Saturday, February 9. Kids will be dazzled by a kung fu demonstration, Lion Dance, music, and crafts at this Upper East Side institution.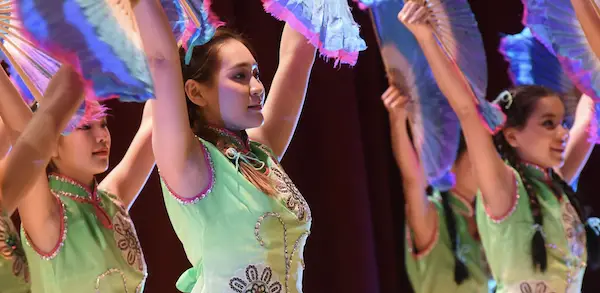 The Metropolitan Museum of Art welcomes revelers to its Lunar New Year Festival throughout the day on Saturday, February 9. Expect interactive activities in the art galleries, craft workshops led by artists, and live performances from Chinese zitherists Wu Na and Chang Jing.
A free performance of a Lion Parade and the Lion Dance will be held on Saturday, February 9 at Brookfield Place in the Financial District. The event will also feature a martial arts demonstration and traditional Chinese regalia to welcome the lunar new year.
The China Institute is also hosting a Family Festival for the new year. Sunday, February 10, kids can make dumplings and lanterns, get their faces painted, play games, and eat Chinese treats to celebrate the Year of the Pig. Live performances include a Lion Dance and music from the Stephanie Chou Trio.
A traditional Chinese temple fair visits Flushing Town Hall in Queens on February 17 at 11am and 2pm. There will be live performances, art-making, lantern-making, and food for families, community members, and visitors alike.
The Museum at Eldridge Street is opening its doors the day of the Chinatown parade for free admission and Lunar New Year crafts! Admission is free on Sunday, February 17th from noon to 5pm. At 2pm, neighbors Think!Chinatown will lead a craft workshop on decorating lanterns and red door decorations with Chinese calligraphy, paint, stencils, and more. Afterwards, the lanterns are going to be hung in a temporary installation in the bamboo garden, a pop-up space at 5 Essex Street. All crafts are free!
On February 21, your family can learn some moves from the Lion Dance and make a lion mask to ward off bad luck at MOCA's Lucky Lions Dance Activity.
Chinese New Year 2019 in NYC: Concerts, Museum Events, & Talks
Every year, MOCA hosts the Lunar New Year Night Market to commemorate the upcoming year. Friday, February 1, the market will showcase local food vendors and live performances. Sample food from Nom Wah, East Wind Snack Shop, Hey Hey Canteen, Ming River, Saffron 59, Tea Drunk, Silk Cakes, and Taiwan Bear House. See an episode of the PBS show "Lucky Chow" along with a live appearance from host Danielle Chang. There will also be an open bar and a traditional Lion Dance to cap off the evening. Your ticket price includes a year-long membership with the museum, as well as unlimited food samples and two drink tickets for the Night Market.
In the spirit of the season, it's a great time to peruse the galleries at MOCA. This Chinatown institution preserves the history of Chinese immigration in this country, and on February 5 it's offering free admission! In addition to an in-depth permanent exhibit, two special exhibits during Lunar New Year explore the Chinese typewriter and Bud Glick's photographs of Chinese Americans. Also on February 5, the new MOCA Shop will open a new museum store in partnership with the longtime shopping destination Pearl River Mart. The shop will sell items inspired by Chinese American traditions, plus goods inspired by MOCA exhibitions.
Two representatives from the theater world will discuss Asian representation on the stage at "The King and I" Meets "Soft Power" on February 5 at Asia Society. Tony Award-winning theater artist director Bartlett Sher, who recently staged a revival of The King and I at Lincoln Center Theatre, will appear in conversation with David Henry Hwang, co-writer of last year's musical Soft Power.
The Rubin Museum of Art, which features the art of the Himalayan region, will hold a Tibetan New Year Celebration on February 6. Chime Dolma and Rinchen Dolma from YindaYin Coaching Center will explain Tibetan New Year, known as Losar, and speak on educating Tibetan refugees who live in New York. There will also be a live Tibetan dance performance during this evening event.
Experience the New York Philharmonic's annual Lunar New Year concert on February 6 at David Geffen Hall. This evening of music will present Fire Ritual, a violin concerto by the Oscar-winning Tan Dun; a piece called Arirang; The Firebird Suite by Igor Stravinsky; and Mozart's The Magic Flute.
Interested in the history of Lunar New Year and Chinese American culture? Attend MOCATalks during the festivities as experts dive into scholarly topics like the Lion Dance, which dates to around 618-907 A.D. Hear Stephen Gong's take on this important dance on February 7.
Also at MOCA, Friday, February 8, author Helen Zia will present her new book Last Boat out of Shanghai, documenting Chinese and Taiwanese refugees who fled to the U.S. during Mao's revolution.
Carnegie Hall will showcase musical talents during the Chinese New Year Spectacular on February 15. Pianist Jie Chen, soprano Quan Chen, tenor William Weimin Cai, and violinist Deni Bonet will perform pieces by Chopin, Jianzhong Wang, Puccini, and others.
The traditional Chinese Almanac (known as the Tong Sing or Huang Li) predicts days of importance for the upcoming year. As part of MOCATalks, see authors Joanna C. Lee and Ken Smith engage with the Chinese Almanac to predict what's coming in this Year of the Pig on February 21.
Chinese New Year 2019 in NYC: Cruise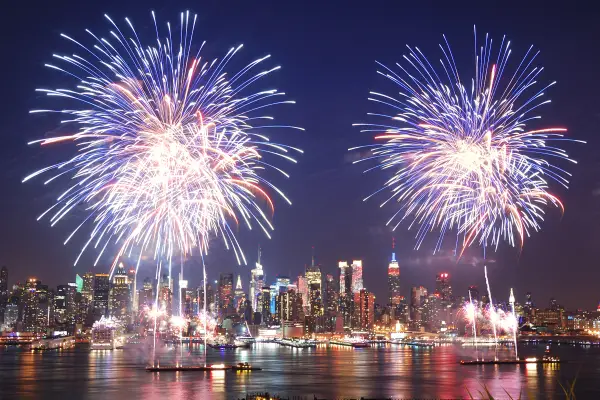 On Tuesday, February 5th, Hornblower be celebrating the Year of the Golden Pig with a special performance by the GPS NYC Vocal Institute and a fireworks cruise around the city.