Where to Buy New York's Best Christmas Ornaments
November 13, 2017 - by Merrill Lee Girardeau
Ornaments make some of the best holiday gifts. They're small and not too expensive—plus they can reflect the places where you bought them. That's definitely the case of New York ornaments, which range way beyond the Empire State Building (though there's plenty of those to be had). Get a set of modern artists, a new tree topper, or a mercat (we'll explain later), and you'll be through with your Christmas list before you know it.
Suffragist Ornament at the New-York Historical Society

It was almost a century ago when women like this suffragist fought for the right to vote in the United States. Get this fabric ornament picturing a woman in a sash that says VOTE FOR WOMEN, with plenty of red, white, and blue decking out her early 20th-century outfit. She's fierce and adorable at the same time. 170 Central Park West, 212-485-9203, shop.nyhistory.org
Pineapple Ornament at Authentiques Past and Present
Seems like Authentiques sells enough Christmas ornaments to decorate every tree in the city. Any shape you're looking for, they have it. Come to Chelsea to grab the Hawaiian symbol of hospitality: the golden glass pineapple ornament. And if you're going for a food-themed tree, you can find ears of corn, subway sandwiches, bananas, and pizza slice ornaments too. 255 W 18th St., 212-675-2179, fab-stuff.com
Artist Ornament Sets at the Guggenheim Museum Shop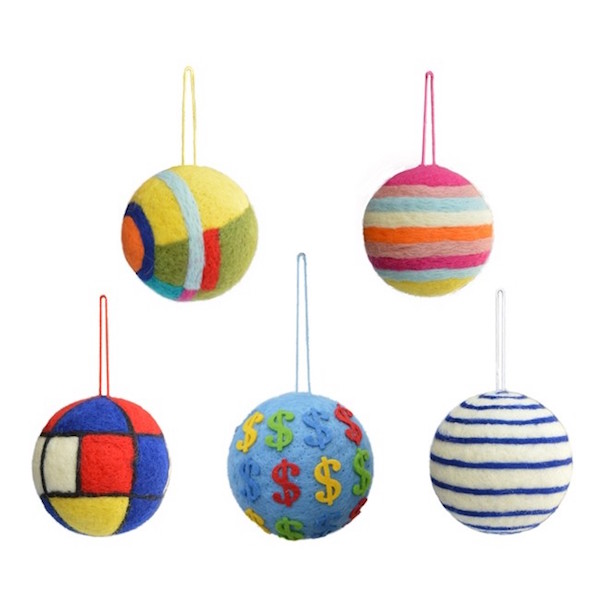 These fun felt ornaments will add pops of color to your tree. You could go with the Warhol-inspired design—light blue and covered with dollar signs—or the Mondrian, with blocks of primary color. Get multiples of the designs you like to achieve the ultimate artsy effect. 1071 Fifth Ave., 800-329-6109, guggenheimstore.org
Starburst Tree Topper at ABC Carpet & Home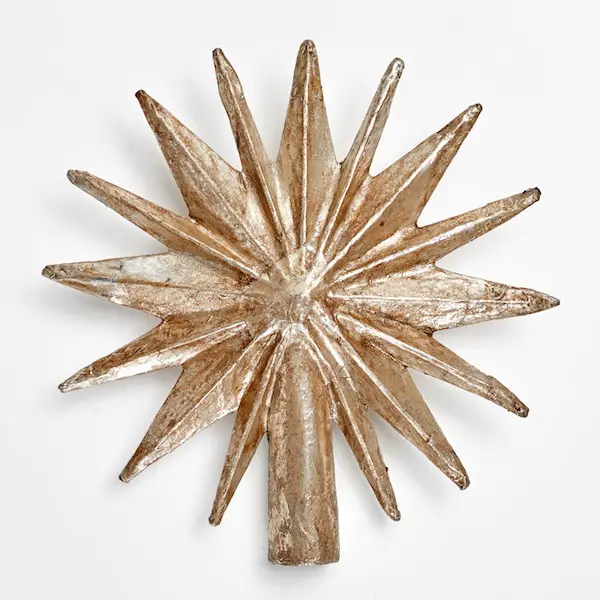 A paradise for unique design, ABC Carpet will overwhelm you with its choices of ornaments, from small, tasteful hearts to Christmas llamas to hand-blown glass balls. This star-shaped paper mache tree-topper gives a vintage crown to your Christmas tree or can be used for tablescapes around the holidays and beyond. 888 Broadway, 212-473-3000, abchome.com/shop
Glass Statue of Liberty Ornament at the Christmas Cottage
Chock-full of Christmas ornaments, The Christmas Cottage in Midtown West will dazzle you with more ornaments than you know what to do with. If you're looking to commemorate your visit to New York, find this lovely Statue of Liberty ornament. It's glittery, green, and 5.5 inches tall: an eye-catching New York landmark you can take home in your suitcase. 871 7th Ave., 212-333-7380, thechristmascottage.com
Modern Artist Ornament Set I at MoMA Design Store
These minimalist wooden ornaments would fit very nicely with those from the Guggenheim listed above. In adorable miniatures, this set portrays the artists Salvador Dali, Frida Kahlo, Andy Warhol, and Vincent Van Gogh. Dali's signature mustache and Kahlo's unibrow appear here, as do Warhol's unmistakeable red glasses. 44 W 53rd St., 212-767-1050, store.moma.org
Holiday Trailer Ornament at Bergdorf Goodman
Known for its store-specific holiday ornaments (including a yearly ornaments of fashion director Linda Fargo and James the Doorman), Bergdorf's is the perfect place to shop for the season. One standout in the selection is the glass Airstream-style silver trailer topped with multicolored Christmas lights. Designed by Cody Foster & Co., it's a vintage decoration that will stand out beautifully against the deep green branches of your tree. 754 5th Ave., 212-753-7300, bergdorfgoodman.com
Blue Embellished Shoe Ornament at the Met Store
The Metropolitan Museum of Art is home to one of the best museum gift shops ever. Their selection of original Christmas ornaments will be hard to choose from, but we're partial to this blue, glittery shoe. With a pointed toe, white-and-yellow floral embellishments, and blue netting painted onto the façade, it was modeled from a real 1957 French boot design. If you're a fashion lover, the ornament will remind you of the Met's incredible Costume Institute. 1000 Fifth Ave., 800-468-7386, store.metmuseum.org
Red New York Heart at More & More Antiques
The delightful chaos of More & More will have you craning your neck to see all its many ornaments, which hang from the ceiling at varying heights and in incredible density throughout the store. Though they don't list their selections online, we have a feeling the red heart ornament with "New York" written in tasteful white script across the front will be there again this year for you to take home. 378 Amsterdam Ave., 212-580-8404, moreandmoreantiquesnyc.com
Mercat Ornament at Paper Source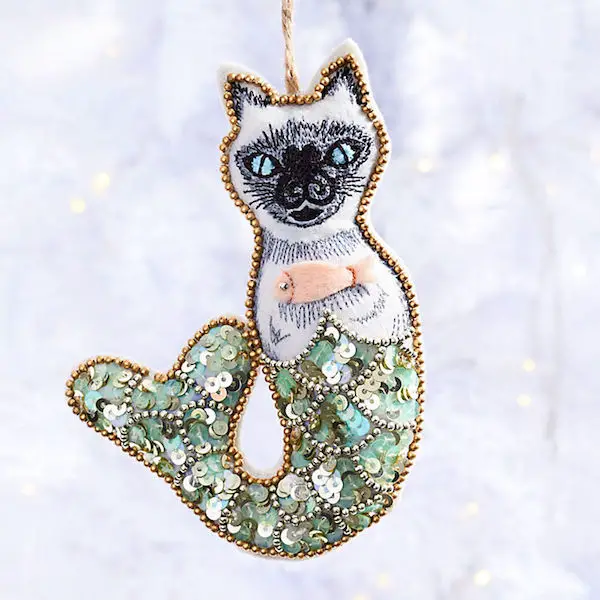 If you have any affinity for cats, you'll love the Mercat: half mermaid, half cat. This cloth tree ornament is decked out with sequins, beads, and embroidered with the cutest Siamese cat face. With eyes that cross and a little pink salmon on its chest, this thing is undeniable. Multiple locations, papersource.com
Looking for Free Group Planning Services?
Get free advice on planning your group's trip to New York.
RESTAURANTS

Beer hall casual meets craft cocktails with a healthy dose o...

THEATER

Gaston Leroux's famous period thriller is now one of Broadwa...

SHOPPING

The world's largest source of cameras, camcorders, and more ...

SIGHTSEEING

A state-of-the-art Coney Island amusement park that's home t...