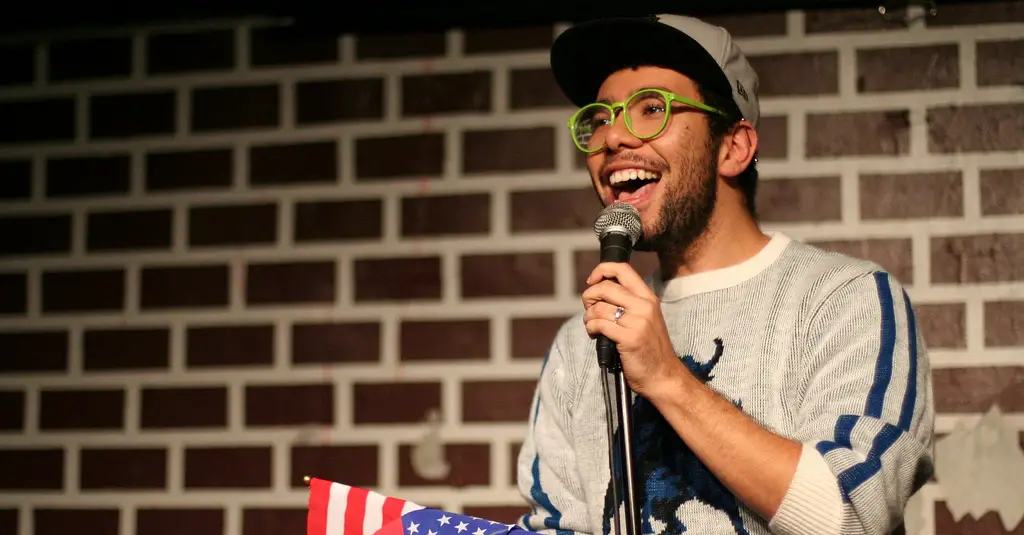 Photo: Benjamin Ragheb/Flickr

Who doesn't enjoy a hearty laugh? You'll get your fill of chuckles and then some at any of the comedy club shows on this weekend roundup from City Guide. Attending comedy shows in New York City is a must for anyone wanting to enjoy everything the city has to offer, and you might even catch a famous name performing a set at The Comedy Cellar, Gotham Comedy Club, or The Stand if you're lucky!


Not Another True Crime Podcast Live - Union Hall
January 24, 2020 - Brooklyn
Ages 21+Not Another True Crime PodcastSara LevineCasey BalshamDanny MurphyBetches Media Presents- Not Another True Crime Podcast LiveJust because we're talking about serious crimes doesn't mean we have to be serious. Hosts of Betches Media's Not Another True Crime Podcast, Sara Levine, Casey Balsham, and Danny Murphy, will give the lowdown on one morbidly fascinating topic... with plenty of side tangents and irreverent jokes peppered in. They'll also play games like the ever-popular "Super Secret Serial Killer Trait" and "Red Flag Or Serial Killer" live with the Brooklyn Podcast Festival audience.
Dave Hill: History Fluffer - Live Podcast Taping - Union Hall
January 24, 2020 - Brooklyn
Ages 21+Dave Hill: History Fluffer - Live Podcast TapingComedian Dave Hill gives his first-person account of different periods throughout history while Jim Biederman, Chris Gersbeck and Jodi Lennon call bullsh*t on most of what he's saying. This is a special live taping of the weekly podcast.
Works in Progress - Dixon Place
January 24, 2020 - New York
Elise Wien
Living Room Comedy Show - Postmark Cafe
January 24, 2020 - Brooklyn
The longest running stand-up comedy show in Brooklyn presented by Aaron Kominos-Smith and Turner Sparks (now in its 13th year)!Every Friday night at 8pm come to this clean, all-ages show to see some of TV's funniest comedians and hear jokes they're working on for their next TV appearance on Comedy Central, Fallon, Conan, The Tonight Show, and more! Come as a couple or come alone. Bring a group friends or bring your family. No restrictions on audience, we ask comics to keep their acts clean and EVERYONE gets in FREE! The show is at The Postmark Cafe: 326 6th St in Brooklyn.While tickets are free, reservations regularly sell out. Get your reserved seats at www.LivingRoomShowNY.comFollow @LivingRoomShow on Twitter/Facebook and email livingroomcomedy@gmail.com to get our monthly lineups direct to your inbox.facebook.com/livingroomshow
Internet Explorers: Amazon - Caveat
January 24, 2020 - New York
Amazon is a crazy big corporation. So big, in fact, it's hard to even wrap your head around just how big it is. Web hosting, groceries, streaming video, home surveillance, holiday gifts you can get almost anything from Jeff Bezos' mega-company (including uranium ore, apparently?!)if not on-demand, then less than a week later. But labor disputes, privacy concerns, antitrust concerns, tax loopholes, and Bezos' staggering personal wealth have perplexed the tech giant's place in popular culture, complicating everyday Americans' relationships with consumerism and democracy. How did we get here? What can we do about it? And isn't it all kind of silly
Drag Me to Hell - Stand Up New York
January 24, 2020 - New York
DRAG ME TO HELL
The Foundation - UCBT Hell's Kitchen
January 24, 2020 - New York
One of UCB's longest running Maude teams takes its bold and provocative brand of sketch comedy to a new Friday show.
Late Night Packet Jam - UCBT Hell's Kitchen
January 24, 2020 - New York
Late Night Packet Jam is the showcase for new & weird bits from New York's top late night writers, hosted by UCB's Night Late team.
Jaye Mcbride, Erin Harkes, James Crowley, Ephraim Chase - Laugh It Up! Comedy Club
January 24, 2020 - Poughkeepsie
Jaye McBride is funny, smart and proudly transgender. Jaye has traveled the world performing stand-up comedy both as a headliner and sharing the stage with comedy greats like Aziz Ansari, Gilbert Gottfried, Jim Norton & Bobcat Goldthwait. Jaye has also been a part of The Boston Comedy Festival, The Maine Comedy Festival and the She Devil Comedy Festival.It's hard to say exactly what Erin Harkes is. She's a singer/songwriter. She's a full time musician. She's also a part time standup comedian. Whatever she is doing she is doing it on stage! James Crowley is a comic and writer from Briarcliff, New York. He hosts the podcast James Crowley's Infinite Playlist. His writing has been featured in Newsweek and Atwood Magazine. He likes argyle sweaters, peanut butter, and dad rock.Ephraim Chase is a hilarious NYC based comedian. He has performed all over in different clubs and comedy festivals. He is also a comedy writer who has had a script purchased by FOX Television
Dave Hill: History Fluffer Live Podcast Taping - Union Hall
January 24, 2020 - Brooklyn
Ages 21+Dave HillComedian Dave Hill gives his first-person account of different periods throughout history while Jim Biederman, Chris Gersbeck and Jodi Lennon call bullsh*t on most of what he's saying. This is a special live taping of the weekly podcast.
Thank You For Coming Out LIVE Season 2 Launch - Caveat
January 25, 2020 - New York
The Thank You For Coming Out podcast, produced by Gay City News, is launching our SECOND season with a CAN'T MISS party!Our featured guest* for the live event is Shakina! Best known for her work as Lola on Hulus Difficult People, Shakina can now be seen in the series finale of Amazons Transparent, a Musicale Finale she also helped to write and produce with Jill and Faith Soloway. Shakina received international attention for crowdfunding her gender confirmation with her 2014 KickStartHer campaign as well as her 2016 Rebel Tour of North Carolina, where she performed in protest of the anti-trans law HB2 (The Bathroom Bill). Some of Shakina's recognitions include the Lilly Award for Working Miracles, the TRU Humanitarian Award, OUT 100, and is a two-time Drama League fellow. Learn more about her at www.Shakina.nyc and on the socials at @shakeenz.In addition to the episode recording, there will be a live performance of the podcast theme by the creator himself, Jody Shelton, songs from previous guests Vicci Martinez (The Voice, Orange is the New Black) and Emily Tarver (Orange is the New Black), plus a few more surprises. Tickets are $15 in advance and $20 at the door... (read more)
Mom in Transition - Dixon Place
January 25, 2020 - New York
When a baby boomer mom learns that her millennial son is becoming her daughter, she tries everything to stop this change from disrupting HER normal life. Fraught with pronoun errors, denial, and confusion, she finally sees the light in the H&M dressing room. This mom tells the tale of the trials and tribulations of accepting her daughter in a comical, heartfelt journey of acceptance and embracing the power of love over neuroses.
Mission to Zyxx - The Bell House
January 25, 2020 - Brooklyn
Ages 16+Mission to Zyxx is a fully improvised, obsessively sound designed sci fi comedy following a team of misfit ambassadors attempting to establish diplomatic relations in the remote and crappy Zyxx Quadrant. Join the crew and celebrate the upcoming Season 4 launch with a special live episode!
Secret Keepers Club - The Bell House
January 25, 2020 - Brooklyn
Ages 21+Each episode, the two give unfiltered responses to listeners' anonymous secrets. You'll be surprised where people are willing to go, what these friends admit, and that you might not be alone no matter how bazzar the secret!
Ahri Findling Plus James Mattern Plus More - Stand Up New York
January 25, 2020 - New York
JAMES MATTERN is a Nationally Headlining Comic and Radio personality, who has fast become one of the most beloved Emcee's in NYC. JAMES has appeared on several television programs including Fox Sports One's "Garbage Time with Katie Nolan" The WWE Network's "The List", MSG Networks "The Bracket", and ""The Artie Lange Show."As the former audience warmup for FOX SPORTS ONE's "Crowd Goes Wild", he worked with the legendary Regis Philbin. Additionally, James has appeared on "THE MOJO SHOW" on CBS SPORTS RADIO; and was a "man on the street" for "FERRALL ON THE BENCH" on SIRIUS-XM.
Party of Two: A New Year - The Pleasure Chest
January 25, 2020 - New York
Party of Two brings some of NYC's best storytellers & comedians together to recount their wild experiences about dating in the modern world.Featuring:ANDREW MCGILL (The Moth)SANDI MARX (Boston Comedy Festival)NATALIE WALL (Awkward Sex...And The City)BRYAN YANG (New York Comedy Festival)Hosted by:ANITA FLORES has starred in videos for Buzzfeed, Univision, and Pride.com. She is currently on tour with Awkward Sex and the City. She has a podcast called Im Listening where she explores different themes and pivotal moments from the show Frasier with a new guest each episode.CALVIN CATO is the host/producer of Ed Sullivan on Acid at Freddys Bar. Check out his Playable Characters Podcast, which has been featured in AV Club and Splitsider.PS. WE HAVE FREE WINE AND CANDY!$13 online, $15 at the door.Arriving early is strongly encouraged to ensure the seat that you want :)
Todd Glass - Murmrr
January 25, 2020 - Brooklyn
TODD GLASS
Shuli Egar - Laugh It Up! Comedy Club
January 25, 2020 - Poughkeepsie
SHULI EGAR truly knows that if you're going to make it in comedy, you've got to hustle. His start in stand up began with him bombing every night in nearly empty casinos along the Las Vegas Strip. But in 2002 Shuli's luck would change. That's when he met the one and only Howard Stern.
Reply Guys Live - Union Hall
January 25, 2020 - Brooklyn
Ages 21+Julia ClaireKate WillettReply Guys is a feminist political comedy podcast brought to you by Julia Claire and Kate Willett, two nice ladies doing socialism.
Calamari & Comedy Show - Randazzos Clam Bar
Through January 25, 2020 - Brooklyn
Stand-Up Comedy returns to Sheepshead Bay where it all started with the Calamari & Comedy Show at the World Famous Randazzos Clam Bar on Emmons Avenue. The show features:RALPH IPPOLITO - Born and raised in Brooklyn, Ralph is an impressionist as well as a comedian who performs regularly throughout the Tri-State Area.SHARON SIMON - Sharon started out as a child actor on Saturday Night Live (SNL) and when not touring the country making people laugh with her hilarious comedy, she performs regularly on the NYC comedy Scene.JOHN HOLLYWOOD- Johnny first took the microphone as a stand-up comic 15 years ago and has been hitting the Tri-State area with performances at The Stand, Broadway Comedy Club, The Comic Strip Live, and EastVille Comedy Club, in NYC and at Catch a Rising Star, Jesters, The Comedy Cove, and Characters in the surrounding area.STEVE MARSHALL - Born and raised in Brooklyn, Steve Marshall is a NYC based stand up comedian. He can be seen performing at Dangerfield's Comedy Club, Greenwich Village Comedy Club, Comic Strip Live and Stand UP NY to name a few. He's a veteran of the NYC Stage and a great act to watch. Rated H for Honesty, and lives by a code, ... (read more)
Schtick A Pole In It: 7yr Anniversary! - Drom
Through January 25, 2020 - New York
From comedians Dan Goodman and JoAnna Ross comes Schtick A Pole In It, a night of comedy and pole dancing. Schtick starts with a comic and ends with a pole dancer. 5 comics and 5 dancers. Comics tell jokes. Pole dancers pole dance. Theyre not strippers, its not burlesque. Its aerial dance with a side of crazy gymnastics and death defying tricks that make your jaw drop.This month we celebrate 7 Years of Ass, Laughs, and Sass. Schtick turns 7 and you turn 7 with Queen. In 2020 "We Will Rock You". Not "Under Pressure" because "You're My Best Friend". Calling all the "Fat Bottomed Girls" who need "Somebody To Love". "Don't Stop Me Now" because we are just getting started. If you don't see shows like this why are you even paying these crazy rents?TICKETS-$35 VIP/$25 Seated/$20 Standing/$30@Door 2 item minimum with seating. Advance ticket sales end at 5pm on the day of the show.Subways2nd ave stop on the F.Walkable from the 6 (Astor Place) andR (8th St - NYU) train stations.Friday Night CastComicsDan Goodman (Skinja, Fusion Network)JoAnna Ross (creator of Schtick)Katina Corrao (Less Bitter, More Glitter)Special Guests TBADancersDaniel Darli... (read more)
Dr. Gameshow Live - Union Hall
January 26, 2020 - Brooklyn
Ages 21+Jo Firestone and Manolo Moreno bring their cult-favorite Dr. Gameshow podcast (now on Maximum Fun) to Union Hall where audience members will compete playing listener-created games to win a special prize.
Paperweight Podcast Live Comedy Show With Guest Louis Peitzman - The Bowery Electric
January 26, 2020 - New York
21+Paperweight is a comedy podcast that combines sharp humor writing with the energy of a live show. It's hosted by Sarah Esocoff with writers Emilie Pass, Keelin Ryan, Paul McCallion, and special guests.
True Blue: An Aussie Night Out - Caveat
January 26, 2020 - New York
Sit back and relax as a killer lineup of Aussie comedians serve up a taste of home. With a chock-a-block night of fairy bread tutorials, slang-offs, music and comedy, comedian Jess Fuchs and her mates will take you to the other side of the globe and teach you a little bit about the place they call home. Come for the comedy, stay for the slang and leave with the culture (and by culture, we mean snacks)21+This event is mixed seated and standing room. Seats are first-come, first-served.
Illusions of the Photographer: Duane Michals at the Morgan - The Morgan Library & Museum
Through February 02, 2020 - Manhattan
Contemplative, confessional, and comedic, the art of Duane Michals exerts an appeal that transcends the conventional audience of photography. Since the early 1960s, Michals has worked past what he sees as the limitations of the camera: he writes in the margins of his prints, creates sequences of images that explore intangible human dilemmas (doubt, mortality, desire), and derives poetic effects from technical errors such as double exposure and motion blur. Illusions of the Photographer combines a full career retrospectivethe first on Michals to be organized by a New York City museumwith an artist's-choice show, as Michals plumbs the Morgan's vaults for treasures both revered and long-forgotten.
Stoked Comedy - Mad Tropical
Through February 20, 2020 - Brooklyn
WHO: "Downright rude" NYC comedian, actor, writer Amber Rollo and a rotating cast of excellent comediansWHAT: STOKED COMEDY is a long-running, wildly popular FREE comedy show the first and third Thursday of every month hosted by Amber Rollo, Kelly Bachman, Davidson Boswell and Julie Piero at Mad Tropical in Brooklyn, NY. They have some of the best comedians in NY do their thing for you for the low low price of $0 and some laughs. Oh yeah, also THERE IS PIZZA. WHEN: The first and third Thursday of Every Month. Upcoming dates are:Dec 5Dec 19Jan 2Jan 16Feb 6Feb 20

Want free advice on what to see and do in NYC? Join our Facebook group Everything to Do NYC, a place for people to ask questions and get tips on how to make the most of the city.