Beyond the bright lights, New York has its own brand of dark and creepy—if you know where to look. From an apartment building known as The House of Death to a bar called Death & Co. to haunted cemeteries, check out our lowdown on a dozen spooky spots spread across the five boroughs. Whether you're celebrating Halloween 2018, or just looking for some goosebumps, we've got the goods on creepy New York.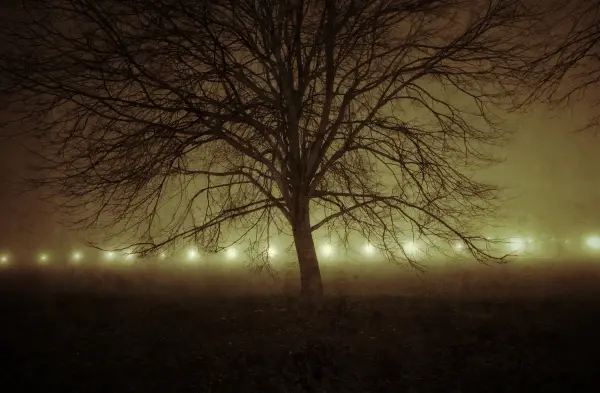 Image: Ahmed ElHusseiny/Flickr
Over at the bar/restaurant Death & Co., the menu is a lot sprightlier—and even more wholesome—than the name suggests. (Think roast chicken and heirloom beet salad.) The drinks are killer, though, with names like No Shade in the Shadows" and "Don't Forget the Struggle, Don't Forget the Streets" (mezcal, amaro, sherry). Although it's dimly lit in here, the place isn't as morbid as it sounds: the name refers to Prohibition, and the seeming end of alcohol consumption in America (drinking was thought to bestow upon imbibers a life shadowed by death).
If you're looking for a different kind of spirits, look no further than St. Paul's Chapel in the Financial District. (Fun Fact: it's the oldest public building still in use in NYC.) British actor George Frederick Cooke—known for his dramatic style of acting—decided to get out of debt by donating his head to science (yes, after he died); his grave and tombstone are here. Rumor has it that his corpse floats around St. Paul's cemetery behind the chapel, mournfully looking for his head.
Down on a picturesque block in the West Village, and marked by a plaque noting famous former resident Mark Twain (he lived here in the early 1900s), is a townhouse better known as "The House of Death." The residence at 14 W. 10th St. is supposedly haunted by 22 ghosts, the most famous of which is Twain himself. The building has also been the site of a murder-suicide, and the notorious beating of six-year-old Lisa Steinberg by her father in 1987. Hauntings and ghost sightings have been reported regularly, and the house is thought—not surprisingly—to be under a curse.
If you have a train to catch and some time to kill, near Penn Station you'll find the Fantasma Magic Store; it has everything from card tricks to objects with names like the "Asylum Waist Restraint" and the "Houdini Death Device." Multiple eyeballs, anyone? Objects for sale run from the (almost) mundane to the (extremely) creepy. In case that's not enough, a life-size animatronic Houdini drops down from the ceiling every 15 minutes to attempt his famous straightjacket escape. And speaking of Houdini, the store also houses the Houdini Museum—over 1,500 pieces of Houdini memorabilia rotate through. They've got the Houdini escape coffin, odd handcuffs, publicity posters, rare footage of the magician, NS the original "metamorphosis" trunk (the routine included an incredible escape from inside several containers, and Houdini and his wife switching places). Houdini's home is still a private residence—it can be found at 278 W. 113th St. in Harlem.
Bronx
Once the site of a hospital and now designated as a bird sanctuary, North Brother Island stands in the East River between prison complex Rikers Island and the Bronx. If the dictionary had a picture next to the word "creepy," this would be it. The island not only contained a hospital founded to treat smallpox, it was also the site of a shipwreck, and Typhoid Mary was confined there for two decades. The island is now full of abandoned buildings and the forest that's overtaking them. While you can't visit it in person just now, there are rumors it'll be reopened in some other guise.
Brooklyn
Moving over to Brooklyn, the Red Hook Grain Terminal looks like it was created for a horror movie—cue the eerie music and rapidly sinking sun. With more than 50 silos now in decay, it's an eerie, hulking spectacle. Part creepy, part show biz, the Green-Wood Cemetery in Brooklyn is arguably New York's most famous boneyard, housing as it does Louis Comfort Tiffany, Leonard Bernstein, and Boss Tweed, among other luminaries. Choose the last tour (6pm during the fall and winter, when it's pretty much already dark) to up the dark and creepy.
Staten Island
Once a poorhouse (as well as housing for the insane), the New York City Farm Colony on Staten Island is now in decay, with rubble and collapsing buildings, although it's slated to be turned into housing for the elderly. You can get fairly close—although why you would want to is another story. While you're on Staten Island, you can also seek out the St. Augustine Monastery, which was both a school and a religious retreat. Now it's simply referred to as "the Monastery," an abandoned structure known for satanic graffiti and dark and brooding hallways. It's also huge, with crumbling bricks and obligatory towers, and it's served as inspiration for countless creepy tales. Staten Island seems to have more than its fair share of the dark and menacing. Case in point: the Arthur Kill boatyard. Decayed ships and smaller boats can be found here, in various states of decrepitude. And that's not even why they call it Arthur Kill.
Queens
And speaking of cemeteries, the Queens Cemetery Belt is kind of unnerving, even during the day. The Machpelah Cemetery in Glendale makes up only a fraction of the area, but it's visited frequently—because it belongs to Harry Houdini. Lest you forgot, he died on Halloween. Just sayin'.
For more October 2019 spooky spots and Halloween celebrations, click here.